Abstract
Genotoxic effects of Cd+2, Cr+6, and Cu+2 on the gill and liver of the Argentinean Silverside (Odontesthes bonariensis) were studied using the comet assay and in relation with the metal tissue accumulation. Fish were exposed to three waterborne concentrations of each metal for 2 and 16 days. Genotoxicity was assessed by the single cell gel electrophoresis (comet assay). After 2 days, significant increase of the genetic damage index (GDI) was only observed in the gill of fish exposed to Cr+6 and Cu+2, and the LOECs were 2160 nM and 921.1 nM, respectively. The gill LOEC for Cd+2 by 16 days was 9.4 nM. In the liver, LOECs were obtained only for Cd+2 and Cr+6 and were 9.4 and 2160 nM, respectively. The three metals were able to induce genotoxic effects at environmentally relevant concentrations and the gill was the most sensitive organ.
Access options
Buy single article
Instant access to the full article PDF.
USD 39.95
Price includes VAT (USA)
Tax calculation will be finalised during checkout.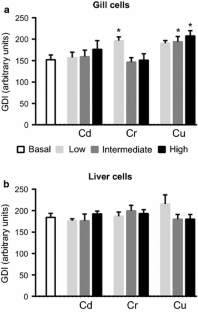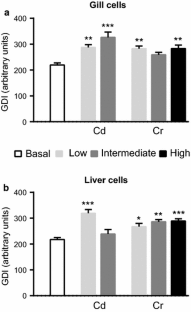 References
Ahmed MK, Parvin E, Arif M et al (2010) Measurements of genotoxic potential of cadmium in different tissues of fresh water climbing perch Anabas testudineus (Bloch), using the comet assay. Environ Toxicol Pharmacol 30:80–84

Ahmed MK, Kundu GK, Al-Mamun MH et al (2013) Chromium (VI) induced acute toxicity and genotoxicity in freshwater stinging catfish, Heteropneustes fossilis. Ecotoxicol Environ Saf 92:64–70

Arkhipchuk VV, Garanko NN (2005) Using the nucleolar biomarker and the micronucleus test on in vivo fish fin cells. Ecotoxicol Environ Saf 62:42–52

Avigliano E, Schenone NF, Volpedo AV et al (2015) Heavy metals and trace elements in muscle of silverside (Odontesthes bonariensis) and water from different environments (Argentina): aquatic pollution and consumption effect approach. Sci Total Environ 506–507:102–108

Bopp S, Abicht H, Knauer K (2008) Copper-induced oxidative stress in rainbow trout gill cells. Aquat Toxicol 86:197–204

Cambier S, Gonzalez P, Durrieu G, Bourdineaud JP (2010) Cadmium-induced genotoxicity in zebrafish at environmentally relevant doses. Ecotoxicol Environ Saf 73:312–319

Carriquiriborde P, Ronco A (2002) Sensitivity of the neotropical teleost Odonthestes bonariensis (pisces, Atherinidae) to chromium (VI), copper (II), and cadmium (II). Bull Environ Contam Toxicol 69:294–301

Carriquiriborde P, Ronco AE (2008) Distinctive accumulation patterns of Cd(II), Cu(II), and Cr(VI) in tissue of the South American teleost, pejerrey (Odontesthes bonariensis). Aquat Toxicol 86:313–322

Collins AR, Oscoz AA, Brunborg G et al (2008) The comet assay: topical issues. Mutagenesis 23:143–151

Deventer K (1996) Detection of genotoxic effects on cells of liver and gills of B. rerio by means of single cell gel electrophoresis. Bull Environ Contam Toxicol 56:911–918

Filipič M (2012) Mechanisms of cadmium induced genomic instability. Mutat Res Mol Mech Mutagen 733:69–77

Frenzilli G, Nigro M, Lyons BP (2009) The Comet assay for the evaluation of genotoxic impact in aquatic environments. Mutat Res 681:80–92

Handy RD (1992) The assessment of episodic metal pollution. I. Uses and limitations of tissue contaminant analysis in rainbow trout (Oncorhynchus mykiss) after short waterborne exposure to cadmium or copper. Arch Environ Con Tox 22(1):74–81

Jindal R, Verma S (2015) In vivo genotoxicity and cytotoxicity assessment of cadmium chloride in peripheral erythrocytes of Labeo rohita (Hamilton). Ecotoxicol Environ Saf 118:1–10

Lushchak VI (2011) Environmentally induced oxidative stress in aquatic animals. Aquat Toxicol 101:13–30

Merlo C, Abril A, Amé MV et al (2011) Integral assessment of pollution in the Suquía River (Córdoba, Argentina) as a contribution to lotic ecosystem restoration programs. Sci Total Environ 409:5034–5045

Nickens KP, Patierno SR, Ceryak S (2010) Chromium genotoxicity: a double-edged sword. Chem Biol Interact 188:276–288

Rigacci LN, Giorgi ADN, Vilches CS et al (2013) Effect of a reservoir in the water quality of the Reconquista River, Buenos Aires, Argentina. Environ Monit Assess 185:9161–9168

Russo C, Rocco L, Morescalchi MA, Stingo V (2004) Assessment of environmental stress by the micronucleus test and the Comet assay on the genome of teleost populations from two natural environments. Ecotoxicol Environ Saf 57:168–174

Sanchez-Galan S, Linde AR, Garcia-Vazquez E (1999) Brown trout and European minnow as target species for genotoxicity tests: differential sensitivity to heavy metals. Ecotoxicol Environ Saf 43:301–304

Singh NP, McCoy MT, Tice RR, Schneider EL (1988) A simple technique for quantitation of low levels of DNA damage in individual cells. Exp Cell Res 175:184–191

Somoza GM, Miranda LA, Berasain GE et al (2008) Historical aspects, current status and prospects of pejerrey aquaculture in South America. Aquac Res 39:784–793

Tchounwou PB, Yedjou CG, Patlolla AK, Sutton DJ (2012) Heavy metal toxicity and the environment. EXS 101:133–164

USEPA (1991) Methods for the determination of metals in environmental samples. U.S. Environmental Protection Agency. EPA/600/4-91/010, Washington

Velma V, Tchounwou PB (2010) Chromium-induced biochemical, genotoxic and histopathologic effects in liver and kidney of goldfish, Carassius auratus. Mutat Res 698:43–51

Villar C, Stripeikis J, Tudino M et al (1999) Trace metal concentrations in coastal marshes of the Lower Paraná River and the Río de la Plata Estuary. Hydrobiologia 397:187–195

Yadav KK, Trivedi SP (2009) Sublethal exposure of heavy metals induces micronuclei in fish, Channa punctata. Chemosphere 77:1495–1500
Acknowledgments
This study was funded by CONICET and ANPCyT of Argentina. We acknowledge the Buenos Aires Province Ministry of Agriculture Affairs, particularly to the Chascomús Aquaculture Station, for providing the O. bonariensis larvae.
Ethics declarations
Conflict of interest
The authors declare that they have no conflict of interest.
About this article
Cite this article
Gasulla, J., Picco, S.J., Carriquiriborde, P. et al. Genotoxic Effects Induced by Cd+2, Cr+6, Cu+2 in the Gill and Liver of Odontesthes bonariensis (Piscies, Atherinopsidae). Bull Environ Contam Toxicol 96, 591–595 (2016). https://doi.org/10.1007/s00128-016-1774-y
Received:

Accepted:

Published:

Issue Date:
Keywords
Heavy metals

Genotoxicity

Pejerrey

"Río de la Plata Basin"