Abstract
Here, we analyzed the recovery of the reproductive capability in male Cichlasoma dimerus after exposure to sublethal concentrations of 4-tert-octylphenol (OP), a demonstrated estrogenic chemical. Adult fish were exposed to 0, 30, 150 and 300 μg/L OP during 60 days and subsequently transferred to OP-free water for another 60 days. At 150 and 300 μg/L, absence of fertilized spawnings were recorded during the first 4 weeks following OP exposure, which could be explained by the impairment of testis architecture recorded at the highest OP concentrations. The restoration of the testicular organization began by day 14 in OP-free water, when the germinal epithelium re-started to proliferate. Testicular functionality was recovered by day 28, yielding fertilized eggs and viable F1 embryos. These results show that pathological features induced in the testes of C. dimerus by OP exposure are not permanent since fish recover their fertilization capacity after an adequate depuration period.
Access options
Buy single article
Instant access to the full article PDF.
USD 39.95
Price includes VAT (USA)
Tax calculation will be finalised during checkout.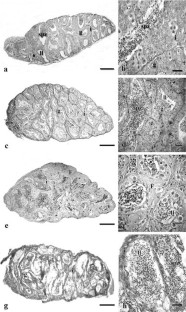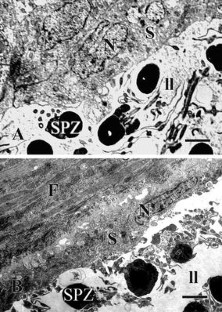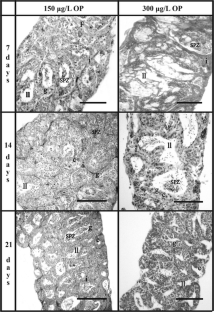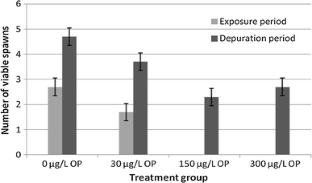 References
Ahel M, Scully FE et al (1994) Photochemical degradation of nonylphenol and nonylphenolpolyethoxylates in natural waters. Chemosphere 28:1361–1368

Balch G, Metcalfe C (2006) Developmental effects in Japanese medaka (Oryzias latipes) exposed to nonylphenol ethoxylates and their degradation products. Chemosphere 62:1214–1223

Bennett ER, Metcalfe CD (1998) Distribution of alkylphenol compounds in Great Lakes sediments, United States and Canada. Environ Toxicol Chem 17:1230–1235

Bennie DT (1999) Review of the environmental occurrence of alkylphenols and alkylphenol ethoxylates. Water Qual Res J Can 34:79–122

Blackburn MA, Waldock MJ (1995) Concentrations of alkylphenols in rivers and estuaries in England and Wales. Water Res 29:1623–1629

Canadian Council on Animal Care (2005) Guidelines on the care and the use of fish in research, teaching and testing. CCAC, p 94, ISBN: 0-919087-43-4

Céspedes R, Petrovic M et al (2004) Integrated procedure for determination of endocrine-disrupting activity in surface waters and sediments by use of the biological technique recombinant yeast assay and chemical analysis by LC-ESI-MS. Anal Bioanal Chem 378:697–708

Ekelund R, Granmo A et al (1993) Biodegradation of 4-nonylphenol in sea water and sediment. Environ Pollut 79:59–61

Genovese G, Regueira M et al (2012) Time-course recovery of estrogen-responsive genes of a cichlid fish exposed to waterborne octylphenol. Aquat Toxicol 16,114–115C:1–13

Genovese G, Regueira M et al (2014) Nonmonotonic response of vitellogenin and estrogen receptor α gene expression after octylphenol exposure of Cichlasoma dimerus (Perciformes, Cichlidae). Aquat Toxicol 156:30–40

Gray MA, Teather KL et al (1999) Reproductive success and behaviour of Japanese medaka (Oryzias latipes) exposed to 4-tert-octylphenol. Environ Toxicol Chem 18:2586–2594

Gronen S, Denslow N et al (1999) Serum vitellogenin levels and reproductive impairment of male Japanese Medaka (Oryzias latipes) exposed to 4-tert-octylphenol. Environ Health Perspect 107:385–390

Jespersen A, Rasmussen TH et al (2010) Effects of exposure to the xenoestrogen octylphenol and subsequent transfer to clean water on liver and gonad ultrastructure during early development of Zoarces viviparus embryos. J Exp Zool 313A:399–409

Jobling S, Sumpter JP (1993) Detergent components in sewage effluent are weakly oestrogenic to fish: an in vitro study using rainbow trout (Oncorhynchus mykiss) hepatocytes. Aquat Toxicol 27:361–372

Jobling S et al (1996) Inhibiton of testicular growth in rainbow trout (Oncorhynchus mykiss) exposed to estrogenic alkylphenolic chemicals. Environ Toxicol Chem 15:194–202

Knörr S, Braunbeck T (2002) Decline in reproductive success, sex reversal, and developmental alterations in Japanese medaka (Oryzias latipes) after continuos exposure to octylphenol. Ecotoxicol Environ Saf 51:187–196

Lewis SK, Lech JJ (1996) Uptake, disposition, and persistence of nonylphenol in rainbow trout. Xenobiotica 26:813–819

Liney KE, Jobling S et al (2005) Assessing the sensitivity of different life stages for sexual disruption in roach (Rutilus rutilus) exposed to effluents from wastewater treatment works. Environ Health Perspect 113(10):1299–1307

Maltais D, Roy RL (2014) Effects of nonylphenol and ethinylestradiol on copper redhorse (Moxostoma hubbsi), an endangered species. Ecotoxicol Environ Saf 108:168–178

Rasmussen TH, Korsgaard B (2004) Estrogenic octylphenol affects seminal fluid production and its biochemical composition of eelpout (Zoarces viviparus). Comp Biochem Physiol C 139:1–10

Rasmussen TH, Teh SJ et al (2005) Anti-estrogen prevents xenoestrogen-induced testicular pathology of eelpout (Zoarces viviparus). Aquat Toxicol 72:177–194

Rey Vázquez G, Meijide F et al (2009) Exposure to waterborne 4-tert-octylphenol induces vitellogenin synthesis and disrupts testis morphology in the South American fresh water fish Cichlasoma dimerus (Teleostei, Perciformes). Comp Biochem Physiol C 150:298–306

Rey Vázquez G, Da Cuña R et al (2012) Spermatogenesis and changes in testicular structure during the reproductive cycle in Cichlasoma dimerus (Teleostei, Perciformes). Acta Zool 93(3):338–350

Roggio MA, Hued AC et al (2012) Effects of 4n–nonylphenol exposure on the reproductive behaviour and testis histology of Jenynsia multidentata (Anablepidae: Cyprinodontiformes). Nat Neotrop 43:31–45

Seki M, Yokota H et al (2009) Effects of 4-nonylphenol and 4-tert-octylphenol on sex differentiation and vitellogenin induction in medaka Oryzias latipes. Environ Toxicol Chem 22(7):1507–1516

White R, Jobling S et al (1994) Environmentally persistent alkylphenolic compounds are estrogenic. Endocrinology 135:175–182

Ying GG, Williams B et al (2002) Environmental fate of alkylphenols and alkylphenol ethoxylates—a review. Environ Intern 28:215–226
Acknowledgments
This study was performed with financial support from the University of Buenos Aires (X650), and CONICET (PIP 1021). We deeply appreciate the valuable comments of our mentor Dr. Graciela A. Guerrero.
About this article
Cite this article
Rey Vázquez, G., Meijide, F.J. & Lo Nostro, F.L. Recovery of the Reproductive Capability Following Exposure to 4-tert-Octylphenol in the Neotropical Cichlid Fish Cichlasoma dimerus . Bull Environ Contam Toxicol 96, 585–590 (2016). https://doi.org/10.1007/s00128-016-1766-y
Received:

Accepted:

Published:

Issue Date:
Keywords
Teleosts

Cichlids

Xenoestrogens

Octylphenol

Recovery

Reproductive capability