Abstract
Persistence of pendimethalin was studied in soil, soybean pods, straw and water under field conditions. Pendimethalin was applied at 1 and 2 kg a.i. ha−1. Residues in soil were detected up to 60 and 90 days at the recommended and double dose, respectively. Dissipation followed first order kinetics and was accounted for by a biphasic pattern. The half-life for the initial phase and later phase was 12.73 and 26.60 days, respectively, for recommended and 7.25 and 37.91 days, respectively, for double dose. The limit of quantification was 0.005 µg g−1 of sample. Percent recovery from soil, oil, defatted cake, straw and water samples fortified with 0.01–1.0 mg kg−1 varied from 84.5 %–89.6 %, 84.6 %–88.7 %, 79.4 %–86.0 %, 78.2 %–85.6 % and 90.2 %–93.0 %, respectively. At harvest, pendimethalin residue in soybean pods, straw, and soil were below detectable limits. No residues of pendimethalin were detected in ground water. Current application of pendimethalin in the environment is not expected to cause adverse health effects form the consumption of soybeans.
Access options
Buy single article
Instant access to the full article PDF.
USD 39.95
Price includes VAT (USA)
Tax calculation will be finalised during checkout.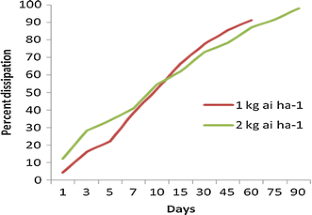 References
Alistera CA, Gomeza PA, Rojasa S, Koganab M (2009) Pendimethalin and oxyfluorfen degradation under two irrigation conditions over four years application. J Environ Sci Health B 44(4):337–343

Bandyopadhyay S, Choudhury PP (2009) Leaching behaviour of pendimethalin causes toxicity towards different cultivars of Brassica juncea and Brassica campestris in sandy loam soil. Interdiscip Toxicol 2(4):250–253

Berayan BF (1987) Persistence of dinitramine and pendimethalin in soil. South East Asia J (Philippine) 14(2):72–74

Devi MP, Reddy NC, Reddy VN, Reddy DJ, Dalue TR (2000) Metolachlor and pendimethalin dissipation in red sandy loam soil and their movement in alfisols and vertisols. J Res ANGRAU 29(4):95–99

Dimitro BD, Gadeva PG, Benova DK (2006) Comparative genotoxicity of the herbicides Roundup, Stomp and Reglone in plant and mammalian test systems. Mutagenesis 21:375–382

Diwan K, Patel BA, Raj MF, Patel BK, Patel JA, Shah PG (1999) Dissipation of pendimethalin and fluchloralin in soil and their residue in onion. Pestic Res J 11(1):76–80

ESFA (2014) Reasoned opinion on the modification of the existing MRLs for pendimethalin in various crops. EFSA J 12(4):3620

Lin HT, Chen SW, Shen CJ, Chu C (2007) Dissipation of pendimethalin in the garlic (Allium sativum L.). Bull Environ Contam Toxicol 79:84–86

Manish B, Kewat ML (2002) Persistence of pendimethalin in medium black soil following pre-emergence application to soybean (Glycine max L. Merril). Indian J Weed Sci 34(3–4):137–138

Rai AK, Chhonkar PK, Agnihotri NP (1999) Persistence of pendimethalin and anilophos in six diverse soils. Pestic Res J 11(2):132–137

Roberts TR, Hutson DH, Lee PW, Nicholls PH, Plimmer JR, Roberts MC, Croucher L (1998) Metabolic pathways of agrochemicals: part 1: herbicides and plant growth regulators, 1st edn. Royal Society of Chemistry, London, pp 270–276

Sachan HK, Misha OP, Tandon S (2007) Studies on harvest time residue of butachlor in soil, rice grain and straw. Pestology 31(6):43–44

Savage KF, Jordan TN (1980) Persistence of three dinitroaniline herbicides in soil surface. Weed Sci 28:105–108

Shah J, Jan MR, Shehzad F, Ara B (2011) Quantification of pendimethalin in soil and garlic samples by microwave-assisted solvent extraction and HPLC method. Environ Monit Assess 175:103–108

Sondhia S (2012) Dissipation of pendimethalin in soil and its residues in chickpea (Cicer arietinum L.) under field conditions. Bull Environ Contam Toxicol 89(5):1032–1036

Sondhia S (2013) Harvest time residues of pendimethalin in tomato, cauliflower, and radish under field conditions. Toxicol Environ Chem 95(2):254–259

Srivastava A, Pandey S, Tandon S (2006) Fate of pendimethalin herbicide in soil and pea plant (Pisum sativum L.). Environ Sci Indian J 1(1):29–33

Street JE, Lanham DJ (2003) Pendimethalin as delayed pre-emergence herbicide in rice. Mississippi State University Extension Service and Mississippi Agricultural and Forestry Experiment Station, Mississippi State University, Mississippi State, Mississippi. Bulletin No. 1064. pp 1–8. Available in http://msucares.com/pubs/bulletins/b1064.htm

Tandon S (2008) Persistance of pendimethalin in soil and potato tuber. Potato J 35(1–2):100–102

Tandon S (2015) Dissipation kinetics and residues analysis of pendimethalin in soil and maize under field conditions. Plant Soil Environ 61(11):456–500

Tandon S, Dubey A (2015) Effect of Biozyme™ (Ascophyllum nodosum) biostimulant on growth and development of soybean [Glycine max (L.) Merill]. Commun Soil Sci Plant Anal 46(7):845–858

Tandon S, Kumar S, Sand NK (2015) Development and validation of GC–ECD method for the determination of metamitron in soil. Int J Anal Chem 2015:1–5

Zimdahl RL, Gwynn SM (1977) Soil degradation of three dinitroanilines. Weed Sci 25:247–251
Acknowledgments
Analytical grade pendimethalin provided by M/s American Cyanamid Ltd, USA (Now BASF) and formulation by M/s Gharda Chemicals, Mumbai, India is duly acknowledged.
About this article
Cite this article
Tandon, S. Dissipation of Pendimethalin in Soybean Crop Under Field Conditions. Bull Environ Contam Toxicol 96, 694–698 (2016). https://doi.org/10.1007/s00128-016-1764-0
Received:

Accepted:

Published:

Issue Date:
Keywords
Residue analysis

HPLC

Glycine max

Soil

Persistence