Abstract
Biomagnification of methylmercury in aquatic systems can cause elevated tissue mercury (Hg) and physiological stress in top predators. Mercury is known to affect stress hormone levels in mammals, birds and fish. In this study, the effects of maternally-transferred methylmercury on the stress physiology of Northern Water Snake (Nerodia sipedon) neonates were tested. Gravid females were dosed via force-fed capsules during late gestation with 0, 0.01, or 10 µg methylmercury per gram of body mass. Plasma corticosterone levels and leukocyte differentials were analyzed in baseline and confinement-stressed neonates from all dose levels. Neither Hg nor confinement stress had a significant effect on leukocyte differentials nor was Hg related to corticosterone levels. However, stress group neonates showed lower heterophil/lymphocyte ratios and this study was the first to show that neonate N. sipedon can upregulate CORT in response to stress. These results indicate that N. sipedon may be somewhat tolerant to Hg contamination.
Access options
Buy single article
Instant access to the full article PDF.
USD 39.95
Price includes VAT (USA)
Tax calculation will be finalised during checkout.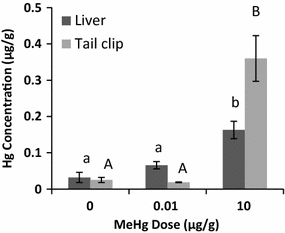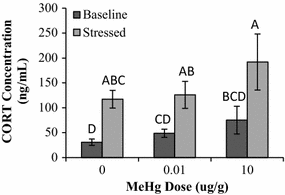 References
Adair BM, Cobb GP (1999) Improved preparation of small biological samples for mercury analysis using cold vapour atomic absorption spectroscopy. Chemosphere 38:2951–2958

Bailey FC, Cobb VA, Rainwater TR, Worrall T, Klukowski M (2009) Adrenocortical effects of human encounters on free-ranging cottonmouths (Agkistrodon piscivorus). J Herpetol 43:260–266

Bennett MF, Cynthia AG, Johnson AO, Spisso JH (1972) Changes in the blood of newts, Notophthalmus viridescens, following the administration of hydrocortisone. J Comp Physiol 80:233–237

Bergeron CM, Bodinof CM, Unrine JM, Hopkins WA (2010) Bioaccumulation and maternal transfer of mercury and selenium in amphibians. Environ Toxicol Chem 29:989–997

Blas J, Baos R, Bortolotti GR, Marchant TA, Hiraldo F (2006) Age-related variation in the adrenocortical response to stress in nestling white storks Ciconia ciconia supports the developmental hypothesis. Gen Comp Endocr 148(2):172–180

Burton GV, Meikle AW (1980) Acute and chronic methylmercury poisoning impairs rat adrenal and testicular function. J Toxicol Environ Health 6:597–606

Chin SY, Willson JD, Cristol DA, Drewett DV, Hopkins WA (2013a) High levels of maternally transferred mercury do not affect reproductive output or embryonic survival of northern watersnakes (Nerodia sipedon). Environ Toxicol Chem 32(3):619–626

Chin SY, Willson JD, Cristol DA, Drewett DV, Hopkins WA (2013b) Altered behavior of neonatal northern watersnakes (Nerodia sipedon) exposed to maternally transferred mercury. Environ Pollut 176:144–150

Chumchal MM, Rainwater TR, Osborn SC, Roberts AP, Abel MT, Cobb GP, Smith PN, Bailey FC (2011) Mercury speciation and biomagnification in the food web of Caddo Lake, Texas and Louisiana, USA, a subtropical freshwater ecosystem. Environ Toxicol Chem 30:1153–1162

Conway CH, Fleming WR (1960) Placental transmission of Na22 and I131 in Natrix. Copeia 1960:53–55

Davis AK, Maney DL, Maerz JC (2008) The use of leukocyte profiles to measure stress in vertebrates: a review for ecologists. Funct Ecol 22:760–772

Dhabhar FS, McEwen BS (1997) Acute stress enhances while chronic stress suppresses cell-mediated immunity in vivo: a potential role for leukocyte trafficking. Brain Behav Immun 11:286–306

Dickens MJ, Romero LM (2010) Stress responsiveness decreases with age in precocial, Juvenile Chukar. Wilson J Ornithol 122(4):762–766

Gibbons JW, Dorcas ME (2004) North American watersnakes: a natural history. University of Oklahoma Press, Norman

Hammerschmidtt CR, Sandheinrich MB (2005) Maternal diet during oogenesis is the major source of methylmercury in fish embryos. Environ Sci Technol 39:3580–3584

Hogan LS, Marschall E, Folt C, Stein RA (2007) How non-native species in Lake Erie influence trophic transfer of mercury and lead to top predators. Great Lakes Res 33:46–61

Hopkins WA, Staub BP, Baionno JA, Jackson BP, Roe JH, Ford NB (2004) Trophic and maternal transfer of selenium in brown house snakes (Lamprophis fuliginosus). Ecotoxicol Environ Saf 58:285–293

Jessop TS, Hamann M (2005) Interplay between age class, sex and stress response in green turtles (Chelonia mydas). Aust J Zool 53:131–136

Jones DE, Holladay SD (2006) Excretion of three heavy metals in the shed skin of exposed corn snakes. Ecotoxicol Environ Saf 64:221–225

Kajiwara Y, Yasutake A, Adachi T, Hirayama K (1996) Methylmercury transport across the placenta via neutral amino acid carrier. Arch Toxicol 70:310–314

King RB (1986) Population ecology of the Lake Erie water snake, Nerodia sipedon insularum. Copeia 1986:757–772

Moore IT, Lemaster MP, Mason RT (2000) Behavioural and hormonal responses to capture stress in the male red-sided garter snake, Thamnophis sirtalis parietalis. Anim Behav 59:529–534

Norris DO, Donahue S, Dores RM, Lee JK, Maldonado TA, Ruth T, Woodling JD (1999) Impaired adrenocortical response to stress by brown trout, Salmo trutta, living in metal-contaminated waters of the Eagle River, Colorado. Gen Comp Endocrinol 113:1–8

Rainwater TR, Reynolds KD, Cañas JE, Cobb GP, Anderson TA, McMurry ST, Smith PN (2005) Organochlorine pesticides and mercury in cottonmouths (Agkistrodon piscivorus) from northeastern Texas, USA. Environ Toxicol Chem 24:665–673

Robert KA, Vleck C, Bronikowski AM (2009) The effects of maternal corticosterone levels on offspring behavior in fast- and slow-growth garter snakes (Thamnophis elegans). Horm Behav 55:24–32

Romero LM, Reed JM (2005) Collecting baseline corticosterone samples in the field: is under 3 min good enough? Comp Biochem Physiol A 140:73–79

Schaefer JK, Rocks SS, Zheng W, Liang L, Gu B, Morel FM (2011) Active transport, substrate specificity, and methylation of Hg(II) in anaerobic bacteria. Proc Natl Acad Sci USA 108:8714–8719

Selin NE (2009) Global biogeochemical cycling of mercury: a review. Annu Rev Environ Resour 34:43–63

Stewart JR, Castillo RE (1984) Nutritional provision of the yolk of two species of viviparous reptiles. Physiol Zool 57:377–383

Sykes KL, Klukowski M (2009) Effects of acute temperature change, confinement and housing on plasma corticosterone in water snakes, Nerodia sipedon (Colubridae: Natricinae). J Exp Zool A 311:172–181

Thaxton JP, Gilbert J, Hester PY, Brake J (1982) Mercury toxicity as compared to adrenocorticotropin-induced physiological stress in the chicken. Arch Environ Contam Toxicol 11:509–514

Van Dyke JU, Beaupre SJ (2012) Stable isotope tracer reveals that viviparous snakes transport amino acids to offspring during gestation. J Exp Biol 215(5):760–765

Ward C, Mendonça M (2006) Chronic exposure to coal fly ash causes minimal changes in corticosterone and testosterone concentrations in male southern toads Bufo terrestris. Arch Environ Contam Toxicol 51:263–269

Winne CT, Keck MB (2005) Intraspecific differences in thermal tolerance of the diamondback watersnake Nerodia rhombifer: effects of ontogeny, latitude, and sex. Comp Biochem Physt A 140(1):141–149

Wolfe MF, Schwarzbach S, Sulaiman RA (1998) The effects of mercury on wildlife: a comprehensive review. Environ Toxicol Chem 17:146–160
About this article
Cite this article
Cusaac, J.P.W., Kremer, V., Wright, R. et al. Effects of Maternally-Transferred Methylmercury on Stress Physiology in Northern Water Snake (Nerodia sipedon) Neonates. Bull Environ Contam Toxicol 96, 725–731 (2016). https://doi.org/10.1007/s00128-016-1757-z
Received:

Accepted:

Published:

Issue Date:
Keywords
Methylmercury

Corticosterone

Maternal transfer

Leukocytes

Neonate

Reptile