Abstract
The spotted salamander (Ambystoma maculatum) is indigenous to northern Arkansas, and several breeding sites are known to exist in the region. Spotted salamanders (n = 17) were collected and examined for parasites and only three females harbored nematodes (Physaloptera spp.). Chronic aquatic bioassays were conducted using water collected from eight breeding ponds during different hydroperiod events. No lethal or sublethal effects were measured in Ceriodaphnia dubia; however, decreased growth and survival were seen in Pimephales promelas. Aqueous, sediment, and salamander hepatic samples were analyzed for As, Cd, Cu, Pb, and Ni. Metal analysis revealed possible increased metal exposure following precipitation, with greatest metal concentrations measured in sediment samples. Hepatic metal concentrations were similar in parasitized and non-parasitized individuals, and greatest Pb concentrations were measured following normal precipitation events. Determining environmental stressors of amphibians, especially during their breeding and subsequent larval life stage, is imperative to improve species conservation.
Access options
Buy single article
Instant access to the full article PDF.
USD 39.95
Price includes VAT (USA)
Tax calculation will be finalised during checkout.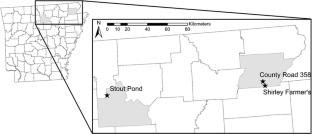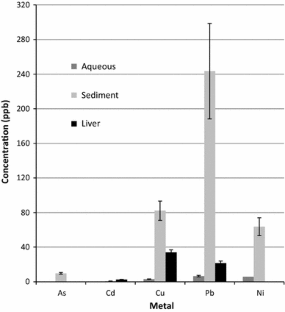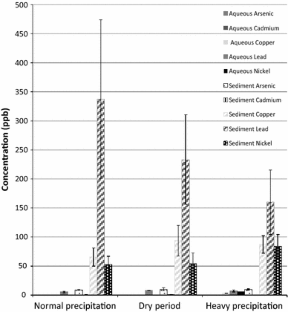 References
Allen HE, Garrison AW, Luther GW III (1998) Metals in surface waters. Ann Arbor Press, Michigan

American Public Health Association (APHA), American Water Works Association, Water Pollution Control Federation, Water Environment Federation (2005) Standard methods for the examination of water and wastewater, 21st edn. Washington, DC

Arkansas Geological Survey (2014) Geology. Arkansas.gov. http://www.geology.ar.gov/geology/general_geology.htm. Accessed 1 November 2014

Blaustein AR (1994) Chicken little or Nero's fiddle? A perspective on declining amphibian populations. Herpetologica 1994:85–97

Dodson SI (2005) Introduction to limnology. McGraw Hill, New York

Environmental Express (2005) Adaptation for EPA method 200.2, revision 2.8 for use with the Environmental Express HotBlock™ Digestion System. HotBlock Operation Guide, pp 24–25

Flyaks NL, Borkin LJ (2004) Morphological abnormalities and heavy metal concentrations in anurans of contaminated areas, eastern Ukraine. Appl Herpetol 1:229–264

Home MT, Dunson WA (1995) Effects of low pH, metals, and water hardness on larval amphibians. Arch Environ Contam Toxicol 29(4):500–505

Lefcort H, Meguire RA, Wilson LH, Ettinger WF (1998) Heavy metals alter the survival, growth, metamorphosis, and antipredatory behavior of Columbia spotted frog (Rana luteiventris) tadpoles. Arch Environ Contam Toxicol 35:447–456

Lincoln RC, Anderson RC (1973) The relationship of Physaloptera maxillaris (Nematoda: Physalopteroidea) to skunk (Mephitis mephitis). Can J Zool 51:437–441

McAllister CT, Trauth SE, Cochran BG (1995) Endoparasites of the ringed salamander, Ambystoma annulatum (Caudata: Ambystomatidae), from Arkansas. Southwest Nat 40:327–330

Petranka JW (1998) Salamanders of the United States and Canada. Smithsonian Institution Press, Washington

Ross JL, Ivanova ES, Spiridonov SE, Waeyenberge L, Moens M, Nicol GW, Wilson MJ (2010) Molecular phylogeny of slug-parasitic nematodes inferred from 18S rRNA gene sequences. Mol Phylogenet Evol 55:738–743

Schubauer-Berigan MK, Dierkes JR, Monson PD, Ankley GT (1993) pH-dependent toxicity of Cd, Cu, Ni, Pb and Zn to Ceriodaphnia dubia, Pimephales promelas, Hyalella azteca and Lumbriculus variegatus. Environ Toxicol Chem 12:1261–1266

Sexton OJ, Phillips C, Bramble JE (1990) The effects of temperature and precipitation on the breeding migration of the spotted salamander (Ambystoma maculatum). Copeia 1990:781–787

Shaffer CL (2010) Demographics and terrestrial ecology of an amphibian community in a large ephemeral pond in the Ozark Mountains. Dissertation, Arkansas State University

Shaw J (1989) Heavy metal tolerance in plants: evolutionary aspects. CRC Press, Boca Raton

Smith PW (1961) The amphibians and reptiles of Illinois. Ill Nat Hist Surv Bull. 28:1–298

Stanley JW, Engelbert JR, Patrick MK, Sawyer JA, Trauth SE (2012) Demographics of mole salamanders (Ambystoma talpoideum) in a northeastern Arkansas pond. J Ark Acad Sci 66:205–206

Stewart AJ (1996) Ambient bioassays for assessing water-quality conditions in receiving streams. Ecotoxicology 5:377–393

Thrall MA, Baker DC, Lassen ED (2004) Veterinary hematology and clinical chemistry. Lippincott Williams and Wilkins, Philadelphia

Townsend JM, Driscoll CT (2013) Red-backed salamander (Plethodon cinereus) as a bioindicator of mercury in terrestrial forests of the northeastern United States. Ecol Indic 34:168–171

Trauth SE, Cox RL Jr, Wilhide JD, Worley HJ (1995) Egg mass characteristics of terrestrial morphs of the mole salamander, Ambystoma talpoideum (Caudata: Ambystomatidae), from northeastern Arkansas and clutch comparisons with other Ambystoma species. J Ark Acad Sci 49:193–196

Trauth SE, Robison HW, Plummer MV (2004) The amphibians and reptiles of Arkansas. University of Arkansas Press, Fayetteville

USEPA (1991) Method 200.3 Sample preparation procedure for spectrochemical determination of total recoverable elements in biological tissues. Rev 1.0. Cincinnati, OH, pp 23–29

USEPA (1994) Method 200.9 Determination of trace elements by stabilized temperature graphite furnace atomic absorption, Revision 2.2. Environmental Monitoring Systems Laboratory Office of Research and Development US EPA Cincinnati, OH, p 45268

USEPA (2002) Short-Term Methods for estimating the chronic toxicity of effluents and receiving waters to freshwater organisms, 4th edn. National Center for Environmental Publications, Cincinnati, OH: EPA 821-R-02-013

USEPA (2007) Framework for metals risk assessment. EPA 120/R-07/001. http://www.epa.gov/raf/metalsframework/pdfs/metals-risk-assessment-final.pdf

USEPA (2010) Controlling nonpoint source runoff pollution from roads, highways and bridges. http://www.epa.gov/owow/NPS/roads.html. Accessed 10 Nov 2014

USEPA (2014) ECOTOX User Guide: ECOTOXicology Database System. Version 4.0. http://www.epa.gov/ecotox/. Accessed 19 Nov 2014

Versteeg DJ, Belanger SE, Carr GJ (1999) Understanding single-species and model ecosystem sensitivity: data-based comparison. Environ Toxicol Chem 18(6):1329–1346

Vitt LJ, Caldwell JP (2013) Herpetology: an introductory biology of amphibians and reptiles, 4th edn. Elsevier, Oxford

Wagner A, Boman J (2003) Biomonitoring of trace elements in muscle and liver tissue of freshwater fish. Spectrochim Acta Part B Atom Spectrosc 58:2215–2226

Walker CH, Sibly RM, Hopkin SP, Peakall DB (2012) Principles of Ecotoxicology. CRC Press, Boca Raton

Wells KD (2007) The Ecology and Behavior of Amphibians. The University of Chicago Press, Chicago
Acknowledgments
We thank the volunteers who assisted with field and laboratory data collection, Shirley Farmer for allowing us access to her property, Arkansas State University Ecotoxicology Research Facility, and Charles R. Bursey for nematode species identification. Funding and supplies were supported by the Department of Biological Sciences, Tom S. Risch, and NSF CBET-1040466 MRI Grant. GIS maps were kindly constructed by Alix Matthews. All applicable international, national, and/or institutional guidelines for the care and use of animals were followed.
About this article
Cite this article
DeMali, H.M., Trauth, S.E. & Bouldin, J.L. Metals, Parasites, and Environmental Conditions Affecting Breeding Populations of Spotted Salamanders (Ambystoma maculatum) in Northern Arkansas, USA. Bull Environ Contam Toxicol 96, 732–737 (2016). https://doi.org/10.1007/s00128-016-1752-4
Received:

Accepted:

Published:

Issue Date:
Keywords
Amphibian

Aquatic bioassay

Breeding season

Precipitation

Toxicity

Water quality