Abstract
A total of 249 cow and 33 goat milk samples were collected in rural areas of Croatia during the period 2010–2014. Lead concentrations in milk samples were analyzed by graphite furnace-atomic absorption spectroscopy. Mean Pb concentrations in milk ranged from (μg/kg): cow 10.8–12.2; goat 9.33–60.0. The highest Pb level of 131 μg/kg in cow milk was measured during 2014. There were no significant differences in Pb levels between cow and goat milk and also in goat milk among the analysed years. However, significant differences were found in cow milk among years. The highest Pb was determined in 2011 (157 μg/kg in goat milk). The calculated estimated weekly intakes of Pb concentrations for cow and goat milk contribute only 1.37 % and 1.84 % to the provisional tolerable weekly intake. Therefore, the consumption of milk from both species should not pose a consumer health risk.
Access options
Buy single article
Instant access to the full article PDF.
USD 39.95
Price includes VAT (USA)
Tax calculation will be finalised during checkout.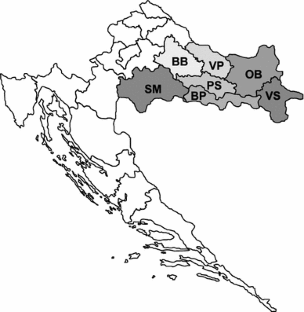 References
Antonić Degač K, Laido Z, Kaić-Rak A (2007) Obilježja prehrane i uhranjenosti stanovništva Hrvatske. Hrvatski zavod za javno zdravstvo. Hrvatski časopis za javno zdravstvo 3:9

Arnich N, Sirot V, Rivière G, Jean J, Noël L, Guérin T, Leblanc J-L (2012) Dietary exposure to trace elements and health risk assessment in the 2nd French total diet study. Food Chem Toxicol 50:2432–2449

Ataro A, McCrindle RI, Botha BM, McCrindle CME, Ndibewu PP (2008) Quantification of trace elements in raw cow's milk by inductively coupled plasma mass spectrometry (ICP-MS). Food Chem 111:243–248

Bilandžić N, Đokić M, Sedak M, Solomun Kolanović B, Varenina I, Knežević Z, Benić M (2011) Trace element levels in raw milk from northern and southern regions of Croatia. Food Chem 127:63–66

Birghila S, Dobrinas S, Stanciu G, Soceanu A (2008) determination of major and minor elements in milk through ICP-AES. Environ Eng Manag J 7:805–808

Cashman KD (2003) Minerals in dairy products. In: Roginski H, Fuquay JW, Fox PF (eds) Encyclopaedia of dairy sciences. Academic Press, London, pp 2051–2065

Dermit FZ, Mikulec N, Bendelja LJD, Antunac N (2014) Nutritional and therapeutic properties of goat's milk. Mljekarstvo 64:280–286

EC (2006) European Commission, Regulation (EC) no. 1881 (2006): 19 of December 2006, setting maximum levels for certain contaminants in foodstuffs. Off J L364:5–24

FAO/WHO (1993) Evaluation of certain food additives and contaminants; 41st report of the joint FAO/WHO expert committee on food additives. Technical Report Series, No. 837, World Health Organization, Geneva, Switzerland

García-Fernández AJ, Navas I, Romero D, Gomez-Zapata M, Luna A (2003) Influence of leaded-gasoline regulations on the blood lead concentrations in Murciano-Granadina goats from Murcia Region, Southeast Spain. Bull Environ Contam Toxicol 70:1178–1183

Javed I, Jan I, Muhammad F, Rahman Z, Khan MZ, Aslam B, Sultan JI (2009) Heavy metal residues in the milk of cattle and goats during winter season. Bull Environ Contam Toxicol 82:616–620

Kondyli E, Katsiari MC, Voutsinas LP (2007) Variations of vitamins and mineral content in raw goat milk of the indigenous Greek breed during lactation. Food Chem 100:226–230

Licata P, Trombetta D, Cristani M, Giofre F, Martino D, Calo M, Naccari F (2004) Levels of "toxic" and "essential" metals in samples of bovine milk from various dairy farms in Calabria, Italy. Environ Int 30:1–6

Nardi EP, Evangelista FS, Tormen L, Saint´Pierre TD, Curtius AJ, de Souza SS, Barbosa F (2009) The use of inductively coupled plasma mass spectrometry (ICP-MS) for the determination of toxic and essential elements in different types of food samples. Food Chem 112:727–732

Navarro-Alarcón M, Cabrera-Vique C, Ruiz-López MD, Olalla M, Artacho R, Giménez R, Quintana V, Bergillos T (2011) Levels of Se, Zn, Mg and Ca in commercial goat and cow milk fermented products: relationship with their chemical composition and probiotic starter culture. Food Chem 129:1126–1131

Patra RC, Swarup D, Kumar P, Nandi D, Naresh R, Ali SL (2008) Milk trace elements in lactating cows environmentally exposed to higher level of lead and cadmium around different industrial units. Sci Total Environ 404:36–43

Rahimi E (2013) Lead and cadmium concentrations in goat, cow, sheep, and buffalo milks from different regions of Iran. Food Chem 136:389–391

Rey-Crespo K, Miranda M, López-Alonso M (2013) Essential trace and toxic element concentrations in organic and conventional milk in NW Spain. Food Chem Toxicol 55:513–518

Satarug S, Baker JR, Urbenjapol S, Haswell-Elkins M, Reilly PE, Williams DJ (2003) Global perspective on cadmium pollution and toxicity in non-occupationally exposed population. Toxicol Lett 137:65–83

Sikirić M, Brajenović N, Pavlović I, Havranek JL, Plavljanić N (2003) Determination of metals in cow's milk by flame atomic absorption spectrophotometry. Czech J Anim Sci 48:481–486

Simsek O, Gultekin R, Oksuz O, Kurultay S (2000) The effect of environmental pollution on the heavy metal content of raw milk. Nahr Food 44:360–371

Soares VA, Kus MMM, Peixoto ALC, Carrocci JS, Salazar RFS, Filho HJI (2010) Determination of nutritional and toxic elements in pasteurized bovine milk from Vale do Paraiba region (Brazil). Food Control 21:45–49

Sola-Larrańaga C, Navarro-Blasco I (2009) Chemometric analysis of minerals and trace elements in raw cow milk from the community of Navarra, Spain. Food Chem 112:189–196

Suturović Z, Kravić S, Milanović S, Ðurović A, Brezo T (2014) Determination of heavy metals in milk and fermented milk products by potentiometric stripping analysis with constant inverse current in the analytical step. Food Chem 155:120–125

Tajkarimi M, Faghih MA, Poursoltani H, Nejad AS, Motallebi AA, Mahdavi H (2008) Lead residue levels in raw milk from different regions of Iran. Food Control 19:495–498
Acknowledgments
The authors are thankful to Marijana Fluka and Mirjana Hren for assistance in sample preparation. This study was supported with a grant from the Croatian Veterinary Institute, Zagreb, Croatia.
About this article
Cite this article
Bilandžić, N., Sedak, M., Čalopek, B. et al. Lead Concentrations in Raw Cow and Goat Milk Collected in Rural Areas of Croatia from 2010 to 2014. Bull Environ Contam Toxicol 96, 645–649 (2016). https://doi.org/10.1007/s00128-016-1749-z
Received:

Accepted:

Published:

Issue Date:
Keywords
Lead

Cow milk

Goat milk

Atomic absorption spectroscopy

Croatia