Abstract
The present study evaluated the impact of cesium (133Cs) at four concentrations (0, 0.001, 0.01, and 0.1 mg L−1) on growth, concentrations of chlorophyll and carotenoid pigments, and oxidative stress responses in the charophyte, Nitella pseudoflabellata, over 30 days. Oxidative stress was quantified by measuring anti-oxidant enzyme activities and H2O2 content. When compared with the control, significantly elevated activity levels of the anti-oxidative enzymes ascorbic peroxidase, catalase and guaiacol peroxidase were observed at 0.1 mg L−1 (all p < 0.05), even though the H2O2 level was not significantly elevated. Carotenoid and chlorophyll a and b pigment levels were significantly reduced (all p < 0.05) at Cs exposures of 0.01 and 0.1 mg L−1. Photosynthetic efficiency (i.e., Fv/Fm) was significantly reduced (p < 0.05) at Cs concentrations ≥0.001 mg L−1. Significant reduction (p < 0.05) of plant growth (i.e., shoot length) was also observed after 1 week of exposure at Cs concentrations ≥0.001 mg L−1. Our results suggested that Cs exposure reduced plant growth and affected plant functioning via activating the defense mechanism against oxidative stress in Nitella.
Access options
Buy single article
Instant access to the full article PDF.
USD 39.95
Price includes VAT (USA)
Tax calculation will be finalised during checkout.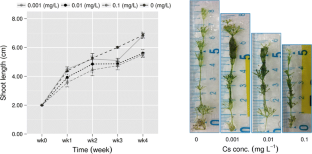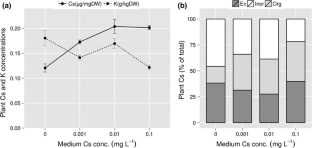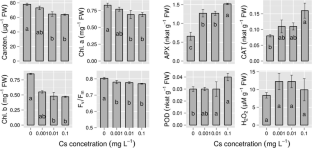 References
Aebi H (1984) Catalase in vitro. In: Lester P (ed) Methods in enzymology. Academic Press, Massachusetts, pp 121–126

APHA (1998) Standard methods for the examination of water and waste water, 20th edn. American Public Health Association, Washington

Atapaththu K, Asaeda T (2015) Growth and stress responses of Nuttall's waterweed Elodea nuttallii (Planch) St. John to water movements. Hydrobiologia 747:217–233

ATSDR (2004) Toxicolgical profile for cesium, US Department of Health and Human Services. http://www.atsdr.cdc.gov/toxprofiles/tp.asp?id=578&tid=107. Accessed 26 Nov 2015

Bennett ER, Moore MT, Cooper CM, Smith S, Shields FD, Drouillard KG, Schulz R (2005) Vegetated agricultural drainage ditches for the mitigation of pyrethroid-associated runoff. Environ Toxicol Chem 24:2121–2127

Bornette G, Puijalon S (2011) Response of aquatic plants to abiotic factors: a review. Aquat Sci 73:1–14

Bystrzejewska-Piotrowska G, Drożdż A, Stęborowski R (2005) Resistance of heather plants (Calluna vulgaris L.) to cesium toxicity. Nukleonika 50:31–35

Chang CJ (1986) Inorganic salts and the growth of spiroplasmas. Can J Microbiol 32:861–866

Cook LL, Inouye RS, McGonigle TP, White GJ (2007) The distribution of stable cesium in soils and plants of the eastern Snake River Plain in southern Idaho. J Arid Environ 69:40–64

DeEll JR, Toivonen PMA (2003) Practical applications of chlorophyll fluorescence in plant biology. Springer, London

Dinakar C, Djilianov D, Bartels D (2012) Photosynthesis in desiccation tolerant plants: energy metabolism and antioxidative stress defense. Plant Sci 182:29–41

Dybkaer R (2001) Unit "katal" for catalytic activity. Pure Appl Chem 73:927–931

Folkard AM (2011) Vegetated flows in their environmental context: a review. Proc Inst Civ Eng Eng Comput Mech 164:3–24

Fukuda S, Iwamoto K, Atsumi M, Yokoyama A, Nakayama T, Ishida K, Inouye I, Shiraiwa Y (2014) Global searches for microalgae and aquatic plants that can eliminate radioactive cesium, iodine and strontium from the radio-polluted aquatic environment: a bioremediation strategy. J Plant Res 127:79–89

García A (1994) Charophyta: their use in paleolimnology. J Paleolimnol 10:43–52

Ghosh A, Sharma A, Talukder G (1993) Effects of cesium on cellular systems. Biol Trace Elem Res 38:165–203

Gomes PIA, Asaeda T (2009) Phycoremediation of chromium (VI) by Nitella and impact of calcium encrustation. J Hazard Mater 166:1332–1338

Hampton CR, Bowen HC, Broadley MR, Hammond JP, Mead A, Payne KA, Pritchard J, White PJ (2004) Cesium toxicity in Arabidopsis. Plant Physiol 136:3824–3837

Hawa Bibi M, Asaeda T, Azim E (2010) Effects of Cd, Cr, and Zn on growth and metal accumulation in an aquatic macrophyte, Nitella graciliformis. J Chem Ecol 26:49–56

Isaure MP, Fraysse A, Devès G, Le Lay P, Fayard B, Susini J, Bourguignon J, Ortega R (2006) Micro-chemical imaging of cesium distribution in Arabidopsis thaliana plant and its interaction with potassium and essential trace elements. Biochimie 88:1583–1590

Jana S, Choudhuri MA (1982) Glycolate metabolism of three submersed aquatic angiosperms during ageing. Aquat Bot 12:345–354

Kanter U, Hauser A, Michalke B, Dräxl S, Schäffner AR (2010) Caesium and strontium accumulation in shoots of Arabidopsis thaliana: genetic and physiological aspects. J Exp Bot 61:3995–4009

Komarov E, Bennett BG (1983) Selected radionucleotides. World Health Organization, Geneva

Lu CM, Chau CW, Zhang JH (2000) Acute toxicity of excess mercury on the photosynthetic performance of cyanobacterium, S. platensis—assessment by chlorophyll fluorescence analysis. Chemosphere 41:191–196

MacAdam JW, Nelson CJ, Sharp RE (1992) Peroxidase activity in the leaf elongation zone of tall fescue: I. Spatial distribution of ionically bound peroxidase activity in genotypes differing in length of the elongation zone. Plant Physiol 99:872–878

Maxwell K, Johnson GN (2000) Chlorophyll fluorescence—a practical guide. J Exp Bot 51:659–668

Nagajyoti PC, Lee KD, Sreekanth TVM (2010) Heavy metals, occurrence and toxicity for plants: a review. Environ Chem Lett 8:199–216

Nakano Y, Asada K (1981) Hydrogen peroxide is scavenged by ascorbate-specific peroxidase in spinach chloroplasts. Plant Cell Physiol 22:867–880

Nepf HM (2012) Hydrodynamics of vegetated channels. J Hydraul Res 50:262–279

Plank CO (ed) (1992) Plant analysis reference procedures for the southern region of the United States. The University of Georgia, Athens

Qi Z, Hampton CR, Shin R, Barkla BJ, White PJ, Schachtman DP (2008) The high affinity K+ transporter AtHAK5 plays a physiological role in planta at very low K+ concentrations and provides a caesium uptake pathway in Arabidopsis. J Exp Bot 59:595–607

R Development Core Team (2010) R: a language and environment for statistical computing. R Foundation for Statistical Computing, Vienna. http://www.R-project.org. Accessed 01 July 2011

Sahr T, Voigt G, Paretzke HG, Schramel P, Ernst D (2005) Caesium-affected gene expression in Arabidopsis thaliana. New Phytol 165:747–754

Shalygo NV, Averina NG, Grimm B, Mock H (1997) Influence of cesium on tetrapyrrole biosynthesis in etiolated and greening barley leaves. Physiol Plant 99:160–168

Siong K, Asaeda T (2009) Calcite encrustation in macro-algae Chara and its implication to the formation of carbonate-bound cadmium. J Hazard Mater 167:1237–1241

Strauss R (1980) Chara fragilis and Chara vulgaris were cultivated in a natural medium containing rubidium and cesium as chloride. Hydrobiologia 71:87–93

Valderrama A, Tapia J, Peñailillo P, Carvajal DE (2013) Water phytoremediation of cadmium and copper using Azolla filiculoides Lam. in a hydroponic system. Water Environ J 27:293–300

Wellburn AR (1994) The spectral determination of chlorophylls a and b, as well as total carotenoids, using various solvents with spectrophotometers of different resolution. J Plant Physiol 144:307–313

White PJ, Broadley MR (2000) Mechanisms of caesium uptake by plants. New Phytol 147:241–256

Zhu Y, Smolders E (2000) Plant uptake of radiocaesium: a review of mechanisms, regulation and application. J Exp Bot 51:1635–1645
Acknowledgments
This research was supported financially by grants from the Ministry of Education, Culture, Sports, Science and Technology (Research Grant-in-Aid), Japan; River Foundation and the Japanese Society for the Promotion of Science (Wakate-kenkyu B: 25820221). The assistance of others at the Ecological Engineering Laboratory, Saitama University, during laboratory analyses is gratefully acknowledged. Two anonymous reviewers are acknowledged for their constructive comments.
About this article
Cite this article
Atapaththu, K.S.S., Rashid, M.H. & Asaeda, T. Growth and Oxidative Stress of Brittlewort (Nitella pseudoflabellata) in Response to Cesium Exposure. Bull Environ Contam Toxicol 96, 347–353 (2016). https://doi.org/10.1007/s00128-016-1736-4
Received:

Accepted:

Published:

Issue Date:
Keywords
Oxidative stress

Cesium

Antioxidant enzymes

Nitella pseudoflabellata