Abstract
Hospital wastewater is an important source of emerging contaminants. Recent studies emphasize the importance of assessing the effects of mixtures of contaminants rather than environmental risk of their individual components, as well as the determination of intrinsic toxicity of wastewater. Mixtures of pollutants has possible interactions that have notable environmental side effects. The aim of this study is an attempt to characterize biomarkers in Cyprinus carpio related to the exposure to a complex mixture of contaminants found in hospital wastewater. Results of a particular hospital effluent show the presence of traces of heavy metals, high chlorine concentration and emerging contaminants such as non-steroidal anti-inflammatory drugs. The LC50 was of 5.49 % at 96 h. The cytotoxic, genotoxic and apoptotic biomarkers increase when fishes were exposed to wastewater (1/10 CL50) from hospital wastewater. This study emphasizes the importance of identifying and quantifying the effects of contaminants as pharmaceuticals, disinfectants and surfactants in order to design and implement an ecotoxicologycal plan.
Access options
Buy single article
Instant access to the full article PDF.
USD 39.95
Price includes VAT (USA)
Tax calculation will be finalised during checkout.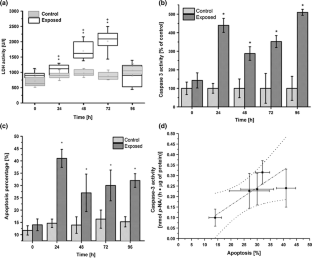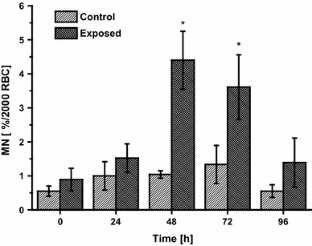 References
Ayllon F, Garcia-Vazquez E (2000) Induction of micronuclei and other nuclear abnormalities in European minnow Phoxinus phoxinus and mollie Poecilia latipinna: an assessment of the fish micronucleus test. Mutat Res 467(2):177–186. doi:10.1016/S1383-5718(00)00033-4

Boillot C, Bazin C, Tissot-Guerraz F, Droguet J, Perraud M, Cetre JC, Trepo D, Perrodin Y (2008) Daily physicochemical, microbiological and ecotoxicological fluctuations of a hospital effluent according to technical and care activities. Sci Total Environ 403:113–129

Bolognesi C, Hayashi M (2011) Micronucleus assay in aquatic animals. Mutagenesis 26(1):205–213. doi:10.1093/mutage/geq073

Buschini A, Martino A, Gustavino B, Monfrinotti M, Poli P, Rossi C, Santoro M, Dorr AJM, Rizzoni M (2004) Comet assay and micronucleus test in circulating erythrocytes of Cyprinus carpio specimens exposed in situ to lake waters treated with disinfectants for potabilization. Mutat Res 557:119–129

Emmanuel E, Perrodin Y, Keck G, Blanchard JM, Vermande P (2005) Ecotoxicological risk assessment of hospital wastewater: a proposed framework for raw effluents discharging into urban sewer network. J Hazard Mater 117(1):1–11

[EPA], Unite States Environmental Protection Agency. Aug 2014. http://www.epa.gov/ncea/bmds/dwnldu.html

Escher BI, Baumgartner R, Koller M, Treyer K, Lienert J, McArdell CS (2011) Environmental toxicology and risk assessment of pharmaceuticals from hospital wastewater. Water Res 45:75–92

Fan TJ, Han LH, Cong RS, Liang J (2005) Caspase family proteases and apoptosis. Acta Biochim Biophys Sin (Shanghai) 37(11):719–727

Gao D, Xu Z, Qiao P, Zhang SL, He P, Zhang X, Wan Y, Min W (2013) Cadmium induces liver cell apoptosis through caspase-3A activation in purse red common carp (Cyprinus carpio). PLoS One 8(12):e83423

García-Medina S, Núñez-Betancourt J, García-Medina A, Galar-Martínez M, Neri-Cruz N, Islas-Flores LM, Gómez-Oliván LM (2013) The relationship of cytotoxic and genotoxic damage with blood aluminum levels and oxidative stress induced by this metal in common carp (Cyprinus carpio) erythrocytes. Ecotoxicol Environ Saf 96:191–197

González-González ED, Gómez-Olivan LM et al (2014) Metals and nonsteroidal anti-inlfamatory pharmacueticals drug present in water from Madín Reservoir (México) induce oxidative stress in gill, blood and muscle of common carp (Cyprinus carpio). Arch Environ Contam Toxicol 67:281–295

Grisolia CK, Starling FL (2001) Micronuclei monitoring of fishes from Lake Paranoa, under influence of sewage treatment plant discharges. Mutat Res 491:39–44

Gronczewska J, Zietara MS, Biegniewska A, Skorkowski EF (2003) Enzyme activities in fish spermatozoa with focus on lactate dehydrogenase isoenzymes from herring Clupea harengus. Comp Biochem Physiol B: Biochem Mol Biol 134B:399–406

Islas-Flores H, Gómez-Oliván LM, Galar-Martínez M, Colín-Cruz A, Neri-Cruz N, García-Medina S (2013) Diclofenac-induced oxidative stress in brain, liver, gill and blood of common carp (Cyprinus carpio). Ecotoxicol Environ Saf 92:32–38

Jardim WF, Montgner CC, Pescara IC, Umbuzeiro GA, Di Dea AM, Eldridge AL, Sodré FF (2012) An integrated approach to evaluate emerging contaminants in drinking water. Sep Purif Technol 84(9):3–8

Jelic A, Petrovic M, Barceló D (2012) Pharmaceuticals in drinking water. Emerging organic contaminants and human health the handbook of environmental chemistry. Springer Link pp 47–70

Kortenkamp A, Backhaus T, Faust M (2009) State of the art on mixture toxicity. Report. Last Accessed 02 Sept 2014. http://ec.europa.eu/environment/chemicals/pdf/report_Mixture%20toxicity.pdf

Kosma CI, Lambropoulou DA, Albanis TA (2010) Occurrence and removal of PPCPs in municipal and hospital wastewaters in Greece. J Hazard Mater 179:804–817

Kümmerer K (2002) Drugs in the environment: emission of drugs, diagnostic aids and disinfectants into wastewater by hospitals in relation to other sources: a review. Chemosphere 48(3):383

Lapworth DJ, Baran N, Stuart ME, Ward RS (2012) Emerging organic contaminants in groundwater: a review of sources, fate and occurrence. Environ Pollut 163:287–303

Lin AY-C, Tsai Y-T (2009) Occurrence of pharmaceuticals in Taiwan's surface waters: impact of waste streams from hospitals and pharmaceutical production facilities. Sci Total Environ 407:3793–3802

Lin AY-C, Yu T-H, Lin C-F (2008) Pharmaceutical contamination in residential, industrial, and agricultural waste streams: risk to aqueous environments in Taiwan. Chemosphere 74:131–141

Llorente MT, Martos A, Castano A (2002) Detection of cytogenetic alterations and blood cell changes in natural populations of carp. Ecotoxicology 11:27–34

Nadal-Ginard B (1978) Regulation of lactate dehydrogenase levels in the mouse. J Biol Chem 253(1):170–177.

Nepomuceno JC, Ferrari I, Spanó MA, Centeno AJ (1997) Detection of micronuclei in pheripheral erytrocytes of Cyprinus carpio exposed to metallic mercury. Environ Mol Mutagen 30(3):293–297

Obiakor MO, Okonkwo JC, Nnabude PC, Ezeonyejiaku CD (2012) Eco-genotoxicology: micronucleus assay in fish erythrocytes as in situ aquatic pollution biomarker: a review. J Anim Sci Adv 2(1):123–133

Orias F, Perrodin Y (2013) Characterization of the ecotoxicity of hospital effluents: a review. Sci Total Environ 1(454–455):250–276

Ort C, Lawrence MG, Reungoat J, Eaglesham G, Carter S, Keller J (2010) Determining the fraction of pharmaceutical residues in wastewater originating from a hospital. Water Res 44:605–615

Petrovich M, Hernando MD, Diaz-Cruz S, Barceló D (2005) Liquid chromatography–tandem mass spectrometry for the analysis of pharmaceutical residues in environmental samples: a review. J Chromatogr A 1067(1–2):1–14

Richardson SD, Ternes TA (2011) Water analysis: emerging contaminants and current issues. Anal Chem 83:4614–4648

Sim W-J, Lee J-W, Lee E-S, Shin S-K, Hwang S-R, Oh J-E (2011) Occurrence and distribution of pharmaceuticals in wastewater from households, livestock farms, hospitals and pharmaceutical manufactures. Chemosphere 82:179–186

TR 080: Aquatic Toxicity of Mixtures (2001) European centre for ecotoxicology and toxicology of chemicals. Brussels, Belgium

Verlicchi P, Al-Aukidy M, Galletti A, Petrovic M, Barceló D (2012) Hospital effluents: investigation of the concentrations and distribution of pharmaceuticals and environmental risk assessment. Sci Total Environ 430:109–118

Way C (2012) Standard methods for the examination of water and wastewater. Water Environ Federation, Secaucus

Yu R, Mandlekar S, Harvey KJ, Ucker DS, Tony-Kong A-N (1998) Chemopreventive isothiocyanates induce apoptosis and caspase-3 like protease activity. Cancer Res 58:402–408
Acknowledgments
The authors gratefully acknowledge the National Science and Technology Council (CONACYT) for research funding (Project Reference Number 151665).
About this article
Cite this article
Olvera-Néstor, C.G., Morales-Avila, E., Gómez-Olivan, L.M. et al. Biomarkers of Cytotoxic, Genotoxic and Apoptotic Effects in Cyprinus carpio Exposed to Complex Mixture of Contaminants from Hospital Effluents. Bull Environ Contam Toxicol 96, 326–332 (2016). https://doi.org/10.1007/s00128-015-1721-3
Received:

Accepted:

Published:

Issue Date:
Keywords
Biomarkers

Genotoxicity

Cytotoxicity

Emergent contaminants

Hospital effluents