Abstract
The removal of [Dha7] microcystin-LR through bioaccumulation in six aquatic plants was investigated. The aquatic plant water lettuce (Pistia stratiotes L.) exhibited the highest removal, with 13 % of the toxin remaining after a 7-day exposure period. Removal by P. stratiotes (with 0.5 and 1.0 mg/L of the toxin) was faster and greater in static systems than in continuous flow systems. In the static experiment, P. stratiotes roots accumulated [Dha7] microcystin-LR up to a concentration of 0.0088 ng/mg wet wt. plant material, whereas in the continuous flow system, the plant root tissue accumulated the toxin up to a concentration of 0.0041 ng/mg wet wt. plant material. Exposure to the toxin at concentrations of 0.5 and 1.0 mg/L induced changes in the development of P. stratiotes, including short, thin and rotted roots with decreased leaf counts after 3 days of exposure.
Access options
Buy single article
Instant access to the full article PDF.
USD 39.95
Price includes VAT (USA)
Tax calculation will be finalised during checkout.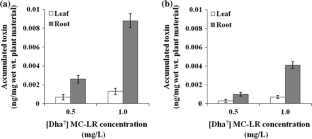 References
Bittencourt-Oliveira MC, Hereman TC, Cordeiro-Araújo MK, Macedo-Silva I, Dias CT, Sasaki FFC, Moura AN (2014) Phytotoxicity associated to microcystins: a review Braz. J Biol 74:753–760

Campos A, Vasconcelos V (2010) Molecular mechanisms of microcystin toxicity in animal cells. Int J Mol Sci 11:268–287

Cheng W, Xuexiu C, Hongjuan D, Difu L, Junyan L (2008) Allelopathic inhibitory effect of Myriophyllum aquaticum (Vell.) Verdc. on Microcystis aeruginosa and its physiological mechanism. Acta Ecol Sin 28:2595–2603

Jurczak T, Tarczynska M, Izydorczyk K, Mankiewicz J, Zalewski M, Meriluoto J (2005) Elimination of microcystins by water treatment processes-examples from Sulejow Reservoir, Poland. Water Res 39:2394–2406

Máthé C, M-Hamvas M, Vasas G, Surányi G, Bácsi I, Beyer D, Tóth S, Tímár M, Borbély G (2007) Microcystin-LR, a cyanobacterial toxin, induces growth inhibition and histological alterations in common reed (Phragmites australis) plants regenerated from embryogenic calli. New Phytol 4:824–835

Mitrovic S, Allis O, Furey A, James K (2005) Bioaccumulation and harmful effects of microcystin-LR in the aquatic plants Lemna minor and Wolffia arrhiza and the filamentous alga Chladophora fracta. Ecotoxicol Environ Saf 61:345–352

Nimptsch J, Wiegand C, Pflugmacher S (2008) Cyanobacterial toxin elimination via bioaccumulation of MC-LR in aquatic macrophytes: an application of the "green liver concept". Environ Sci Technol 42:8552–8557

Odjegba VJ, Fasidi IO (2004) Accumulation of trace element by Pistia stratiotes: implication for phytoremediation. Ecotoxicol 13:637–646

Pendleton P, Schumann R, Wong SH (2001) Microcystin-LR adsorption by activated carbon. J Colloid Interface Sci 240:1–8

Qiau RP, Li N, Qi XH, Wang QS, Zhuang YY (2005) Degradation of microcystin-RR by UV radiation in the presence of hydrogen peroxide. Toxicon 45:745–752

Romero-Oliva C, Block T, Contardo-Jara V, Pflugmacher S (2014) Accumulation of microcystin congeners in different aquatic plants and crops—a case study from Lake Amatitlán, Guatemala. Ecotoxicol Environ Saf 102:121–128

Shephard GS, Stockenström S, de Villiers D, Engelbrecht WJ, Wessels GFS (2002) Degradation of microcystin toxins in a falling film photocatalytic reactor with immobilized titanium dioxide catalyst. Water Res 36:140–146

Somdee T, Somdee A (2015) Comparison of different anion-exchange chromatography resins for the purification of cyanobacterial microcystins. Water Sci Technol Water Supply. doi:10.2166/ws.2015.108

Somdee T, Wibuloutai J, Somdee T-D, Somdee A (2014) Biodegradation of the cyanobacterial hepatotoxin [Dha7] microcystin-LR within a biologically active sand filter. Water Sci Technol Water Supply 14:672–680

Song HL, Li XN, Lu XW, Inamori Y (2009) Investigation of microcystin removal from eutrophic surface water by aquatic vegetable bed. Ecol Eng 35:1589–1598

Tel-Or E, Forni C (2011) Phytoremidiation of hazardous toxic metals and organics by photosynthetic aquatic systems. Plant Biosyst 145:224–235

Veselý T, Tlustoš P, Száková J (2011) The use of water lettuce (Pistia stratiotes L.) for rhizofiltration of a highly polluted solution by cadmium and lead. Int J Phytoremediat 13:859–872

Weiss J, Liebert HP, Braune W (2000) Influence of microcystin-RR on growth and photosynthetic capacity of the duckweed Lemna minor L. J Appl Bot 74:100–105

Wu X, Wu H, Chen J, Ye J (2013) Effects of alleochemical extracted from water lettuce (Pistia stratiotes L.) on the growth, microcystin production and release of Microcystis aeruginosa. Environ Sci Pollut Res 20:8192–8201

Yin L, Huang J, Li D, Liu Y (2005) Microcystin-RR uptake and its effects on the growth of submerged macrophyte Vallisneria natans (lour.) hara. Environ Toxicol 20:308–313
Acknowledgments
This work was supported by KhonKaen University, Thailand, under the Incubation Researcher Project.
About this article
Cite this article
Somdee, T., Thathong, B. & Somdee, A. The Removal of Cyanobacterial Hepatotoxin [Dha7] Microcystin-LR via Bioaccumulation in Water Lettuce (Pistia stratiotes L.). Bull Environ Contam Toxicol 96, 388–394 (2016). https://doi.org/10.1007/s00128-015-1715-1
Received:

Accepted:

Published:

Issue Date:
Keywords
[Dha7] microcystin-LR

Water lettuce

Pistia stratiotes

Removal

Bioaccumulation