Abstract
A free water surface constructed wetland (CW) was integrated into two commercial ponds of Macrobrachium rosenbergii, to evaluate the role of CW in reducing the excess nutrient concentration and other pollutants produced from the aquaculture waste. Hydraulic residence time was kept constant (24 h). There was a significant (p < 0.05) decrease in total suspended solids (TSS, 73.2 ± 15.4 %) and total nitrogen (TN, 39.6 ± 44.2 %) between wetland inflow and wetland outflow. The performance of the CW was highly impacted by the low concentration of dissolved nutrients at the inflow of CW. Results showed about 43.8 ± 24.6 % NO3 −, 25.7 ± 23.0 % NH4 +, 14.3 ± 1.0 % NO2 −, 28.4 ± 18.8 % DIN and 13.1 ± 10.0 % PO4 3− were removed. In agreement with previous published investigations, comparing values of pollutants before and after recirculation, this study concludes that a CW system can provide good water quality and minimize external water input.
Access options
Buy single article
Instant access to the full article PDF.
USD 39.95
Price includes VAT (USA)
Tax calculation will be finalised during checkout.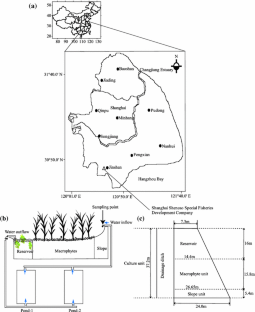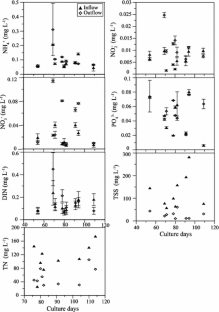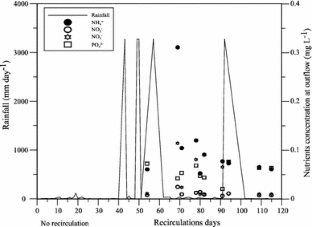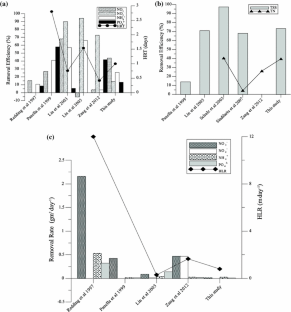 References
American Public Health Association (1985) Standard methods for the examination of water and wastewater. APHA, AWWA, and WPCF, Washington

Boonyaratpalin S (1983) Freshwater giant prawn diseases and control (training paper). National Inland Fisheries Institute, Bangkok

Chang J, Zhang X, Perfler R, Xu Q, Niu X, Ge Y (2007) Effect of hydraulic loading rate on the removal efficiency in a constructed wetland in subtropical China. Fresenius Environ Bull 16:1082–1086

EPA (1988) United States environment protection agency design manual: constructed wetlands and aquatic plant systems for municipal wastewater treatment. EPA/625/1-88/022. U.S. Environmental Protection Agency, Office of Research and Development, Cincinnati, OH

FAO (2013) Fishstat plus (v, 2.32) issued 07.04.2011. FAO, Rome

Hongtuo F, Sufei J, Yiwei X (2012) Current status and prospects of farming the giant river prawn (Macrobrachium rosenbergii) and the oriental river prawn (Macrobrachium nipponense) in China. Aquac Res 43(7):993–998

Kadlec RH, Knight RL (1996) Treatment wetlands. Lewis Publishers, CRC, New York

Konnerup D, Thuy N, Trang D, Brix H (2011) Treatment of fishpond water by recirculating horizontal and vertical flow constructed wetlands in the tropics. Aquaculture 313(1–4):57–64

Kristiansen R, Cripps ST (1996) Treatment of fish farm wastewater using sand filtration. J Environ Qual 25(3):545–551

Lee C, Fletcher TD, Sun G (2009) Nitrogen removal in constructed wetland systems. Eng Life Sci 9(1):11–22

Lin YF, Jing SR, Lee DY, Wang TW (2002) Nutrient removal from aquaculture wastewater using a constructed wetlands system. Aquaculture 209:169–184

Lin YF, Jing SR, Lee DY (2003) The potential use of constructed wetlands in a recirculating aquaculture system for shrimp culture. Environ Pollut 123(1):107–113

Lin YF, Jing SR, Lee DY, Chang YF, Chen YM, Shih KC (2005) Performance of a constructed wetland treating intensive shrimp aquaculture wastewater under high hydraulic loading rate. Environ Pollut 134(3):411–421

Liu SM, Li RH, Zhang GL, Wang DR, Du JZ, Herbeck LS, Zhang J, Ren JL (2011) The impact of anthropogenic activities on nutrient dynamics in the tropical Wenchanghe and Wenjiaohe Estuary and Lagoon system in East Hainan, China. Marian Chem 125:49–68

Metcalf, Eddy Inc (1991) Wastewater engineering: treatment, disposal, reuse, 3rd edn. McGraw-Hill, New York

Muller JA (2000) Pretreatment processes for the recycling and reuse of sewage sludge. Water Sci Technol 42:167–174

New M (2005) Freshwater prawn farming: global status, recent research and a glance at the future. Aquac Res 36:210–230

New MB, Nair CM (2012) Global scale of freshwater prawn farming. Aquac Res 43:960–969

Panella S, Cignini I, Battilotti M, Falcucci M, Hull V, Milone N, Monfrinotti M, Mulas GA, Pipornetti G, Tancioni L, Cataudella S (1999) Eco depuration performances of a small-scale experimental constructed wetland system treating and recycling intensive aquaculture wastewater. Annu N Y Acad Sci 879:427–431

Pasugdee S, Tarptipwan P, Jintasathaporn O (2006) Waste output and loading in prawn (Macrobrachium rosenbergii De Man) culture at different sizes and feeding frequencies. Aquaculture 275:269–275

Redding T, Todd S, Midlen A (1997) The treatment of aquaculture wastewaters—a botanical approach. J Environ Manag 50(3):283–299

Reddy KR, D'Angelo EM (1997) Biogeochemical indicators to evaluate pollutant removal efficiency in constructed wetlands. Water Sci Technol 35(5):1–10

Reddy KR, Debusk WF (1985) Nutrient removal potential of selected aquatic macrophytes. J Environ Qual 14:459–462

Schulz C, Gelbrecht J, Rennert B (2003) Treatment of rainbow trout farm effluents in constructed wetland with emergent plants and subsurface horizontal water flow. Aquaculture 217:207–221

Schulz C, Gelbrecht J, Rennert B (2004) Constructed wetlands with a free water surface for treatment of aquaculture effluents. J Appl Ichthyol 20:64–70

Shi Y, Zhang G, Liu J, Zhu Y, Xu J (2011) Performance of a constructed wetland in treating brackish wastewater from commercial recirculating and super-intensive shrimp growout systems. Bioresour Technol 102(20):9416–9424

Sindilariu PD, Brinker A, Reiter R (2009) Factors influencing the efficiency of con-structed wetlands used for the treatment of intensive trout farm effluent. Ecol Eng 35(5):711–722

Tanner CC, Clayton JS, Upsdell MP (1995) Effect of loading rate and planting on treatment of dairy farm wastewaters in constructed wetlands. Removal of oxygen demand, suspended solids and faecal coliforms. Water Res 29:17–26

Tilley DR, Badrinarayanan H, Rosati R, Son J (2002) Constructed wetlands as recirculation filters in large-scale shrimp aquaculture. Aquac Eng 26:81–109

Van Rijn J, Tal Y, Schreier HJ (2006) Denitrification in recirculating systems: theory and applications. Aquac Eng 34:364–376

Zang WL, Zhang Y, Dai X, Liu Y, Yang M, Hou W, Ding F (2012) The effect and application of treatment for wastewater of productive shrimp aquaculture by constructed wetlands combined with pond facilities. J Fish China 36(4):68–575 (In Chinese with English abstract)

Zhang S, Zhou Q, Xu D, He F, Cheng S (2010) Vertical-flow constructed wetlands applied in a recirculating aquaculture system for channel catfish culture: effects on water quality and zooplankton. Pol J Environ Study 19(5):1063–1070
Acknowledgments
This study was supported by Project 973-3 (No. 2011CB409801). The authors would like to thanks the Shanghai Jinshan Shrimp farms in providing the facilities and full access for this study. Tariq Mahmood is also grateful to the students of Shanghai Ocean University and East China Fisheries Research Institute to help in the field and laboratory works. Thanks to China Scholarship Council (CSC) for providing the Ph.D. scholarship.
About this article
Cite this article
Mahmood, T., Zhang, J. & Zhang, G. Assessment of Constructed Wetland in Nutrient Reduction, in the Commercial Scale Experiment Ponds of Freshwater Prawn Macrobrachium rosenbergii . Bull Environ Contam Toxicol 96, 361–368 (2016). https://doi.org/10.1007/s00128-015-1713-3
Received:

Accepted:

Published:

Issue Date:
Keywords
Macrobrachium rosenbergii

Constructed wetland

Nutrient

Water re-circulation