Abstract
Experimental investigations were conducted to evaluate the toxic effects of different arsenic (As) species such as arsenite (As(III)), arsenate (As(V)) and dimethylarsinic acid (DMA) on the growth of okra (Abelmoschus esculentus). The present study describes the changes in the growth, yield and accumulation characteristics of okra plants spiked with 20 and 50 mg kg−1 of As(III), As(V) and DMA. As species negatively affected the yield and growth of the plant.The availability of arsenic compounds in the aerial parts decreased in the order As(V) > As(III) > DMA and in the roots observed as As(III) > As(V) > DMA. The results showed that except As(V), okra accumulated As(III) and DMA mainly in its roots with limited transport to shoots. Thus the plant has the capacity to tolerate As stress and can be considered as a resistive variety. The study also reveals that removal of As by boiling the vegetables with excess of water is not possible.
Access options
Buy single article
Instant access to the full article PDF.
USD 39.95
Price includes VAT (USA)
Tax calculation will be finalised during checkout.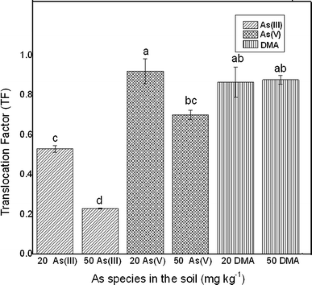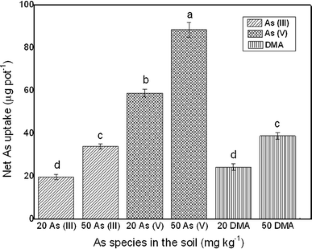 References
Abedin MJ, Feldmann J, Meharg AA (2002) Uptake kinetics of arsenic species in rice plants. Plant Physiol 128:1120–1128

Baig JA, Kazi TG (2012) Translocation of arsenic contents in vegetables from growing media of contaminated areas. Ecotoxicol Environ Saf 75:27–32

Barman SC, Sahu RK, Bhargava SK, Chatterjee C (2000) Distribution of heavy metals in wheat, mustard and weed grown in fields irrigated with industrial effluents. Bull Environ Contam Toxicol 64:489–496

Biswas A, Biswas S, Santra SC (2012) Risk from winter vegetables and pulses produced in arsenic endemic areas of Nadia District: field study comparison with market basket survey. Bull Environ Contam Toxicol 88:909–914

Burlo F, Guijarro I, Carbonell-Barrachina AA, Valero D, Martinez-Sanchez F (1999) Arsenic species: effects on and accumulation by tomato plants. J Agric Food Chem 47:1247–1253

Caporale AG, Pigna M, Sommella A, Dynes JJ, Cozzolino V, Violante A (2013) Influence of compost on the mobility of arsenic in soil and its uptake by bean plants (Phaseolus vulgaris L.) irrigated with arsenite contaminated water. J Environ Manag 128:837–843

Carbonell Barrachina AA, Burló F, Valero D, López E, Martínez Romero D, Martínez Sánchez F (1999) Arsenic toxicity and accumulation in turnip as affected by arsenical chemical speciation. J Agric Food Chem 47:2288–2294

Carbonell-Barrachina AA, Burlo F, Mataix J (1995) Arsenic uptake, distribution and accumulation in plants: effect of arsenite on plant growth and yield. J Plant Nutr 18:1237–1250

Jiang QQ, Singh BR (1994) Effect of different forms and sources of arsenic on crop yield and arsenic concentration. Water Air Soil Pollut 74:321–343

Kolachi NF, Kazi TG, Wadhwa SK, Afridi HI, Baig JA, Khan S, Shah F (2011) Evaluation of selenium in biological sample of arsenic exposed female skin lesions and skin cancer patients with related to non-exposed skin cancer patients. Sci Total Environ 409:3092–3097

Liu X, Zhang S, Shan X, Zhu YG (2005) Toxicity of arsenate and arsenite on germination seedling growth and amylolytic activity of wheat. Chemosphere 61:293–301

Meharg AA, Hartley-Whitaker J (2002) Arsenic uptake and metabolism in arsenic resistant and non resistant plant species. New Phytol 154:29–43

Melo EEC, Costa ETS, Guilherme LRG, Faquin V, Nascimento CWA (2009) Accumulation of arsenic and nutrients by castor bean plants grown on an As-enriched nutrient solution. J Hazard Mater 168:479–483

Meng L, Guo Q, Mao P, Tian X (2013) Accumulation and tolerance characteristics of zinc in Agropyron plants exposed to zinc-contaminated soil. Bull Environ Contam Toxicol 91:298–301

Mohan D, Pittman CU Jr (2007) Arsenic removal from water/wastewater using adsorbents—a critical review. J Hazard Mater 142:1–53

Ng JC (2005) Environmental contamination of arsenic and its toxicological impact on humans. Environ Chem 2:146–160

Shaibur MR, Islam T, Kawai S (2009) Response of leafy vegetable Kalmi (Water Spinach; Ipomoea aquatica L.) at elevated concentrations of arsenic in hydroponic culture. Water Air Soil Pollut 202:289–300

Sharma RK, Agrawal M, Agrawal SB (2010) Physiological, biochemical and growth responses of lady's finger (Abelmoschus esculentus L.) plants as affected by Cd contaminated soil. Bull Environ Contam Toxicol 84:765–770

Smedley PL, Kinniburgh DG (2002) A review of the sources, behavior and distribution of arsenic in natural waters. Appl Geochem 17:517–568

Tu S, Ma LQ (2003) Effects of arsenate and phosphate on their accumulation by an arsenic-hyperaccumulator Pteris vittata L. Plant Soil 249:373–382

Wadhwa SK, Kazi TG, Chandio AA, Afridi HI, Kolachi NF, Khan S et al (2011) Comparative study of liver cancer patients in arsenic exposed and non-exposed areas of Pakistan. Biol Trace Elem Res 114:86–96

WHO (World Health Organization) (2001) IPCS Environmental Health Criteria. 224. Arsenic and arsenic compounds. International Programme on Chemical Safety, World Health Organization, Geneva

WHO (World Health Organization) (2011) Guidelines for drinking-water quality, vol 4. World Health Organization, Geneva
Acknowledgments
The authors are grateful to the National Institute of Technology, Durgapur for kindly permitting to do the experimental works at the laboratory. Sincere thanks are also due to all the editors and reviewers of this manuscript.
About this article
Cite this article
Chandra, S., Saha, R. & Pal, P. Arsenic Uptake and Accumulation in Okra (Abelmoschus esculentus) as Affected by Different Arsenical Speciation. Bull Environ Contam Toxicol 96, 395–400 (2016). https://doi.org/10.1007/s00128-015-1712-4
Received:

Accepted:

Published:

Issue Date:
Keywords
Abelmoschus esculentus

Bioaccumulation

Arsenite

Arsenate

Dimethylarsinic acid

Yield