Abstract
In order to assess the impact of four land use changes on metal concentrations in the hilly Sichuan Basin of China, 71 surface water samples were collected in July and November 2014. Samples from residential ditch water were found to have higher metal concentrations than those in other types of ditches, while the lowest occurred in barren land ditch water. However, the selected metals were below the Chinese surface water quality standards and WHO (2011). The pollution index of four determined land use types was also below the critical pollution index, suggesting there were low levels of pollution in Sichuan Basin. Arsenic was the most important pollutant of concern. Results indicate steps should be taken to control and reduce the risk of metals released from residential ditch water.
Access options
Buy single article
Instant access to the full article PDF.
US$ 39.95
Tax calculation will be finalised during checkout.
Subscribe to journal
Immediate online access to all issues from 2019. Subscription will auto renew annually.
US$ 119
Tax calculation will be finalised during checkout.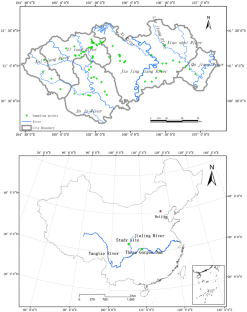 References
Antonious FG, Turley ET, Sikora F, Snyder JC (2008) Heavy metal mobility in runoff water and absorption by eggplant fruits from sludge treated soil. J Environ Sci Health B 43:526–532

Arora M, Kiran B, Rani S, Rani A, Kaur B, Mittal N (2008) Heavy metal accumulation in vegetables irrigated with water from different sources. Food Chem 111:811–815

Backman B, Bodis D, Lahermo P, Rapant S, Tarvainen T (1997) Application of a groundwater contamination index in Finland and Slovakia. Environ Geol 36:55–64

Bahar M, Ohmori H, Yamamuro M (2008) Relationship between river water quality and land use in a small river basin running through the urbanizing area of central Japan. Limnology 9:19–26

Bakan G, Boke Ozkoc H, Tulek S, Cuce H (2010) Integrated environmental quality assessment of Kızılırmak River and its coastal environment. Turk J Fish Aquat Sci 10:453–462

Bigdeli M, Seilsepour M (2008) Investigation of metals accumulation in some vegetables irrigated with waste water in Shahre Rey-Iran and toxicological implications. Am Euras J Agric Environ Sci 4:86–92

Boesch DF (2002) Reversing nutrient over-enrichment of coastal waters: challenges and opportunities for science. Estuaries 25:744–758

Chatterjee A, Banerjee RN (1999) Determination of lead and other metals in a residential area of greater Calcutta. Sci Total Environ 227:175–185

Davis TA, Volesky B, Mucci A (2003) A review of the biochemistry of heavy metal biosorption by brown algae. Water Res 37:4311–4330

Franco-Urıa A, Lo´pez-Mateo C, Roca E, Fernandez-Marcos ML (2009) Source identification of heavy metals in pastureland by multivariate analysis in NW Spain. J Hazard Mater 165:1008–1015

Gasim MB, Toriman ME, Rahim SA, Islam MS, Chek TC, Juahir H (2006) Hydrology, water quality and land-use assessment of Tasik China's Feeder Rivers, Pahang, Malaysia, GEOGRAFIA Online. Malays J Soc Space 2:72–86

Gupta G, Charles S (1999) Trace elements in soils fertilized with poultry litter. Poult Sci 78:1695–1698

Jiang X, Teng A, Xu W, Liu X (2014) Distribution and pollution assessment of heavy metals in surface sediments in the Yellow Sea. Mar Pollut Bull 83:366–375

Jones B, Turki A (1997) Distribution and speciation of heavy metals in surficial sediments from the Tees Estuary North-East England. Mar Pollut Bull 34(10):768–779

Li MY, Xu JR, Shi ZW (2009) Seasonal and spatial distribution of heavy metals in Kunes River, Xinjiang. Environ Chem 28:716–720 (In Chinese)

Martinuzzi S, Januchowski-Hartley SR, Pracheil BM, McIntyre PB, Plantinga AJ, Lewis DJ (2014) Threats and opportunities for freshwater conservation under future land use change scenarios in the United States. Glob Chang Biol 20:113–124

Mohan SV, Nithila P, Reddy SJ (1996) Estimation of heavy metal in drinking water and development of heavy metal pollution index. J Environ Sci Health A 31:283–289

Moore MT, Bennett ER, Cooper CM, Smith S Jr, Shields FD Jr, Milan CD, Farris JL (2001) Transport and fate of atrazine and lambda-cyhalothrin in an agricultural drainage ditch in the Mississippi Delta, USA. Agric Ecosyst Environ 87:309–314

Nguyen L, Sukias J (2002) Phosphorus fractions and retention in ditch sediments receiving surface runoff and subsurface drainage from agricultural catchments in the North Island, New Zealand. Agric Ecosyst Environ 92:49–69

Reddy MV, Satpathy D, Dhiviya KS (2013) Assessment of heavy metals (Cd and Pb) and micronutrients (Cu, Mn, and Zn) of paddy (Oryza sativa L.) field surface soil and water in a predominantly paddy-cultivated area at Puducherry (Pondicherry, India), and effects of the agricultural runoff on the elemental concentrations of a receiving rivulet. Environ Monit Assess 185:6693–6704

Ribolzi O, Cuny J, Sengsoulichanh P, Mousquès C, Soulileuth B, Pierret A, Huon S, Sengtaheuanghoung O (2011) Land use and water quality along a Mekong Tributary in Northern Lao P.D.R. Environ Manag 47(2):291–302

Rodríguez Martín JA, Vázquez de la Cueva A, Grau Corbí JM, López Arias M (2007) Factors controlling the spatial variability of copper in topsoils of the northeastern region of the Iberian Peninsula, Spain. Water Air Soil Pollut 186:311–321

Sharpley AN, Chapra SC, Wedepohl R, Sims JT, Daniel TC, Reddy KR (1994) Managing agricultural phosphorus for protection of surface waters: issues and options. J Environ Qual 23:437–451

Sheykhi V, Moore F (2012) Evaluation of potentially toxic metals pollution in the sediments of the Kor River, southwest Iran. Environ Monit Assess 185:3219–3232

Tamasi G, Cini R (2004) Heavy metals in drinking waters from Mount Amiata. Possible risks from arsenic for public health in the province of Siena. Sci Total Environ 327:41–51

Vander Laan JJ, Hawkins CP, Olson JR, Hill RA (2013) Linking land use, in-stream stressors, and biological condition to infer causes of regional ecological impairment in streams. Fresh Sci 32:801–820

WHO (2011) Guidelines for drinking water quality, 3rd edn. World Health Organization, Geneva

Wright P, Mason CF (1999) Spatial and seasonal variation in heavy metals in the sediments and biota of two adjacent estuaries, the Orwell and the Stour, in Eastern England. Sci Total Environ 226:139–156

Yang ZF, Cheng HX, Xi XH (2005) Regional ecological geochemical assessment: ideas and prospects. Geol Bull China 24:687–693 (in Chinese)

Zhang M, He Z, Calvert DV, Stoffella PJ (2004) Spatial and temporal variations of water quality in drainage ditches within vegetable farms and citrus groves. Agric Water Manag 65:39–57
Acknowledgments
The authors are grateful to the Natural Science Foundation of China (41371462), the CAS Western Light Talent Culture Project, and the Chinese Academy of Sciences–The World Academy of Sciences (CAS–WAS) president's fellowship program for developing countries for financial support of this work.
Additional information
Bo Zhu and Tao Wang have contributed equally to this work.
About this article
Cite this article
Kumwimba, M.N., Zhu, B., Wang, T. et al. Metal Distribution and Contamination Assessment in Drainage Ditch Water in the Main Rice/Vegetable Area of Sichuan Hilly Basin. Bull Environ Contam Toxicol 96, 248–253 (2016). https://doi.org/10.1007/s00128-015-1706-2
Received:

Accepted:

Published:

Issue Date:
Keywords
Land use

Spatial distribution

Pollution evaluation indices

Channel