Abstract
The massive use of glyphosate (GLY) in several countries has increased the interest in investigating its potential adverse effects in non-target organisms. The aim of the present study was to assess the potential effects in survival and reproduction; avoidance behavior and oxidative stress under short-term (48 h) and subchronic exposures (28 days) to GLY in the earthworm Octolasion cyaneum. After 48 h no significant changes in the behavior was observed. In addition, a lower catalase activity at 498 μg GLY kg−1 dry soil section relative to earthworms from the control section was obtained. After 28 days of exposure inhibition of glutathione S-transferase activity was observed at 535 μg GLY kg−1 dry soil while no changes in the other endpoints were detected. These results indicate that environmentally relevant concentrations of GLY (up to 996 µg GLY kg−1 dry soil) did not exert a toxic effect to O. cyaneum.
Access options
Buy single article
Instant access to the full article PDF.
USD 39.95
Price includes VAT (USA)
Tax calculation will be finalised during checkout.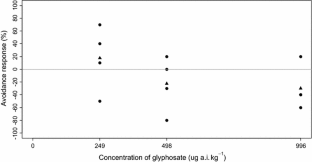 References
Amorim MJB, Römke J, Soares AMVM (2005) Avoidance behaviour of Enchytraeus albidus: effects of benomyl, carbendazim, phenmedipham and different soil types. Chemosphere 59:501–510

Aparicio VC, De Gerónimo E, Marino D, Primost J, Carriquiriborde P, Costa JL (2013) Environmental fate of glyphosate and aminomethylphosphonic acid in surface waters and soil of agricultural basins. Chemosphere 93:1866–1873

Bradford M (1976) A rapid and sensitive method for the quantification of microgram quantities of protein utilizing the principle of protein-dye binding. Anal Biochem 72:248–254

Buch AC, Brown GG, Niva CC, Sautter KD, Sousa JP (2013) Toxicity of three pesticides commonly used in Brazil to Pontoscolex corethrurus (Müller, 1857) and Eisenia andrei (Bouché, 1972). Appl Soil Ecol 69:32–38

Casabé N, Piola L, Fuchs J, Oneto ML, Pamparato L, Basack S, Jiménez R, Massaro R, Papa JC, Kesten E (2007) Ecotoxicological assessment of the effects of glyphosate and chlorpyrifos in an Argentine soya field. J Soils Sediments 7(4):232–239

CASAFE (2013) http://www.casafe.org/pdf/estadisticas/Informe%20Mercado%20Fitosanitario%202012.pdf. Retrieved 25 Aug 2014

Claiborne A (1985) Catalase activity. In: Greenwald RA (ed) CRC handbook of methods in oxygen radical research. CRC Press, Boca Raton, pp 283–284

Correia FV, Moreira JC (2010) Effects of glyphosate and 2,4-D on earthworms (Eisenia foetida) in laboratory tests. Bull Environ Contam Toxicol 85:264–268

De Silva PMCS, Pathiratne A, Van Gestel CAM (2010) Toxicity of chlorpyrifos, carbofuran, mancozeb and their formulations to the tropical earthworm Perionyx excavates. Appl Soil Ecol 44:56–60

Edwards CA (2004) Earthworm ecology, 2nd edn. St. Lucie Press, New York

García-Torres T, Giuffré L, Romaniuk R, Ríos RP, Pagano EA (2014) Exposure assessment to glyphosate of two species of annelids. Bull Environ Contam Toxicol 93(2):209–214

Givaudan N, Binet F, Le Bot B, Wiegand C (2014) Earthworm tolerance to residual agricultural pesticide contamination: field and experimental assessment of detoxification capabilities. Environ Pollut 192:9–18

Habig W, Pabst MJ, Jakoby WB (1974) Glutathione S-transferase, the first step in mercapturic acid formation. J Biol Chem 249:1730–1739

ISO (2005) Soil quality-avoidance test for testing the quality of soils and toxicity of chemicals-test with earthworms (Eisenia andrei). ISO, Geneve, Switzerland. N° 17512, ISO, Geneva, Switzerland. s.p

Koenig S, Solé M (2012) Natural variability of hepatic biomarkers in Mediterranean deep-sea organisms. Mar Environ Res 79:122–131

Loureiro S, Soares AMVM, Nogueira AJA (2005) Terrestrial avoidance behaviour tests as screening tool to assess soil contamination. Environ Pollut 138:121–131

Mayer FL, Versteeg DJ, McKee MJ, Folman LC, Graney RL, McCume DC, Rattner BA (1992) In: Huggett RJ, Mehrle RA, Bergman HL (eds) Biomarkers, biochemical, physiological and histological markers of anthropogenic stress. Lewis Publishers, Boca Raton, pp 5–85

Mischis CC (2000) Las lombrices de tierra (Annelida, Oligochaeta) de la República Argentina. Nat Neotrop 31:17–27

Oakes KD, Van Der Kraak GJ (2003) Utility of TBARS assay in detecting oxidative stress in white sucker (Catostomus commersoni) populations exposed to pulp mill effluent. Aquat Toxicol 63:447–463

OECD (1984) Earthworm, acute toxicity tests, test guidelines N° 207. OECD Test in Soil Guidelines for Testing Chemicals, Paris

OECD (2004) Earthworm reproduction test (Eisenia fetida/Eisenia andrei), test guidelines N° 222. OECD Test in Soil Guidelines for Testing Chemicals, Paris

Piola L, Fuchs J, Oneto ML, Basack S, Kesten E, Casabé N (2013) Comparative toxicity of two glyphosate-based formulations to Eisenia andrei under laboratory conditions. Chemosphere 91:545–551

R Development Core Team (2014) R: a language and environment for statistical computing. R Foundation for Statistical Computing, Vienna. Version 3.1.1

Sasal MC, Demonte L, Cislaghi A, Gabioud EA, Oszust JD, Wilson MG, Michlig N, Beldoménico HR, Repetti MR (2015) Glyphosate loss by runoff and its relationship with phosphorus fertilization. J Agric Food Chem. doi:10.1021/jf505533r

Wiegand C, Pflugmacher S, Oberemm A, Steinberg CEW (2000) Activity development of selected detoxication enzymes during the ontogenesis of the zebrafish (Danio rerio). Int Rev Hydrobiol 85:413–422

Zhou CF, Wang YJ, Li CC, Sun RJ, Yu YC, Zhou DM (2013) Subacute toxicity of copper and glyphosate and their interaction to earthworm (Eisenia fetida). Environ Pollut 180:71–77
Acknowledgments
Thank you to N. Clemente for the statistical analysis. This work was supported by CONICET (PIP 112-201-101-01084) and UNMdP (EXA 608/12 and AGR 390/12).
About this article
Cite this article
Salvio, C., Menone, M.L., Rafael, S. et al. Survival, Reproduction, Avoidance Behavior and Oxidative Stress Biomarkers in the Earthworm Octolasion cyaneum Exposed to Glyphosate. Bull Environ Contam Toxicol 96, 314–319 (2016). https://doi.org/10.1007/s00128-015-1700-8
Received:

Accepted:

Published:

Issue Date:
Keywords
Oligochaete

Avoidance behavior

Biochemical biomarkers

Herbicide