Abstract
Copper(II) and zinc(II) levels in drinkable water sources in the alluvium areas of the Lake Victoria Basin in Siaya County of Kenya were evaluated to assess the risk posed to resident communities by hydrogeological accumulation of toxic residues in the sedimentary regions of the lake basin. The levels of the metals in water were analyzed by atomic absorption spectroscopy. Metal concentrations ranged from 0.11 to 4.29 mg/L for Cu(II) and 0.03 to 1.62 mg/L for Zn(II), which were both higher than those normally recorded in natural waters. The Cu(II) levels also exceeded WHO guidelines for drinking water in 27 % of the samples. The highest prevalence of excessive Cu(II) was found among dams and open pans (38 %), piped water (33 %) and spring water (25 %). It was estimated that 18.2 % of the resident communities in the current study area are exposed to potentially toxic levels of Cu(II) through their drinking water.
Access options
Buy single article
Instant access to the full article PDF.
USD 39.95
Price includes VAT (USA)
Tax calculation will be finalised during checkout.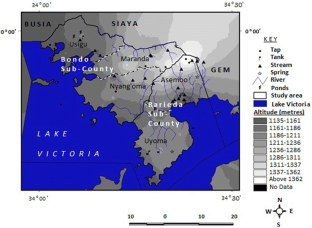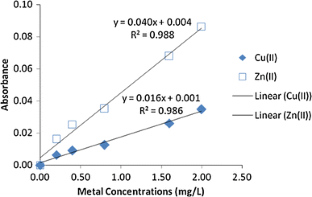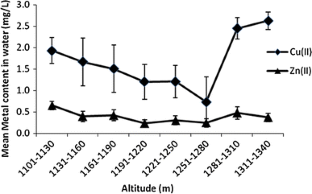 References
AOAC (2000) Official methods of analysis, 17th edn. Association of Official Analytical Chemists (AOAC) International, Gaithersburg

Bolan NS, Khan MA, Donaldson J et al (2003) Distribution and bioavailability of copper in farm effluent. Sci Total Environ 309:225–236. doi:10.1016/S0048-9697(03)00052-4

Brewer GJ (2008) Iron and copper toxicity in diseases of aging, particularly atherosclerosis and Alzheimer's disease. Exp Biol Med 232:323–335

Chilton J, Dahi E, Lennon M et al (2006) Fluoride in drinking-water. IWA, London

Fuchs S, Hoffmann M (2005) Discharges of copper, zinc and lead to water and soil—analysis of the emission pathways and possible emission reduction measures. In: Research Report of the Environmental Research of the Federal Ministry of the Environment, Nature Conservation and Nuclear Safety, Karlsruhe, Germany, pp 1–29

Gitonga JK (1992) Agricultural chemicals and wetlands: a review. In: Crater SA, Njuguna SG, Howard GW (eds) Wetlands of Kenya: proceedings of the KWWG seminar on wetlands of Kenya. International Union for Conservation of Nature and Natural Resources, Gland, pp 161–167

Kenya National Bureau of Statistics (2010) Kenya population and housing 2009 census results: population distribution by political units, vol 1B. Ministry of Planning, Nairobi

Kishe MA, Machiwa JF (2000) Distribution of heavy metals in sediments of Mwanza Gulf of Lake Victoria, Tanzania. Environ Int 28:619–625

Muwanga A, Barifaijo E (2006) Impact of industrial activities on heavy metal loading and physico-chemical effects on wetlands of Lake Victoria Basin (Uganda). Afr J Sci Technol 7:51–63

Mwamburi J (2009) Trace metal concentration in water and sediments of satellite lakes within Lake Victoria (Kenya) basin. Lakes Reserv Res Manag 14:203–220. doi:10.1111/j.1440-1770.2009.00408.x

Mzimela HM, Wepener V, Cyrus DP (2003) Seasonal variation of selected metals in sediments, water and tissues of the groovy mullet, Liza dumerelii (Mugilidae) from the Mhlathuze Estuary, South Africa. Mar Poll Bull 46:659–664

Ogoyi DO, Mwita CJ, Nguu EK, Shiundu PM (2011) Determination of heavy metal content in water, sediment and microalgae from Lake Victoria, East Africa. Open Environ Eng J 4:156–161

Oyaro N, Juddy O, Murago ENM, Gitonga E (2007) The contents of Pb, Cu, Zn and Cd in meat in Nairobi, Kenya. J Food Agric Environ 5:119–121

Shrivastava AK (2009) A review on copper pollution and ite removal from water by pollution control technologies. Indian J Environ Prot 29:552–560

Srivastava VC, Mall ID, Mishra IM (2006) Modelling individual and competitive adsorption of cadmium(II) and zinc(II) metal ions from aqueous solution onto bagasse fly ash. Sep Sci Technol 41:2685–2710. doi:10.1080/01496390600725687

Wambu EW, Agong SG, Anyango B et al (2014) High fluoride water in Bondo–Rarieda area of Siaya County, Kenya: a hydro-geological implication on public health in the Lake Victoria Basin. BMC Public Health 14:462–470. doi:10.1186/1471-2458-14-462

World Health Organization (1996) Copper in drinking-water background document for development of WHO guidelines for drinking-water quality, vol 2. World Health Organization, Geneva, pp 1–31

World Health Organization (2003) Zinc in drinking-water background document for development of guidelines for drinking-water quality, vol 2. World Health Organization, Geneva, pp 1–10

Yabe J, Ishizuka M, Umemura T (2010) Current levels of heavy metal pollution in Africa. J Vet Med Sci 72:1257–1263
About this article
Cite this article
Wambu, E.W., Omwoyo, W.N. & Akenga, T. Excessive Copper(II) and Zinc(II) Levels in Drinkable Water Sources in Areas Along the Lake Victoria Shorelines in Siaya County, Kenya. Bull Environ Contam Toxicol 96, 96–101 (2016). https://doi.org/10.1007/s00128-015-1690-6
Received:

Accepted:

Published:

Issue Date:
Keywords
Copper(II)

Pollution

Water sources

Hydrological translocation

Lake Victoria Basin

Zinc(II)