Abstract
This paper presents the variation of elemental concentrations of total carbon (TC), total nitrogen (TN) and isotopic ratios of δ13C and δ15N along with δ13OC and OC of PM10 mass over Delhi, Varanasi and Kolkata of the Indo Gangetic Plain (IGP), India. For Delhi, the average concentrations of TC and TN of PM10 were 53.0 ± 33.6 and 14.9 ± 10.8 µg m−3, whereas δ13C and δ15N of PM10 were −25.5 ± 0.5 and 9.6 ± 2.8 ‰, respectively. For Varanasi, the average values of δ13C and δ15N of PM10 were −25.4 ± 0.8 and 6.8 ± 2.4 ‰, respectively. For Kolkata, TC and TN values for PM10 ranged from 9.1–98.2 to 1.4–25.9 µg m−3, respectively with average values of 32.6 ± 24.9 and 9.3 ± 8.2 µg m−3, respectively. The average concentrations of δ13C and δ15N were −26.0 ± 0.4 and 7.4 ± 2.7 ‰, respectively over Kolkata with ranges of −26.6 to −24.9 ‰ and 2.8 ± 11.5 ‰, respectively. The isotopic analysis revealed that biomass burning, vehicular emission and secondary inorganic aerosols were likely sources of PM10 mass over IGP, India.
Access options
Buy single article
Instant access to the full article PDF.
USD 39.95
Price includes VAT (USA)
Tax calculation will be finalised during checkout.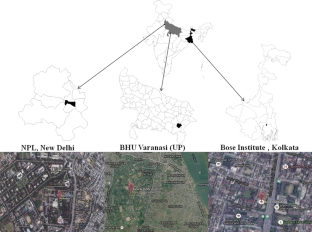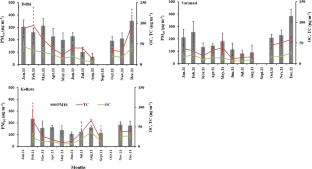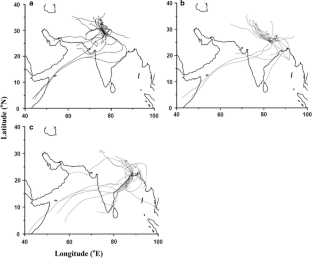 References
Agnihotri R, Mandal TK, Karapurkar SG, Naja M et al (2011) Stable carbon and nitrogen isotopic composition of bulk aerosols over India and northern Indian Ocean. Atmos Environ 45:2828–2835

Agnihotri R, Karapurkar SG, Sarma VVSS, Yadav K, Kumar MD, Sharma C, Prasad MVSN (2015) Stable isotopic chemical characteristics of bulk aerosol during winter and summer season at a station in western coast of India (Goa). Aerosol Air Qual Res. doi:10.4209/aaqr.2014.07.0127

Bosch C, Andersson A, Kirrillova EN, Budhavant K, Tiwari S, Praveen PS, Russell LM, Beres ND, Ramanathan V, Gustafsson O (2014) Source-diagnostic dual isotope composition and optical properties of water soluble organic carbon and elemental carbon in the South Asian outflow intercepted over Indian ocean. J Geophys Res Atmos 119:11743–11759

Chen B, Andersson A, Lee M, Kirillova EN, Xiao Q, Kruså M, Shi M, Hu K, Lu Z, Streets DG, Du K, Gustafsson Ö (2013) Source forensics of black carbon aerosols from China. Environ Sci Technol 47:9102–9108

Chow JC, Watson JG, Chen LWA, Arnott WP, Moosmuller H (2004) Equivalence of elemental carbon by thermal/optical reflectance and transmittance with different temperature protocols. Environ Sci Technol 38:4414–4422

Court JD, Goldsack JR, Ferrari LM, Polach HA (1981) The use of carbon isotopes in identifying urban air particulate sources. Clean Air 15:6–11

Delhi Statistical Handbook (2012) Registered vehicles in Delhi. Directorate of Economics and Statistics, Govt of National Capital Delhi. http://www.des.delhigovt.nic.in

Draxler RR, Rolph GD (2003) HYSPLIT (HYbrid Single-Particle Lagrangian Integrated Trajectory) Model access via NOAA ARL READY Website (http://www.arl.noaa.gov/ready/hysplit4.html). NOAA Air Resources Laboratory, Silver Spring, MD

Goyal P, Sidhartha (2002) Effect of winds on SO2 and SPM concentration in Delhi. Atmos Environ 36:2925–2930

Gustafsson O, Kruså M, Zencak Z, Sheesley RJ, Granat L, Engström E, Praveen PS, Rao PS, Leck C, Rodhe H (2009) Brown clouds over South Asia: biomass or fossil fuel combustion. Science 323:495–498

Jacobson MZ (2001) Strong radiative heating due to the mixing state of black carbon in atmospheric aerosols. Nature 409:695–697

Kawamura K, Kobayashi M, Tsubonuma N, Mochida M, Watanabe T, Lee M (2004) Organic and inorganic compositions of marine aerosols from East Asia: seasonal variations of water-soluble dicarboxylic acids, major ions, total carbon and nitrogen, and stable C and N isotopic composition. In: Hill RJ et al. (eds) Geochemical investigations in earth and space science: a tribute to Isaac R. Kaplan. Geochemical Society publication no. 9, pp 243–265

Kelly SD, Stein C, Jickells TD (2005) Carbon and nitrogen isotopic analysis of atmospheric organic matter. Atmos Environ 39:6007–6011

Kulshrestha UC, Saxena A, Kumar N, Kumari KM, Srivastava SS (1998) Chemical composition and size differentiated aerosols at a suburban site in a semi-arid tract of India. J Atmos Chem 29:109–118

Liousse C, Penner JE, Chuang C, Walton JJ, Eddleman H, Cachier H (1996) A global three-dimensional model study of carbonaceous aerosol. J Geophy Res 101:19411–19432

Martinelli LA, Camargo PB, Lara LBLS, Victoria RL, Artaxo P (2002) Stable carbon and nitrogen isotope composition of bulk aerosol particles in a C4 plant landscape of southeast Brazil. Atmos Environ 36:2427–2432

Moore H (1977) The isotopic composition of ammonia, nitrogen dioxide and nitrate in the atmosphere. Atmos Environ 11:1239–1243

Parashar DC, Gadi R, Mandal TK, Mitra AP (2005) Carbonaceous aerosol emissions from India. Atmos Environ 39:7861–7871

Pavuluri CM, Kawamura K, Tachibana E, Swaminathan T (2010) Elevated nitrogen isotope ratios of tropical Indian aerosols from Chennai: implication for the origins of aerosol nitrogen in South and Southeast Asia. Atmos Environ 44:3597–3604

Ram K, Sarin MM (2010) Spatio-temporal variability in atmospheric abundances of EC, OC and WSOC over northern India. J Aerosol Sci 41:88–98

Ram K, Sarin MM (2011) Day–night variability of EC, OC, WSOC and inorganic ions in urban environment of Indo-Gangetic Plain: implications to secondary aerosol formation. Atmos Environ 45:460–468

Rengarajan R, Sarin MM, Sudheer AK (2007) Carbonaceous and inorganic species in atmospheric aerosols during wintertime over urban and high-altitude sites in North India. J Geophys Res 112:D21307

Russell KM, Galloway JN, Macko SA, Moody JL, Scudlark JR (1998) Sources of nitrogen in wet deposition to the Chesapeake Bay region. Atmos Environ 32:2453–2465

Salma I, Chi XG, Maenhaut W (2004) Elemental and organic carbon in urban canyon and background environments in Budapest, Hungary. Atmos Environ 38:2517–2528

Saud T, Gautam R, Mandal TK, Gadi R, Singh DP, Sharma SK, Dahiya M, Saxena M (2012) Emission estimates of organic and elemental carbon from household biomass fuel used over the Indo Gangetic Plain (IGP), India. Atmos Environ 61:212–220

Seinfeld JH, Pandis SN (1998) Atmospheric chemistry and physics: from air pollution to climate change. Wiley, New York

Sharma SK, Singh AK, Saud T, Mandal TK, Saxena M, Singh S, Ghosh S, Raha S (2012) Study on water soluble ionic composition of PM10 and trace gases over Bay of Bengal during W_ICARB campaign. Meteol Atmos Physics 118:37–51

Sharma SK, Kumar M, Rohtash, Gupta NC, Saraswati S, Saxena M, Mandal TK (2014a) Characteristics of ambient ammonia over Delhi, India. Meteol Atmos Physics 124:67–82

Sharma SK, Mandal TK, Saxena M, Rashmi, Rohtash, Sharma A, Saud A (2014b) Variation of OC, EC, WSIC and trace metals of PM10 in Delhi. J Atmos Solar Terrest Phys 113:10–22

Sharma SK, Mandal TK, Saxena M, Rashmi, Rohtash, Sharma A, Gautam R (2014c) Source apportionment of PM10 by using positive matrix factorization at an urban site of Delhi, India. Urban Climate 10:656–670

Sharma SK, Sharma A, Saxena M, Choudhary N, Masiwal R, Mandal TK, Sharma C  (2015) Chemical characterization and source apportionment of aerosol at an urban area of central Delhi, India.  Atmos Pollut Res. doi:10.1016/j.apr.2015.08.002

Tare V, Tripathi SN, Chinnam N, Srivastava AK, Dey S, Manar M, Kanawade VP, Aggarwal A, Kishore L, Lal RB, Sharma M (2006) Measurement of atmospheric parameters during Indian space research organization geosphere biosphere program land campaign II at a typical location in the Ganga Basin: 2. Chemical properties. J Geophys Res 111:D23210. doi:10.1029/2006/JD007279

Tiwari S, Srivastava AK, Bisht DS, Bano T, Singh S, Behura S, Srivastava MK, Chate DM, Padmanabhamurthy B (2009) Black carbon and chemical characteristics of PM10 and PM2.5 at an urban site of North India. J Atmos Chem 62:193–209

Turekian VC, Macko S, Ballentine DS, Robert J, Garstang M (1998) Causes of bulk carbon and nitrogen isotopic fractionations in the products of vegetation burns: laboratory studies. Chem Geol 152:181–192

Venkataraman C, Rao GUM (2001) Emission factors of carbon monoxide and size-resolved aerosols from biofuel combustion. Environ Sci Technol 35:2100–2107

Venkataraman C, Habib G, Eiguren-Fernandez A, Miguel AH, Friedlander SK (2005) Residential biofuels in south Asia: carbonaceous aerosol emissions and climate impacts. Science 307:1454–1456

Wang HB, Kawamura K (2006) Stable carbon isotopic composition of low-molecular-weight dicarboxylic acids and ketoacids in remote marine aerosols. J Geophys Res 111:D07304. doi:10.1029/2005JD006466

Widory D (2007) Nitrogen isotopes: tracers of origin and processes affecting PM10 in the atmosphere of Paris. Atmos Environ 41:2382–2390

Widory D, Roy S, Moullec Y, Le Goupil G, Cocherie A, Guerrot C (2004) The origin of atmospheric particles in Paris: a view through carbon and lead isotopes. Atmos Environ 38:953–961

Yeatman SG, Spokes LJ, Dennis PF, Jickells TD (2001) Comparisons of aerosol nitrogen isotopic composition at two polluted coastal sites. Atmos Environ 35:1307–1320
Acknowledgments
The authors are thankful to the Director, CSIR-NPL, New Delhi and Head, Radio and Atmospheric Sciences Division, NPL, New Delhi for their encouragement and support for this study. The authors also acknowledge the Council of Scientific and Industrial Research (CSIR), New Delhi for providing financial support for this study (CSIR-EMPOWER Project: OLP-102132). Authors are thankful to the anonymous reviewers for their constructive suggestions to improve the manuscript.
About this article
Cite this article
Sharma, S.K., Mandal, T.K., Shenoy, D.M. et al. Variation of Stable Carbon and Nitrogen Isotopic Composition of PM10 at Urban Sites of Indo Gangetic Plain (IGP) of India. Bull Environ Contam Toxicol 95, 661–669 (2015). https://doi.org/10.1007/s00128-015-1660-z
Received:

Accepted:

Published:

Issue Date:
Keywords
PM10

Organic carbon

Elemental carbon

Carbon isotopes

Nitrogen isotopes