Abstract
In the present study, the antioxidant response and acetylcholinesterase (AChE) activity were measured in Chinese rare minnow larvae (Gobiocypris rarus) after exposure to tributyltin (TBT) (0, 100, 400 and 800 ngL−1) for 7 days, as well as the expression of a series of genes, including cr, aptase and prl genes involved in the ion-regulatory process and igfbp3 and gh related to growth rate. Results shows that oxidative stress was generated in fish exposed to TBT, as evidenced by elevated malondialdehyde levels and the inhibition of antioxidant parameters. The activity of acetylcholinesterase (AChE) was also inhibited in fish under higher TBT stress. Moreover, genes involved in ion regulation and growth were affected, based on the regulated transcription of the cr, atpase, gh, prl and igfbp3 genes in the treated groups. The observed effects of TBT upon antioxidant responses and altered expression of genes provides insight into the use of these molecular biomarkers in evaluating mechanisms of TBT toxicity in fish.
Access options
Buy single article
Instant access to the full article PDF.
USD 39.95
Price includes VAT (USA)
Tax calculation will be finalised during checkout.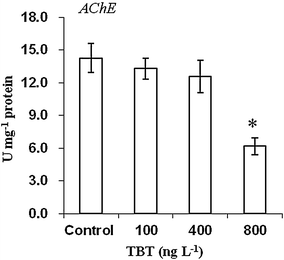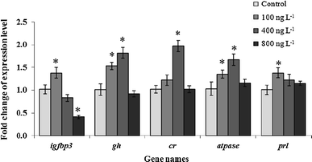 References
Antizar-Ladislao B (2008) Environmental levels, toxicity and human exposure to tributyltin (TBT)-contaminated marine environment. A review. Environ Int 34:292–308

Ayson FG, de Jesus-Ayson EGT, Takemura A (2007) mRNA expression patterns for GH, PRL, SL, IGF-I and IGF-II during altered feeding status in rabbitfish, Siganus guttatus. Gen Comp Endocrinol 150:196–204

Bradford MM (1976) Rapid and sensitive method for quantitation of microgram quantities of protein utilizing principle of protein dye binding. Anal Biochem 72:248–254

Gao JM, Zhang Y, Guo JS, Jin F, Zhang K (2013) Occurrence of organotins in the Yangtze River and the Jialing River in the urban section of Chongqing, China. Environ Monit Assess 185:3831–3837

He C, Wang C, Zhou Y, Li J, Zuo Z (2012) Embryonic exposure to benzo(a)pyrene influences neural development and function in rockfish (Sebastiscus marmoratus). Neurotoxicology 33:758–762

Horiguchi T (2006) Masculinization of female gastropod mollusks induced by organotin compounds, focusing on mechanism of actions of tributyltin and triphenyltin for development of imposex. Environ Sci 13:77–87

Iwata K, Sakamoto T, Iwata I, Nishiguchi E, Kajimura M (2005) High ambient ammonia promotes growth in a ureogenic goby, Mugilogobius abei. J Comp Physiol B-Biochem Syst Environ Physiol 175:395–404

Li ZH, Li P, Randak T (2010a) Effect of a human pharmaceutical carbamazepine on antioxidant responses in brain of a model teleost in vitro: an efficient approach to biomonitoring. J Appl Toxicol 30:644–648

Li ZH, Zlabek V, Velisek J, Grabic R, Machova J, Randak T (2010b) Modulation of antioxidant defence system in brain of rainbow trout (Oncorhynchus mykiss) after chronic carbamazepine treatment. Comp Biochem Physiol C 151:137–141

Li ZH, Zlabek V, Velisek J, Grabic R, Machova J, Kolarova J, Li P, Randak T (2013) Multiple biomarkers responses in juvenile rainbow trout, Oncorhynchus mykiss, after acute exposure to a fungicide propiconazole. Environ Toxicol 28:119–126

Li ZH, Chen L, Wu YH, Li P, Li YF, Ni ZH (2014a) Effects of mercury on oxidative stress and gene expression of potential biomarkers in larvae of the Chinese rare minnow Gobiocypris Rarus. Arch Environ Contam Toxicol 67:245–251

Li ZH, Chen L, Wu YH, Li P, Li YF, Ni ZH (2014b) Effects of waterborne cadmium on thyroid hormone levels and related gene expression in Chinese rare minnow larvae. Comp Biochem Physiol C-Toxicol Pharmacol 161:53–57

Li ZH, Li P, Shi ZC (2015a) Chronic exposure to tributyltin induces brain functional damage in juvenile common carp (Cyprinus carpio). PLoS One 10:e0123091

Li ZH, Li P, Shi ZC (2015b) Physiological and molecular responses in brain of juvenile common carp (Cyprinus carpio) following exposure to tributyltin. Environ Toxicol. doi:10.1002/tox.22042

Livak KJ, Schmittgen TD (2001) Analysis of relative gene expression data using real-time quantitative PCR and the 2(T)(-Delta Delta C) method. Methods 25:402–408

McCormick SD (2001) Endocrine control of osmoregulation in teleost fish. Am Zool 41:781–794

Morcillo Y, Porte C (2000) Evidence of endocrine disruption in clams—Ruditapes decussata—transplanted to a tributyltin-polluted environment. Environ Pollut 107:47–52

Moriyama S, Ayson FG, Kawauchi H (2000) Growth regulation by insulin-like growth factor-I in fish. Biosci Biotechnol Biochem 64:1553–1562

Mushigeri SB, David M (2005) Fenvalerate induced changes in the Ach and associated AchE activity in different tissues of fish Cirrhinus mrigala (Hamilton) under lethal and sub-lethal exposure period. Environ Toxicol Pharmacol 20:65–72

Nakayama K, Oshima Y, Yamaguchi T, Tsuruda Y, Kang IJ, Kobayashi M, Imada N, Honjo T (2004) Fertilization success and sexual behavior in male medaka, Oryzias latipes, exposed to tributyltin. Chemosphere 55:1331–1337

Nichols DS, Jordan TB, Kerr N (2014) Determination of tributyltin in marine sediment and waters by pressurised solvent extraction and liquid chromatography-tandem mass spectrometry. Anal Bioanal Chem 406:2993–2998

Pereira VM, Bortolotto JW, Kist LW, Azevedo MB, Fritsch RS, Oliveira Rda L, Pereira TC, Bonan CD, Vianna MR, Bogo MR (2012) Endosulfan exposure inhibits brain AChE activity and impairs swimming performance in adult zebrafish (Danio rerio). Neurotoxicology 33:469–475

Porte C, Janer G, Lorusso LC, Ortiz-Zarragoitia M, Cajaraville MP, Fossi MC, Canesi L (2006) Endocrine disruptors in marine organisms: approaches and perspectives. Comp Biochem Physiol C-Toxicol Pharmacol 143:303–315

Power DM (2005) Developmental ontogeny of prolactin and its receptor in fish. Gen Comp Endocrinol 142:25–33

Qun-Fang Z, Gui-Bin J, Ji-Yan L (2002) Effects of sublethal levels of tributyltin chloride in a new toxicity test organism: the Chinese rare minnow (Gobiocypris rarus). Arch Environ Contam Toxicol 42:332–337

Rajeshkumar S, Mini J, Munuswamy N (2013) Effects of heavy metals on antioxidants and expression of HSP70 in different tissues of Milk fish (Chanos chanos) of Kaattuppalli Island, Chennai, India. Ecotoxicol Environ Saf 98:8–18

Robinson PD (2009) Behavioural toxicity of organic chemical contaminants in fish: application to ecological risk assessments (ERAs). Can J Fish Aquat Sci 66:1179–1188

Sinha AK, Diricx M, Chan LP, Liew HJ, Kumar V, Blust R, De Boeck G (2012) Expression pattern of potential biomarker genes related to growth, ion regulation and stress in response to ammonia exposure, food deprivation and exercise in common carp (Cyprinus carpio). Aquat Toxicol 122–123:93–105

St-Jean SD, Pelletier E, Courtenay SC (2002) Very low levels of waterborne butyltins modulate hemocyte function in the blue mussel Mytilus edulis. Mar Ecol Prog Ser 236:155–161

Ulhaq M, Orn S, Carlsson G, Morrison DA, Norrgren L (2013) Locomotor behavior in zebrafish (Danio rerio) larvae exposed to perfluoroalkyl acids. Aquat Toxicol 144–145:332–340

Winston GW, Digiulio RT (1991) Prooxidant and antioxidant mechanisms in aquatic organisms. Aquat Toxicol 19:137–161

Zhang J, Zuo Z, Chen Y, Zhao Y, Hu S, Wang C (2007) Effect of tributyltin on the development of ovary in female cuvier (Sebastiscus marmoratus). Aquat Toxicol 83:174–179
Acknowledgments
This study was supported by Special Scientific Research Funds for Central Non-profit Institutes, Chinese Academy of Fishery Sciences (2014A02YQ01), Technology Foundation for Selected Overseas Chinese Scholar of MOHRSS, and the Ministry of Education, Youth and Sports of the Czech Republic – projects "CENAKVA" (No. CZ.1.05/2.1.00/01.0024) and "CENAKVA II" (No. LO1205 under the NPU I program).
About this article
Cite this article
Li, P., Li, ZH. Physiological Responses in Chinese Rare Minnow Larvae Following Exposure to Low-Dose Tributyltin. Bull Environ Contam Toxicol 95, 588–592 (2015). https://doi.org/10.1007/s00128-015-1655-9
Received:

Accepted:

Published:

Issue Date:
Keywords
Tributyltin

Chinese rare minnow

Physiological responses

Gene expression