Abstract
Acute toxicity, bioaccumulation, and elimination of herbicide clomazone in the earthworm Eisenia fetida were investigated in the different exposure systems. The LC50 values of clomazone on earthworms were 5.6 μg cm−2 in the contact filter paper test (48 h), 174.9 mg kg−1 (7 days) and 123.4 mg kg−1 (14 days) in artificial soil test, respectively. Clomazone could rapidly bioaccumulate in earthworms and reached the highest concentration after 3 days exposure, with the maximum concentrations of 9.0, 35.3 and 142.3 mg kg−1 at 10.0, 40.0 and 160.0 mg kg−1 of clomazone, respectively. Clomazone uptake showed a good correlation with exposure concentration. After the 14th day, clomazone declined to minimum value. About 74 %–80 % of accumulated clomazone was eliminated within 1 day after exposed to clomazone-free soil. However, a trace amount of clomazone persisted for a relatively long time in earthworms.
Access options
Buy single article
Instant access to the full article PDF.
USD 39.95
Price includes VAT (USA)
Tax calculation will be finalised during checkout.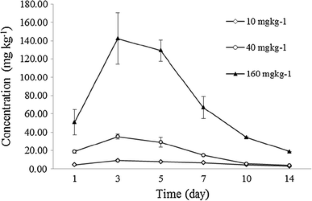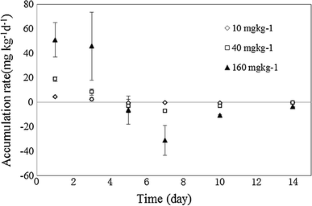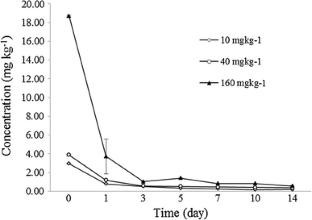 References
Cao J, Diao X, Hu J (2013a) Hydrolysis and photolysis of herbicide clomazone in aqueous solutions and natural water under abiotic conditions. J Integr Agric 12:2074–2082

Cao J, Diao XP, Hu JY, Xie J, Du JQ, Zhao CF (2013b) Effects of clomazone on antioxidative enzymes activity and DNA damage of earthworm. J Agro Environ Sci 32:925–931

Clasen B, Loro VL, Cattaneo R, Lópes T, de Avila LA, Baldisserotto B (2012) Effects of the commercial formulation containing fipronil on the non-target organism Cyprinus carpio: implications for rice-fish cultivation. Ecotoxicol Environ Saf 77:45–51

Hu JY, Cao D, Deng ZB (2011) Determination of clomazone residues in soybean and soil by high performance liquid chromatography with DAD detection. Bull Environ Contam Toxicol 86:444–448

Kelsey JW, Peters R, Slizovskiy IB (2008) Effects of incubation time and organism density on the bioaccumulation of soil-borne p, p′-DDE by the earthworm, Eisenia fetida. Bull Environ Contam Toxicol 81:266–269

Kennedy DG, Cannavan A, Hewitt SA, Rice DA, Blanchflower WJ (1993) Determination of ivermectin residues in the tissues of Atlantic salmon (Salmo salar) using HPLC with fluorescence detection. Food Add Contam 10:579–584

Landrum M, Cañas JE, Coimbatore G, Cobb GP, Jackson WA, Zhang B, Anderson TA (2006) Effects of perchlorate on earthworm (Eisenia fetida) survival and reproductive success. Sci Total Environ 363:237–244

Lazartigues A, Thomas M, Banas D, Brun-Bellut J, Cren-Olivé C, Feidt C (2013) Accumulation and half-lives of 13 pesticides in muscle tissue of freshwater fishes through food exposure. Chemosphere 91:530–535

Li AF, Li GX, Yang RB, Guo ZY, Liao XY, Yang R (2004) Clomazone dissipation, adsorption and translocation in four paddy topsoils. J Environ Sci 16:678–682

Menezes C, Leitemperger J, Murussi C, Toni C, Araújo MDCS, Farias IL, Loro VL (2014) Herbicide clomazone effects on δ-Aminolevulinic acid activity and metabolic parameters in cyprinus carpio. Bull Environ Contam Toxicol 92:393–398

Mervosh TL, Sims GK, Stoller EW (1995) Clomazone fate in soil as affected by microbial activity, temperature, and soil moisture. J Agric Food Chem 43:537–543

Mills JA, Witt WW, Barrett M (1989) Effects of tillage on the efficacy and persistence of clomazone in soybean (Glycine max). Weed Sci 37:217–222

OECD. Guideline for testing of chemicals No. 207 (1984) Earthworm, acute toxicity tests. Organisation for Economic Cooperation and Development, Paris

Olvera-Velona A, Capowiez Y, Mascle O, Ortiz-Hernandez L, Benoit P (2008) Assessment of the toxicity of ethyl-parathion to earthworms (Aporrectodea caliginosa) using behavioural, physiological and biochemical markers. Appl Soil Ecol 40:476–483

Paoletti MG (1999) The role of earthworms for assessment of sustainability and as bioindicators. Agric Ecosyst Environ 74:137–155

Quayle WC, Oliver DP, Zrna S (2006) Field dissipation and environmental hazard assessment of clomazone, molinate, and thiobencarb in Australian rice culture. J Agric Food Chem 54:7213–7220

Rodriguez-Campos J, Dendooven L, Alvarez-Bernal D, Contreras-Ramos SM (2014) Potential of earthworms to accelerate removal of organic contaminants from soil: a review. Appl Soil Ecol 79:10–25

Shan J, Wang Y, Wang L, Yan X, Ji R (2014) Effects of the geophagous earthworm Metaphire guillelmi on sorption, mineralization, and bound-residue formation of 4-nonylphenol in an agricultural soil. Environ Pollut 189:202–207

Shi YJ, Lv YL, Wang X, Zhang X (2009) Effects of lindane and carbofuran on mortality, growth, and reproduction of earthworms (Eisenia foetida). Asian J Ecotoxicol 4:101–107

Sun Y, Diao X, Zhang Q, Shen J (2005) Bioaccumulation and elimination of avermectin B1a in the earthworms (Eisenia fetida). Chemosphere 60:699–704

TenBrook PL, Tjeerdema RS (2006) Biotransformation of clomazone in rice (Oryza sativa) and early watergrass (Echinochloa oryzoides). Pestic Biochem Phys 85:38–45

Xu P, Diao J, Liu D, Zhou Z (2011) Enantioselective bioaccumulation and toxic effects of metalaxyl in earthworm Eisenia foetida. Chemosphere 83:1074–1079

Zhang B, Pan X, Cobb GP, Anderson TA (2009) Uptake, bioaccumulation, and biodegradation of hexahydro-1, 3, 5-trinitro-1, 3, 5-triazine (RDX) and its reduced metabolites (MNX and TNX) by the earthworm (Eisenia fetida). Chemosphere 76:76–82
Acknowledgments
This work was funded by the Pesticide Residue Research Program (No. FRF-SD-12-010B) from the Ministry of Agriculture, China.
About this article
Cite this article
Cao, J., Li, P., Li, Q.X. et al. Bioaccumulation and Elimination of the Herbicide Clomazone in the Earthworms Eisenia fetida . Bull Environ Contam Toxicol 95, 606–610 (2015). https://doi.org/10.1007/s00128-015-1649-7
Received:

Accepted:

Published:

Issue Date:
Keywords
Clomazone

Earthworm

Pesticide residue

Acute toxicity