Abstract
We examined perfluoroalkyl compounds (PFC) in bighead (BHCP; Hypophthalmichthys nobilis) and silver (SVCP; H. molitrix) carp from the Illinois River, Illinois, USA. Summed PFC concentrations in whole fish did not differ by species or river reach. Perfluorooctanesulfonate (PFOS) concentrations were much greater in whole fish (16.4 ng/g) than in fillets (3.4 ng/g). PFOS concentrations represented 35 %–51 % of total measured PFC concentrations in whole fish, and in fillets were weakly associated with carcass mass (R2 = 0.17, p = 0.01) and  % carcass lipid (R2 = 0.16, p = 0.01). No such relationship was observed in whole fish. The relationship between concentrations of individual PFC congeners in whole fish and carcass mass or % lipid content varied by species. Our study demonstrated that filter-feeders such as BHCP and SVCP can accumulate measureable concentrations of PFC and these results are important for understanding the fate of these compounds in large river systems.
Access options
Buy single article
Instant access to the full article PDF.
USD 39.95
Price includes VAT (USA)
Tax calculation will be finalised during checkout.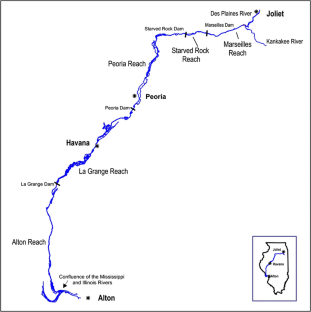 References
Berger U, Glynn A, Holmstrom KE, Berglund M, Ankarberg EH, Tornkvist A (2009) Fish consumption as a source of human exposure to perfluorinated alkyl substances in Sweden—analysis of edible fish from Lake Vattern and the Baltic Sea. Chemosphere 76:799–804

Conder JM, Hoke RA, de Wolf W, Russell MH, Buck RC (2008) Are PFCAs bioaccumulative? A critical review and comparison with regulatory criteria and persistent lipophilic compounds. Environ Sci Technol 42:995–1003

Delinsky AD, Strynar MJ, Nakayama SF, Varns JL, Ye X, McCann PJ et al (2009) Determination of ten perfluorinated compounds in bluegill sunfish (Lepomis macrochirus) fillets. Environ Res 109:975–984

Furdui VI, Stock NL, Ellis DA, Butt CM, Whittle DM, Crozier PW et al (2007) Spatial distribution of perfluoroalkyl contaminants in lake trout form the Great Lakes. Environ Sci Technol 41:1554–1559

Inoue Y, Hashizume N, Yakata N, Murakami H, Suzuki Y, Kikushima E et al (2012) Unique physicochemical properties of perfluorinated compounds and their bioconcentration in common carp Cyprinus carpio L. Arch Environ Contam Toxicol 624:672–680

Irons KS, Sass GG, McClelland MA, Stafford JD (2007) Reduced condition factor of two native fish species coincident with invasion of non-native Asian carps in the Illinois River, U.S.A. Is this evidence for competition and reduced fitness? J Fish Biol 71:258–273

Johansson N, Fredriksson A, Eriksson P (2008) Neonatal exposure to perfluorooctane sulfonate (PFOS) and perfluorooctanoic acid (PFOA) causes neurobehavioural defects in adult mice. Neurotoxicology 29:160–169

Kannan K, Tao L, Sinclair E, Pastva SD, Jude DJ, Giesy JP (2005) Perfluorinated compounds in aquatic organisms at various trophic levels in a great lakes food chain. Arch Environ Contam Toxicol 48:559–566

Kelly BC, Ikonomou MG, Blair JD, Surridge B, Hoover D, Grace R et al (2009) Perfluoroalkyl contaminants in an Arctic marine food web: trophic magnification and wildlife exposure. Environ Sci Tech 43:4037–4043

Levengood JM, Soucek DJ, Dickinson A, Sass GG, Epifanio JM (2013) Spatial and interspecific patterns in persistent contaminant loads in bighead and silver carp from the Illinois River. Ecotoxicology 22:1174–1182

Levengood JM, Soucek DJ, Dickinson A, Sass GG, Epifanio JM (2014) Elements of concern in fillets of bighead and silver carp from the Illinois River, Illinois. Chemosphere 104:63–68 (3.50)

Oliaei F, Kriens D, Weber R, Watson A (2013) PFOS and PFC releases and associated pollution from a PFC production plant in Minnesota (USA). Environ Sci Pollut Res 20:1977–1992

Pan Y, Shi Y, Wang J, Jin X, Cai Y (2011) Pilot investigation of perfluorinated compounds in river er, sediment, soil and fish in Tianjin. China Bull Environ Contam Toxicol 87:152

Rosen MB, Wolf DC, Abbott BD, Corton JC, Schmid JE, Wood CR et al (2009) Developmental toxicogenomic studies of PFOA and PFOS in mice. Reprod Toxicol 27:415–416

Sass GG, Cook TR, Irons KS, McClelland MA, Michaels NN, O'Hara TM et al (2010) A mark-recapture population estimate for invasive silver carp (Hypophthalmichthys molitrix) in the La Grange Reach, Illinois River. Biol Invasions 12:433–436

Sass GG, Hinz C, Erickson AC, Michaels NN, McClelland MA, Epifanio JM (2014) Invasive bighead and silver carp effects on zooplankton communities in the Illinois River, Illinois, USA. J Great Lakes Res 40:911–921

Ye X, Strynar MJ, Nakayama SF, Varns J, Helfant L, Lazorchak J et al (2008a) Perfluorinated compounds in whole fish homogenates from the Ohio, Missouri, and Upper Mississippi rivers, USA. Environ Pollut 156:1227–1232

Ye X, Schoenfuss HL, Jahns ND, Delinsky AD, Strynar MJ, Varns J et al (2008b) Perfluorinated compounds in common carp (Cyprinus carpio) fillets from the Upper Mississippi River. Environ Int 34:932–938

Zhao YG, Wan HT, Law AYS, Wei X, Huang YQ, Giesy JP et al (2011) Risk assessment for human consumption of perfluorinated compound-contaminated freshwater and marine fish from Hong Kong and Xiamen. Chemosphere 85:277–283
Acknowledgments
This study was conducted with USEPA Great Lakes Restoration Initiative funds provided by the US Fish and Wildlife Service through the Illinois Department of Natural Resources (IDNR). Additional support was provided by Illinois-Indiana Sea Grant. Special thanks to Kevin Irons, Tom Heavisides and Steve Schultz, IDNR, David Glover and John Bowzer, Southern Illinois University at Carbondale, and Amy Dickinson and Diane Greer, Illinois Natural History Survey.
About this article
Cite this article
JM, L., Soucek, D., Sass, G. et al. Interspecific and Spatial Comparisons of Perfluorinated Compounds in Bighead and Silver Carp in the Illinois River, Illinois, USA. Bull Environ Contam Toxicol 95, 561–566 (2015). https://doi.org/10.1007/s00128-015-1646-x
Received:

Accepted:

Published:

Issue Date:
Keywords
Perfluorinated compounds

PFOS

Carp

Hypophthalmichthys

Illinois River