Abstract
This study estimated end compared the potential toxic effects of the water-soluble fractions (WSF) of biodiesel (B100), diesel and the commercial biodiesel (B5) on Oreochromis niloticus. After a 24 h-exposition to WSF-0 % (control) and WSF-serial concentrations of 4.6 %, 10 %, 22 %, 46 % and 100 %, samples of gill and liver of the exposed fishes were fixed in Bouin's solution, processed, stained using hematoxylin/eosin and analyzed by light-microscopy. WSF-hydrocarbons and methanol contents, analyzed by gas chromatography, were checked against the occurrence of abnormal histopathological alterations. These were not found in the control and WSF-4.6 % exposed fishes, while exposures to or above 10 %-WSF resulted in histopathological alterations whose severity increased in a dose-dependent manner, being higher in fishes exposed to WSF-diesel, or WSF–B5 when compared to biodiesel. These results, which were corroborated by the chemical analyses, highlighted the histological technique as an appropriate diagnostic tool that can be used for the preservation of water bodies' quality.
Access options
Buy single article
Instant access to the full article PDF.
USD 39.95
Price includes VAT (USA)
Tax calculation will be finalised during checkout.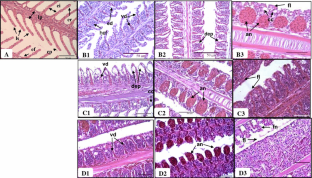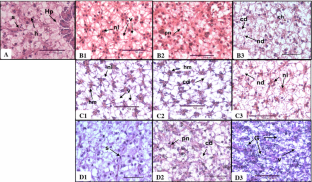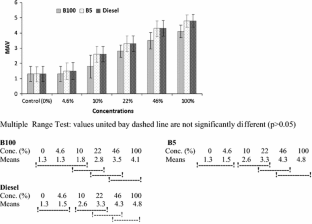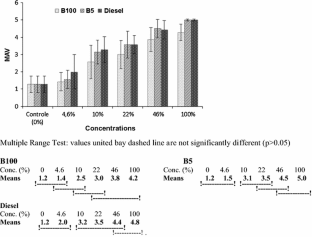 References
Anderson JW, Neff JM, Cox BA (1974) Characteristics of dispersions and water soluble extracts of crude and refined oils and their toxicity to estuarine crustaceans and fish. Mar Biol 27:75–88

AVMA-American Medical Veterinary Association (2007). Guidelines on Euthanasia. Available via DIALOG: http://www.avma.org/issues/animal-welfare/euthanasia.pdf

Cengiz E, Unlu E (2006) Sublethal effects of commercial deltamethrin on thestructure of the gill, liver and gut tissues of mosquitofish, Gambusia affinis: a microscopic study. Environ Toxicol Pharmacol 21:246–253

Cruz ACS, Leite MBNL, Rodrigues LEA, Nascimento IA (2012) Estimation of biodiesel cytotoxicity by using acid phosphatase as a biomarker of lysosomal integrity. Bull Environ Contamin Toxicol 90:32–49

Hilton DE (1990) Liver structural alterations accompanying chronic toxicity in fishes: potential biomarkers of exposure. In: McCarthy J, Shugart LR (eds) Biological markers of environmental contamination. CRC Press Inc, Boca Raton, pp 17–58

Khan RA (1998) Influence of petroleum at a refinery terminal on winter flounder, Pleuronectes americanus. Bull Environ Contamin Toxicol 61:770–777

Khan N, Warith AM, Luk GA (2007) Comparison of acute toxicity of biodiesel, biodiesel blends, and diesel on aquatic organisms. J Air Waste Manag Assoc 57:286–296

Knothe G, Gerpen JV, Krahl J, Ramos LP (2006) Manual do biodiesel. São Paulo, Edgard Blücher

Leite MBNL, De Araújo MMS, Nascimento IA, Cruz ACS, Pereira SA, Nascimento NC (2011) Toxicity of water-soluble fractions of biodiesel fuels derived from castor oil, palm oil, and waste cooking oil. Environ Toxicol Chem 30:893–897

Mallatt J (1985) Fish gill structural changes induced by toxicants and other irritants: a statistical review. Can J Fish Aquat Sci 42:630–648

Martins LK, Nascimento IA, Fillman G, King R, Depledge M, Readman J, Evangelista AJA (2005) Lysosomal responses as diagnostic tool for the detection of oil chronic pollution at Todos os Santos Bay. Environ Res 98:387–396

Monteiro SME, Rocha A, Fontainhas-Fernandes Sousa M (2008) Quantitative histopathology of Oreochromis niloticus gills after copper exposure. J Fish Biol 73:1376–1392

Nascimento IA, Souza ECPM, Nipper M (2002) Métodos em ecotoxicologia marinha: apliocações no Brasil. Editora Artes Gráficas e Indústria Ltda, São Paulo

Navas JM, Babín M, Casado S, Fernández C, Tarazona JV (2006) The prestige oil spill: a laboratory study about the toxicity of the water-soluble fraction of the fuel oil. Mar Environ Res 62:352–355

Pal S, Kokushi E, Cheikyula JO, Koyama J, Uno S (2011) Histopathological effects and EROD induction in common carp exposed to dietary heavy oil. Ecotoxicol Environ Saf 74:307–314

Pereira SA, Araújo VQ, Rebouças MV, Vieira FSV, Almeida MVA, Chinalia FA, Nascimento IA (2012) Toxicity of biodiesel, diesel and biodiesel/diesel blends: comparative sub-lethal effects of water-soluble fractions to microalgae species. Bull Environ Contam Toxicol 88:234–238

Pesce SF, Cazenave J, Monferra MV, Frede S, Wunderlin DA (2008) Integrated survey on toxic effects of lindane on neotropical fish: Corydoras paleatus and Jenynsia multidentata. Environ Pollut 156:775–783

Rodrigues RV, Miranda-Filho KC, Gusmão EP, Moreira CB, Romano LA, Sampaio LA (2010) Deleterious effects of water-soluble fraction of petroleum, diesel and gasoline on marine pejerrey Odontesthes argentinensis larvae. Sci Total Environ 408:2054–2059

Schwaiger J, Ferling H, Mallow U, Wintermayr H, Negele RD (2004) Toxic effects of the non-steroidal anti-inflammatory drug diclofenac part I: histopathological alterations and bioaccumulation in rainbow trout. Aquat Toxicol 68:141–150

Schwaiger J, Wanke R, Adam S, Pawert M, Honnen W, Triebskorn R (1997) The use of histopathological indicators to evaluate contaminant-related stress in fish. J Aquat Ecosyst Stress Recovery 6:75–86

Sepici-Dinçel A, Cağlan Karasu Benli A, Selvi M, Sarikaya R, Sahin D, Ayhan Ozkul I, Erkoç F (2009) Sublethal cyfluthrin toxicity to carp (Cyprinus carpio L.) fingerlings: biochemical, hematological, histopathological alterations. Ecotoxicol Environ Saf 72:1433–1439

Sheehan J, Camobreco V, Duffield J, Graboski M, Shapouri H (1998). An overview of biodiesel and petroleum diesel life-cycles. Report of National Renewable Energy Laboratory (NREL) and US Department of Energy (DOE. Task No BF886002)

Simonato JD, Guedes CLB, Martinez CBR (2008) Biochemical, physiological, and histological changes in the neotropical fish Prochilodus lineatus exposed to diesel oil. Ecotoxicol Environ Saf 69:112–120

Wang WG, Lyons DW, Clark NN, Gautam M (2000) Emissions from nine heavy trucks fueled by diesel and biodiesel blend without engine modification. Environ Sci Technol 34:933–939
Acknowledgments
This work was financially supported by the National Council for Scientific and Technological Development (CNPQ)/Science and Technology Ministry, Brazil (Processes 574712/2008-9 and 551134/2010-0).
About this article
Cite this article
Leite, M.B.N.L., da Cruz, A.L., Rodrigues, L.E.A. et al. Comparing the Toxicity of Water-Soluble Fractions of Biodiesel, Diesel and 5 % Biodiesel/Diesel Blend on Oreochromis niloticus Using Histological Biomarkers. Bull Environ Contam Toxicol 95, 574–581 (2015). https://doi.org/10.1007/s00128-015-1645-y
Received:

Accepted:

Published:

Issue Date:
Keywords
Biodiesel

Commercial B5

Diesel

Histopathology

Oreochromis niloticus