Abstract
The levels of some emerging organic pollutants (EOPs) including endocrine disrupting compounds, pharmaceuticals and personal care products were quantified in surface water of a freshwater ecosystem, the Ikpa River Basin, Nigeria using liquid chromatography/high resolution tandem mass spectrometry (LC–MS/MS). In addition, leachates and storm water samples collected from nearby dumpsites were also analysed to assess the effect on water quality. Seventeen compounds were detected at the nanogramme-per-litre levels and the ecological risks of selected compounds assessed based on predicted no-effect concentrations derived from comparison of toxicity data recorded for green algae, fish and invertebrate with the maximum measured environmental concentrations, to obtain risk quotients. Some of the compounds showed some level of widespread occurrence or persistence. Also, bisphenol A, chloramphenicol, erythromycin, triclocarban and triclosan were the most important EOPs detected in the study area that may pose detrimental effects to the aquatic organisms based on the outcome of the risk assessment.
Access options
Buy single article
Instant access to the full article PDF.
USD 39.95
Price includes VAT (USA)
Tax calculation will be finalised during checkout.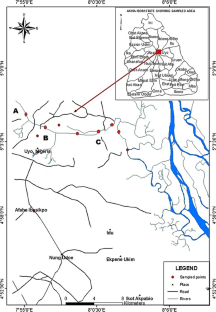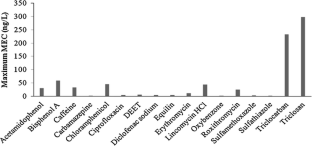 References
Al-Odaini NA, Zakaria MP, Yaziz MI, Surif S, Abdulghani M (2013) The occurrence of human pharmaceuticals in wastewater effluents and surface water of Langat River and its tributaries, Malaysia. Int J Environ Anal Chem 93(3):245–264

Arukwe A, Eggen T, Moder M (2012) Solid waste deposits as a significant source of contaminants of emerging concern to the aquatic and terrestrial environments – a developing country case study from Owerri, Nigeria. Sci Total Environ 438:94–102

Ashton D, Hilton M, Thomas KV (2004) Investigating the environmental transport of human pharmaceuticals to streams in the United Kingdom. Sci Total Environ 333:167–184

Brausch JM, Rand GM (2011) A review of personal care products in the aquatic environment: environmental concentrations and toxicity. Chemosphere 82:1518–1532

Choi K, Kim Y, Jung J, Kim MH, Kim CS, Kim NH, Park J (2008) Occurrences and ecological risks of roxithromycin, trimethoprim, and chloramphenicol in the Han River, Korea. Environ Toxicol Chem 27(3):711–719

Dennis EI, Essien RA, Udoh UH (2013) Dynamics of heavy metal runoff from farmland around Ikpa River Basin, Nigeria. App Ecol Environ Sci 1(6):143–148

EMEA (European Agency for Evaluation of Medicinal Products) (2006) Committee for medicinal products for human use. Guidelines on the environmental risk of medicinal products for human use. Ref: EMEA/CRMP/SWP/4447/00. London, UK

Essien JP, Ebong GA, Asuquo JE, Olajire AA (2012) Hydrocarbons contamination and microbial degradation in mangrove sediments of the Niger Delta region (Nigeria). Chem Ecol 28:421–434

Ferrari B, Mons R, Vollat B, Fraysse B, Paxeus N, Giudice RL, Pollio A, Garric J (2004) Environmental risk assessment of six pharmaceuticals: are the current environmental risk assessment procedures sufficient for protection of the aquatic environment? Environ Toxicol Chem 23(5):1344–1354

Ginebreda A, Munoz I, de Alda ML, Brix R, Lopez-Doval J, Barcelo D (2010) Environmental risk assessment of pharmaceuticals in rivers: relationships between hazard indexes and aquatic macroinvertebrate diversity indexes in the Llobregat River (NE Spain). Environ Int 36:153–162

Halden RU (2014) On the need and speed of regulating triclosan and triclocarban in the United States. Environ Sci Technol 48:3603–3611

Hao C (2008) The determination of emerging organic pollutants in environmental matrices by LC/MS/MS (EOP-E3454). Ontario Ministry of the Environment, pp 33–36

Henschel KP, Wenzel A, Diedrich M, Fliedner A (1997) Environmental hazard assessment of pharmaceuticals. Regul Toxicol Pharmacol 25:220–225

Hernando MD, Mezcua M, Fernandez-Alba AR, Barcelo D (2006) Environmental risk assessment of pharmaceutical residues in wastewater effluents, surface waters and sediments. Talanta 69(2):334–342

Inam E, Owhoke E, Essien J (2014) Human carcinogenic risk assessment of polycyclic aromatic hydrocarbons in freshwater samples from Ogba/Egbema/Ndoni communities in Rivers State, Nigeria. J Chem Soc Niger 39(2):15–22

Kim Y, Choi K, Jung J, Park S, Kim PG, Park J (2007) Aquatic toxicity of acetaminophen, carbamazepine, cimetidine, diltiazem and six major sulfonamides, and their potential ecological risks in Korea. Environ Int 33:370–375

Lee YJ, Lee SE, Lee DS, Kim YH (2008) Risk assessment of human antibiotics in Korean aquatic environment. Environ Toxicol Pharmacol 26:216–221

Li WC (2014) Occurrence, sources, and fate of pharmaceuticals in aquatic environment and soil. Environ Pollut 187:193–201

Milic N, Milanovic M, Letic NG, Sekulic MT, Radonic J, Mihajlovic I, Miloradov MV (2013) Occurrence of antibiotics as emerging contaminant substances in aquatic environment. Int J Environ Health Res 23(4):296–310

Montagner CC, Jardim WF, Von der Ohe PC, Umbuzueiro GA (2014) Occurrence and potential risk of triclosan in freshwaters of Sao Paulo, Brazil – the need for regulatory actions. Environ Sci Pollut Res 21(3):1850–1858

Oehlman J, Oetken M, Schulter-Oehlmann U (2008) A critical evaluation of the environmental risk assessment for plasticizers in the freshwater environment in Europe, with special emphasis on bisphenol a and endocrine disruption. Environ Res 108:140–149

Oketola AA, Fagbemigun TK (2013) Determination of nonylphenol, octylphenol and bisphenol-A in water and sediments of two major rivers in Lagos, Nigeria. J Environ Prot 4:38–45

Oost R, Beyer J, Vermeulen N (2003) Fish bioaccumulation and biomarkers in environmental risk assessment: a review. Environ Toxicol Pharmacol 13:57–149

Pal A, Gin KY-H, Lin AY-C, Reinhard M (2010) Impacts of emerging organic contaminants on freshwater resources: review of recent occurrences, sources, fate and effects. Sci Total Environ 408:6062–6069

Russom CL, Bradbury SP, Broderis SJ, Hammermeister DE, Drummond RA (1997) Predicting modes of toxic action from chemical structure: acute toxicity in the fathead minnow (Pimephales promelas). Environ Toxicol Chem 16(5):948–967

Salgado R, Noronha JP, Oehmen A, Carvalho G, Reis MAM (2010) Analysis of 65 pharmaceuticals and personal care products in 5 wastewater treatment plants in Portugal using a simplified analytical methodology. Water Sci Technol 62(12):2862–2871

Sanderson H, Johnson DJ, Wilson CJ, Brain RA, Solomon KR (2003) Probabilistic hazard assessment of environmentally occurring pharmaceuticals toxicity to fish, daphnids and algae by ECOSAR screening. Toxicol Lett 144(4):383–395

Santhi VA, Sakai N, Ahmad ED, Mustafa AM (2012) Occurrence of bisphenol A in surface water, drinking water and plasma from Malaysia with exposure assessment from consumption of drinking water. Sci Total Environ 427:332–338

Santos JL, Aparicio IA, Alonso E (2007) Occurrence and risk assessment of pharmaceutically active compounds in wastewater treatment plants. A case study: Seville City (Spain). Environ Int 33:596–601

SPDC (Shell Petroleum Development Company) (2006) People and environment: Nigeria annual report. Shell Visual Media Services, London, p 18

Stegeman JJ, Hahn ME (1994) Biochemistry and molecular biology of monooxygenase: current perspectives on forms, functions, and regulation of cytochrome in aquatic species. In: Martins DC, Ostrander GK (eds) Aquatic toxicology; molecular, biochemical and cellular perspertives. Lewis Publishers, CRC Press, Boca Raton, pp 87–206

Udosen ED, Essien JP (2001) Levels of lead, copper and iron in fish from some streams within a ravine in Uyo Municipality, Nigeria. J Sci Eng Technol 8(2):3312–3321

UNDP (United Nations Development Programme) (2006) Niger Delta human development report. UNDP, Abuja 48

Zhu S, Chen H (2014) The fate and risk of selected pharmaceutical and personal care products in wastewater treatment plants and a pilot-scale multistage constructed wetland system. Environ Sci Pollut Res 21(2):1466–1479
Acknowledgments
This study was supported by the Ministry of Science and Technology in South Korea through the Institute of Science and Technology for sustainability (UNU & GIST joint programme) in 2014.
About this article
Cite this article
Inam, E., Offiong, NA., Kang, S. et al. Assessment of the Occurrence and Risks of Emerging Organic Pollutants (EOPs) in Ikpa River Basin Freshwater Ecosystem, Niger Delta-Nigeria. Bull Environ Contam Toxicol 95, 624–631 (2015). https://doi.org/10.1007/s00128-015-1639-9
Received:

Accepted:

Published:

Issue Date:
Keywords
Emerging organic pollutants

Risk assessment

Ikpa River

Nigeria