Abstract
Pb and Cd contents in 13 plantation tree species (leaf and branch components), soil, water (groundwater and river water) at a young (3–5 year-old) seashore afforestation stand were investigated in Nansha district, Guangzhou city in southern China. The results showed that (1) soil, rather than water or trees, had the highest content of both Pb (averagely 48.79 mg/kg) and Cd (0.50 mg/kg), demonstrating that soil might function as a major reservoir for extraneously derived heavy metals; (2) Pb content was higher in branches than in leaves, but Cd content appeared similar in both components, implying possibly different accumulation mechanisms in trees; (3) Pb and Cd appeared to accumulate differently among some tree taxa, whereas almost no significant difference was detected between introduced and indigenous species. The study indicated that trees were potentially useful to remediate sites contaminated with Pb and Cd in the urbanized areas.
Access options
Buy single article
Instant access to the full article PDF.
USD 39.95
Price includes VAT (USA)
Tax calculation will be finalised during checkout.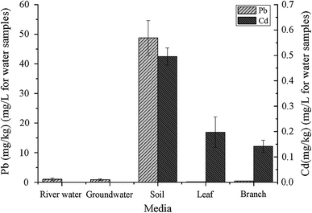 References
Alkorta I, Hernández-Allica J, Becerril JM, Amezaga I, Albizu I, Onaindia M, Garbisu C (2004) Chelate-enhanced phytoremediation of soils polluted with heavy metals. Rev Environ Sci Bio 3:55–70

Awan MA, Ahmed SH, Aslam MR, Qazi IA (2011) Determination of total suspended particulate matter and heavy metals in ambient air of four cities of Pakistan. Iran J Energ Environ 2:128–132

Baltrėnaitė E, Lietuvninkas A, Baltrėnas P (2012) Use of dynamic factors to assess metal uptake and transfer in plants—example of trees. Water Air Soil Pollut 223:4297–4306

Bert V, Seuntjens P, Dejonghe W, Lacherez S, Thuy HT, Vandecasteele B (2009) Phytoremediation as a management option for contaminated sediments in tidal marshes, flood control areas and dredged sediment landfill sites. Environ Sci Pollut Res 16:745–764

Cheng S (2003) Heavy metal pollution in China: origin, pattern and control. Environ Sci Pollut Res 10:192–198

Cunningham SD, Berti WR, Huang JW (1995) Phytoremediation of contaminated soils. Trends Biotech 13:393–397

Demirayak A, Kutbay HG, Kilic D, Bilgin A, Huseyinova R (2011) Heavy metal accumulation in some natural and exotic plants in Samsun city. Ekoloji 20:1–11

Dickinson NM (2000) Strategies for sustainable woodland on contaminated soils. Chemosphere 41:259–263

Guan DS, Peart MR (2006) Heavy metal concentrations in plants and soils at roadside locations and parks of urban Guangzhou. J Environ Sci 18:495–502

Guo G, Wu F, Xie F, Zhang R (2012) Spatial distribution and pollution assessment of heavy metals in urban soils from southwest China. J Environ Sci 24:410–418

Hashim MA, Mukhopadhyay S, Sahu JN, Sengupta B (2011) Remediation technologies for heavy metal contaminated groundwater. J Environ Manage 92:2355–2388

Hasselgren K (1999) Utilisation of sewage sludge in short-rotation energy forestry: a pilot study. Waste Manag Res 17:251–262

Houben D, Couder E, Sonnet P (2013) Leachability of cadmium, lead, and zinc in a long-term spontaneously revegetated slag heap: implications for phytostabilization. J Soils Sediments 13:543–554

Imperato M, Adamo P, Naimo D, Arienzo M, Stanzione D, Violante P (2003) Spatial distribution of heavy metals in urban soils of Naples City (Italy). Environ Pollut 124:247–256

Kabata-Pendias A, Pendias H (2010) Trace elements in soils and plants, 4th edn. CRC Press, Florida

Krämer U (2010) Metal hyperaccumulation in plants. Annu Rev Plant Biol 61:517–534

Larson C (2014) China gets serious about its pollutant-laden soil. Science 343:1415–1416

Li J, Lu Y, Yin W, Gan H, Zhang C, Deng X, Lian J (2009) Distribution of heavy metals in agricultural soils near a petrochemical complex in Guangzhou, China. Environ Monit Assess 153:365–375

Lovy L, Latt D, Sterckeman T (2013) Cadmium uptake and partitioning in the hyperaccumulator Noccaea caerulescens exposed to constant Cd concentrations throughout complete growth cycles. Plant Soil 362:345–354

Lu Y, Zhu F, Chen J, Gan H, Guo Y (2007) Chemical fractionation of heavy metals in urban soils of Guangzhou, China. Environ Monit Assess 134:429–439

Malizia D, Giuliano A, Ortaggi G, Masotti A (2012) Common plants as alternative analytical tools to monitor heavy metals in soil. Chem Cent J 6:S6

Mani D, Kumar C (2014) Biotechnological advances in bioremediation of heavy metals contaminated ecosystems: an overview with special reference to phytoremediation. Int J Environ Sci Technol 11:843–872

Morton-Bermea O, Hernández-Álvarez E, González-Hernández G, Romero F, Lozano R, Beramendi-Orosco LE (2009) Assessment of heavy metal pollution in urban topsoils from the metropolitan area of Mexico City. J Geochem Explor 101:218–224

Nriagu JO, Pacyna JM (1988) Quantitative assessment of worldwide contamination of air, water and soils by trace metals. Nature 333:134–139

Petrova S, Yurukova L, Velcheva I (2014) Possibilities of using deciduous tree species in trace element biomonitoring in an urban area (Plovdiv, Bulgaria). Atmos Pollut Res 5:196–202

Pulford ID, Watson C (2003) Phytoremediation of heavy metal contaminated land by trees: a review. Environ Int 29:529–540

Raskin I, Smith R, Salt D (1997) Phytoremediation of metals: using plants to remove pollutants from the environment. Curr Opin Biotechnol 8:221–226

Salido AL, Hasty KL, Lim JM, Butcher DJ (2003) Phytoremediation of arsenic and lead in contaminated soil using Chinese brake ferns (Pteris vittata) and Indian mustard (Brassica juncea). Int J Phytoremediation 5:89–103

Salt DE, Blaylock M, Kumar NP, Dushenkov V, Ensley BD, Chet I, Raskin I (1995) Phytoremediation: a novel strategy for the removal of toxic metals from the environment using plants. Nat Biotechnol 13:468–474

Salt DE, Smith RD, Raskin I (1998) Phytoremediation. Annl Rev Plant Physiol 49:643–668

Shah K, Nongkynrih JM (2007) Metal hyperaccumulation and bioremediation. Biol Plant 51:618–634

Sharma RK, Agrawal M, Marshall FM (2008) Heavy metal (Cu, Zn, Cd and Pb) contamination of vegetables in urban India: a case study in Varanasi. Environ Pollut 154:254–263

Tahar K, Keltoum B (2011) Effects of heavy metals pollution in soil and plant in the industrial area, west Algeri. J Korean Chem Soc 55:1018–1023

Tangahu BV, Abdullah SRS, Basri H, Idris M, Anuar N, Mukhlisin M (2011) A review on heavy metals (As, Pb, and Hg) uptake by plants through phytoremediation. Int J Chem Eng (Article ID 939161)

Tian D, Zhu F, Yan W, Xi F, Xiang W, Deng X, Wang G, Peng C (2009) Heavy metal accumulation by panicled goldenrain tree (Koelreuteria paniculata) and common elaeocarpus (Elaeocarpus decipens) in abandoned mine soils in southern China. J Environ Sci 21:340–345

Tyler G (1984) The impact of heavy metal pollution on forests: a case study of Gusum, Sweden. Ambio 13:18–24

Wang J, Ge Y, Chen T, Bai Y, Qian BY, Zhang CB (2014) Facilitation drives the positive effects of llant richness on trace metal removal in a biodiversity experiment. PLoS One 9:e93733

Wei B, Yang L (2010) A review of heavy metal contaminations in urban soils, urban road dusts and agricultural soils from China. Microchem J 94:99–107

World Health Organization (2012) The world health report 2012—health systems financing: the path to universal coverage, Geneva
Acknowledgments
This study was financially supported by the Special Fund for Forest Scientific Research in the Public Welfare (20140430105), NSF-China (31200471), the Ministry of Finance of the People's Republic of China (RITFYWZX201208), and the CFERN and GENE Award Funds on Ecological Paper.
About this article
Cite this article
Pei, N., Chen, B. & Liu, S. Pb and Cd Contents in Soil, Water, and Trees at an Afforestation Site, South China. Bull Environ Contam Toxicol 95, 632–637 (2015). https://doi.org/10.1007/s00128-015-1625-2
Received:

Accepted:

Published:

Issue Date:
Keywords
Phytoremediation

Heavy metal

Mega-city

Urban forest

Pearl River Delta