Abstract
The objectives of this study were to determine (1) the phosphorus (P) level required to induce cadmium (Cd) precipitation in a contaminated arable soil with low concentrations of Cd and (2) the primary mechanism of Cd immobilization at different P levels. Phosphorus was added at levels of 0 800, 1600, and 16,000 mg P kg−1 to a soil containing 5.57 mg Cd kg−1. The concentration of 1 M NH4OAc extractable Cd decreased significantly with P levels up to 1600 mg kg−1 due to an increase in soil pH and negative charge of soil (p < 0.001). A further decrease in 1 M NH4OAc extractable Cd concentration was noted when P was increased to 16,000 mg P kg−1 and may have been the result of Cd precipitation. This study suggest that adding P at high levels may help in the formation of geochemically stable Cd minerals in soil containing low levels of this heavy metal.
Access options
Buy single article
Instant access to the full article PDF.
USD 39.95
Price includes VAT (USA)
Tax calculation will be finalised during checkout.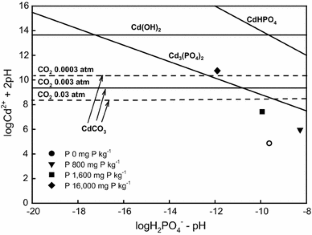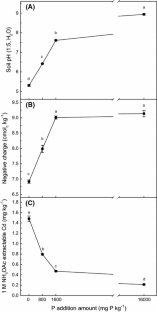 References
Boisson JA, Ruttens A, Mench M, Vangronsveld J (1999) Evaluation of hydroxyapatite as a metal immobilizing additive for remediation of polluted soils: I. Influence of hydroxyapatite on metal exchangeability in soil, plant growth, and plant metal accumulation. Environ Pollut 104:225–233

Bolan NS, Naidu R, Syers JK, Tillman RW (1999) Surface charge and solute interactions in soils. Adv Agron 67:88–141

Bolan NS, Adriano DC, Duraisamy P, Mani A, Arulmozhiselvan K (2003) Immobilization and phytoavailability of cadmium in variable charge soils: I Effect of phosphate addition. Plant Soil 250:83–94

Chen X, Wright JV, Conca JL, Peurrung LM (1997) Evaluation of heavy metal remediation using mineral apatite. Water Air Soil Pollut 98:57–78

Hong CO, Lee DK, Chung DY, Kim PJ (2007) Liming effects on cadmium stabilization in upland soil affected by gold mining activity. Arch Environ Contam Toxicol 52:496–502

Hong CO, Lee DK, Kim PJ (2008) Feasibility of phosphate fertilizer to immobilize cadmium in a field. Chemosphere 70:2009–2015

Hong CO, Chung DY, Lee DK, Kim PJ (2010) Comparison of phosphate materials for immobilizing cadmium in soil. Arch Environ Contam Toxicol 58:268–274

Hong CO, Owens VN, Kim YG, Lee SM, Park HC, Kim KK, Son HJ, Suh JM, Lee YB, Kim PJ (2014) Comparative effect of two different types of phosphate on cadmium uptake by radish (Raphanus sativa L.) grown in arable soil affected by mine activity. Commun Soil Sci Plant Anal 45:1133–1148

Lee JH, Doolittle JJ (2002) Phosphate application impacts on cadmium sorption in acidic and calcareous soils. Soil Sci 167:390–400

Lide DR (2006) CRC handbook of chemistry and physics, eighty seventh ed. The Chemical Rubber Co, Florida

Lieu VT, Kalbus GE (1988) Potentiometric titration of acidic and basic compounds in household cleaners. J Chem Educ 65:184

Lindsay WL (1979) Chemical Equilibria in Soils. Wiley, New York, pp 168–317

Mandjiny S, Matis KA, Fedoroff M, Jeanjean J, Rouchaud JC, Toulhoat N, Potocek V, Maireles-Torres P, Jones D (1998) Calcium hydroxyapatites: evaluation of sorption properties for cadmium ions in aqueous solution. J Mater Sci 33:5433–5439

McGowen SL, Basta NT, Brown GO (2001) Use of diammonium phosphate to reduce heavy metal solubility and transport in smelter-contaminated soil. J Environ Qual 30:493–500

Mench M, Vangronsveld J, Lepp NW, Edwards R (1998) Physicochemical aspects and efficiency of trace element immobilization by soils amendments. In: Vangronsveld J, Cunningham SD (eds) Metal-contaminated soils: in situ inactivation and phytorestoration. Springer, Berlin, pp 151–182

Naidu R, Bolan N, Kookana RS, Tiller KG (1994) Ionic strength and pH effects on the adsorption of cadmium and the surface charge of soils. Eur J Soil Sci 45:419–429

Ok YS, Usman ARA, Lee SS, Abd El-Azeem SAM, Choi B, Hashimoto Y, Yang JE (2011) Effects of rapeseed residue on lead and cadmium availability and uptake by rice plants in heavy metal contaminated paddy soil. Chemosphere 85:677–682

Pierzynski GM, Schwab AP (1993) Bioavailability of zinc, cadmium and lead in a metal contaminated alluvial soil. J Environ Qual 22:247–254

Santillian-Medrano J, Jurinak JJ (1975) The chemistry of lead and cadmium in soil: solid phase formation. Soil Sci Soc Am Proc 39:851–856

SAS Institute Inc. (2001) User's Guide: statistics SAS Version 8.2. SAS Institute, Cary, NC

Schofield RK (1949) Effect of pH on electric charges carried by clay particles. J Soil Sci 1:1–8

Seaman JC, Arey JS, Bertsch PM (2001) Immobilization of nickel and other metals in contaminated sediments by hydroxyapatite addition. J Environ Qual 30:460–469

Sharpley AN (1995) Dependence of runoff P on extractable soil phosphorus. J Environ Qual 24:920–926

Sharpley AN, Daniel TC, Sims JT, Pote DH (1996) Determining environmentally sound soil phosphorus levels. J Soil Water Conserv 51:160–166

Sparks DL (1996) Methods of soil analysis part 3 chemical methods. Soil science society of America Inc., Madison, pp 1146–1155

Sparks DL (2003) Environmental Soil Chemistry. Academic Press, San Diego, pp 92–94

Street JJ, Lindsay WL, Sabey BR (1977) Solubility and plant uptake of cadmium in soils amended with cadmium and sewage sludge. J Environ Qual 6:72–77

Street JJ, Sabey BR, Lindsay WL (1978) Influence of pH, phosphorus, cadmium, sewage sludge and incubation time on the solubility and plant uptake of cadmium. J Environ Qual 7:286–290

Xu Y, Schwartz FW (1994) Lead immobilization by hydroxyapatite in aqueous solutions. J Contam Hydrol 15:187–195
Acknowledgments
This study was carried out with the support of "Research Program for Agricultural Science & Technology Development (Project No. PJ00982803)", National Academy of Agricultural Science, Rural Development Administration, Republic of Korea.
About this article
Cite this article
Kim, S.U., Owens, V.N., Kim, Y.G. et al. Effect of Phosphate Addition on Cadmium Precipitation and Adsorption in Contaminated Arable Soil with a Low Concentration of Cadmium. Bull Environ Contam Toxicol 95, 675–679 (2015). https://doi.org/10.1007/s00128-015-1621-6
Received:

Accepted:

Published:

Issue Date:
Keywords
Adsorption

Cadmium

Cd minerals

Phosphate

Precipitation