Abstract
The present study focuses on effects of untreated and treated ink industry wastewater on germination of maize, barley and sorghum. Wastewater had a high chemical oxygen demand (COD) and metal content compared to treated effluent. Germination decreased with increasing COD concentration. Speed of germination also followed the same trend, except for maize seeds exposed to untreated effluent (E), which germinated slightly faster than controls. These alterations of seedling development were mirrored by changes in soluble protein content. E exerted a positive effect on soluble protein content and maximum levels occurred after 10 days with treated effluent using coagulation/flocculation (TEc/f) process and treated effluent using combined process (coagulation/flocculation/biosorption) (TEc/f/b). Likewise, activity of α-amylase was influenced by effluent composition. Its expression depended on the species, exposure time and applied treatment. Nevertheless, current results indicated TEc/f/b had no observable toxic effects on germination and could be a beneficial alternative resource to irrigation water.
Access options
Buy single article
Instant access to the full article PDF.
USD 39.95
Price includes VAT (USA)
Tax calculation will be finalised during checkout.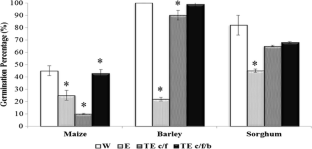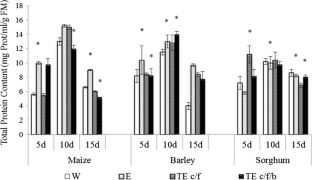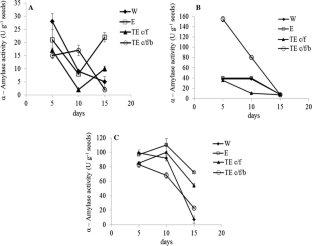 References
Abedi-Koupai J, Bakhtiarifar A (2003) Investigation of the effect of treated wastewater on hydraulic properties of emitters in trickle irrigation system. In: 20th European regional conference, CD international workshop, irrigation technologies and method. Research, development and testing. Montpellier, France

Al-Lahlam O, El Assi NM, Fayyad M (2003) Impact of treated wastewater irrigation on quality attributes and contamination of tomato fruit. Agric Water Manag 61:51–62

Beri V, Gupta R (2007) Acetylcholinesterase inhibitors neostigmine and physostigmine inhibit induction of alpha-amylase activity during seed germination in barley, Hordeum vulgare var. J Life Sci 80:2386–2388

Bradford MM (1976) A rapid and sensitive method for the quantitation of microgram quantities of protein utilizing the principle of protein-dye-binding. Anal Biochem 72:248–254

Bravo J, Vieira S (1970) Contribution à l'étude de la résistance à la sécheresse dans le genre Gossypium. Physiol Veg 8(3):413–447

Czabator FJ (1962) Germination value: an index combining speed and completeness of pine seed germination. For Sci 8:386–395

Ding L, Chen Y, Fan J (2011) An overview of the treatment of print ink wastewaters. J Environ Chem Ecotoxicol 3(10):272–276

Ellis RH, Roberts EH (1981) The quantification of ageing and survival in orthodox seeds. Seed Sci Tech 9:373–409

Ewa LB, Maciej U (2007) Evaluation of phytotoxic effect of wastewater contaminated with anionic surfactants. Biotechnologia 1(76):203–214

Fendri I, Ben Saad R, Khemakhem B, Ben Halima N, Gdoura R, Abdelkafi S (2012) Effect of treated and untreated domestic wastewater on seed germination, seedling growth and amylase and lipase activities in Avena sativa L. J Sci Food Agric 93:1568–1574

He Y, Wanga X, Xu J, Yan J, Ge Q, Gu X, Jian L (2013) Application of integrated ozone biological aerated filters and membrane filtration in water reuse of textile effluents. Bio Technol 133:150–157

Hussain I, Liqa R, Munir AH, Fuard M, Wim H (2001) Framework for analyzing socioeconomic, health and environmental impacts of wastewater use in agriculture. IWMI working paper 26. International Water Management Institute, Colombo, Sri Lanka

Ibrahim R, Bt Ismail N, Ibrahim MH (2012) The effect of industrial wastewater in seed growth rate: a review. Int J Sci Res 2(3):2–4

Imen F, Lamia K, Asma T, Néji G, Radhouane G (2012) Optimization of coagulation-flocculation process for printing ink industrial wastewater treatment using response surface methodology. Afr J Biotech 12(30):4819–4826

Joseph S, Carey H, Kishore KB, Avanthi KR (2006) Sample preparation of solid samples for metal determination by atomic spectroscopy—an overview and selected recent applications. Appl Spectrosc Rev 41:1–14

Kevresan S, Petrovic N, Popovic M, Kandrac J (2001) Nitrogen and protein metabolism in young pea plants as affected by different concentrations of nickel, cadmium, lead and molybdenum. J Plant Nutr 24:1633–1644

Liu R, Zhou Q, Zhang L, Guo H (2007) Toxic effects of wastewater from various phases of monosodium glutamate production on seed germination and root elongation of crops. Front Environ Sci Engin China 1(1):114–119

Ma XJ, Xia HL (2009) Treatment of water-based printing ink wastewater by Fenton process combined with coagulation. J Hazard Mat 162:386–390

Manios T, Stentiford EI, Millner P (2002) The effect of heavy metals on the total protein concentration of Typha latifolia plants, growing in a substrate containing sewage sludge compost and watered with metaliferus wastewater. J Environ Sci Health Part A 37(8):1441–1451

Miller GL (1959) Use of dinitrosalicylic acid reagent for determination of reducing sugars. Anal Chem 31:426–428

Nagda GK, Diwan AM, Ghole VS (2006) Seed germination bioassays to assess toxicity of molasses fermentation based bulk drug industry effluent. Environ Agri Food Chem 5(6):1598–1603

Neubert S, Benabdallah S (2003) Système d'évaluation de la qualité des eaux souterraines SEQ—Eaux Souterraines Rapport de présentation 75

Osman MA (2004) Changes, in sorghum enzyme inhibitors, phytic acid, tannins, and in vitro protein digestibility occurring during Khamir (local bread) fermentation. Food Chem 88:129–134

Padhan A, Sahu SK (1999) Effect of rice mill effluent on seed germination of cereal crops. Poll Res 18:187–189

Patil SA, Harnisch F, Kapadnis B, Schröder U (2010) The role of temperature on the formation and performance of bioelectrocatalytic active mixed culture biofilms for microbial bioelectrochemical systems. Biosens Bioelectron 26:803–808

Piyush M, Anuradha S (2011) Impact of distillery effluent on germination behavior of Brassica napus L. J Environ Biol 32(1):91–94

Richards DE, King KE, Aitali T, Harberd NP (2001) How gibberellin regulates plant growth and development: a molecular genetic analysis of gibberellin signaling. Ann Rev Plant Physiol Plant Mol Biol 52:67–88

Sarita S, Amit K, Gupta Kavita B (2007) Uptake and translocation of metals in fenugreek grown on soil amended with tannery sludge: involvement of antioxidants. Ecotoxicol Environ Saf 67:267–277

Sharma SS, Gaur JP (1995) Potential of Lemna polyrrhiza for removal of heavy metals. Ecol Eng 4:37–43

Tolra RP, Poschenrieder C, Barcelo J (1996) Zinc hyperaccumulation in Thlaspi caerulescens: influence on growth and mineral nutrition. J Plant Nutr 19:1531–1540

WHO (2006) Guidelines for the safe use of wastewater, excreta and grey water: wastewater use in agriculture, vol 2. WHO, Geneva, p 219

Wong YS, Tam NFY, Chen GZ, Ma H (1997) Response of Aegiceras corniculatum to synthetic sewage under simulated tidal conditions. Hydrobiologia 352:89–96
Acknowledgments
This work was supported by grants from the Tunisian Ministry of Higher Education and Scientific Research. It was accomplished at the Faculty of Sciences of Sfax. Authors gratefully acknowledge the support of Mohamed Ayadi for technical assistance.
About this article
Cite this article
Zayneb, C., Lamia, K., Olfa, E. et al. Morphological, Physiological and Biochemical Impact of Ink Industry Effluent on Germination of Maize (Zea mays), Barley (Hordeum vulgare) and Sorghum (Sorghum bicolor). Bull Environ Contam Toxicol 95, 687–693 (2015). https://doi.org/10.1007/s00128-015-1600-y
Received:

Accepted:

Published:

Issue Date:
Keywords
Effluent treatment

Seedling mortality

Speed of germination

Soluble protein

α-amylase