Abstract
Fish represents a nutrient-rich food but, at the same time, is one of the most important contributor to the dietary intake of heavy metals. The aim of this study was to assess residual levels of Pb, Cd and Hg in different species, caught from FAO zones 37 1.3 and 37 2.2, particularly small pelagic, benthic and demersal fishes. The results obtained showed the absence of toxic metal in fishes from FAO zone 37 1.3. Relating to FAO zone 37 2.2, instead, in all samples we observed the absence of Pb, small concentrations of Cd (0.081 ± 0.022 mg/kg) and higher Hg residual levels (0.252 ± 0.033 mg/kg). Particularly, the trend of Cd contamination was similar in all species whereas Hg showed high levels in demersal, intermediate in pelagic and low in benthic species. However, only Cd concentrations exceed the MRL in mackerel, mullet, sea-bream fishes, according to Regulation CE n. 629/2008 and n. 488/2014.
Access options
Buy single article
Instant access to the full article PDF.
USD 39.95
Price includes VAT (USA)
Tax calculation will be finalised during checkout.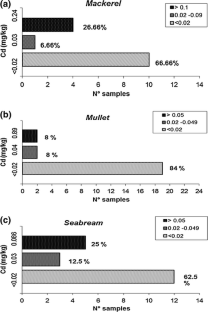 References
Ausili A, Gabellini M, Cammarata G, Fattorini D, Benedetti M, Pisanelli B, Gorbi S, Regoli F (2008) Ecotoxicological and human health risk in a petrochemical district of southern Italy. Mar Environ Res 66:215–217. doi:10.1016/j.marenvres.2008.02.062

Bellido JM, Brown AM, Valavanis VD, Giraldez A, Pierce GJ, Iglesias M, Palialexis A (2008) Identifying essential fish habitat for small pelagic species in Spanish Mediterranean waters. Hydrobiology 612:171–184. doi:10.1007/s10750-008-9481-2

Blaxter JHS, Hunter JR (1982) The biology of the clupeoid fishes. Adv Mar Biol 20:1–5.

Bonsignore M, Salvagio Manta D, Oliveri E, Sprovieri M, Basilone G, Bonanno A, Falco F, Traina A, Mazzola S (2013) Mercury in fishes from Augusta Bay (southern Italy): risk assessment and health implication. Food Chem Toxicol 56:184–194. doi:10.1016/j.fct.2013.02.025

Bustamantea P, Bochera P, Cherel Y, Miramanda P, Cauranta F (2003) Distribution of trace elements in the tissues of benthic and pelagic fish from the Kerguelen Islands. Sci Total Environ 313:25–39. doi:10.1016/S0048-9697(03)00265-1

Copat C, Bella F, Castaing M, Fallico R, Sciacca S, Ferrante M (2012) Heavy metals concentrations in fish from sicily (Mediterranean Sea) and evaluation of possible health risks to consumers. Bull Environ Contam Toxicol 88:78–83. doi:10.1007/s00128-011-0433-6

Di Bella G, Potortì AG, Lo Turco V, Bua D, Licata P, Cicero N, Dugo G (2015) Trace elements in Thunnus thynnus from Mediterranean Sea and benefit–risk assessment for consumers. Food Addit Contam Part B Surveill. doi:10.1080/19393210.2015.1030347

ENVIRON International Team (2008) Appendix A sediment investigation activities performed by ENVIRON summer and Fall 2008 Augusta Bay. Sicily, Italy

Ferrantelli V, Giangrosso G, Cicero A, Naccari C, Macaluso A, Galvano F, D'Orazio N, Arcadipane GE, Naccari F (2012) Evaluation of mercury levels in Pangasius and Cod fillets traded in Sicily (Italy). Food Add Contam 29(7):1046–1051. doi:10.1080/19440049.2012.675595

Freon P, Cury P, Shannon L, Roy C (2005) Sustainable exploitation of small pelagic fish stocks challenged by environmental and ecosystem changes: a review. Bull Mar Sci 76:385–462

Houston KA, Haedrich RL (1986) Food habits and intestinal parasites of deep demersal fishes from the upper continental slope east of New found land, northwest Atlantic Ocean. Mar Biol 92:563–574

Joint FAO/WHO Expert Committee on Food Additives (JECFA) (1999) Joint FAO/WHO Expert Committee on Food Additives: summary and conclusions. In: 53rd Meeting, Rome, 1–10 June 1999

Joint FAO/WHO Expert Committee on Food Additives (JECFA) (2010) Joint FAO/WHO Expert Committee on Food Additives. 2010. Seventy-second meeting, Rome, 16–25 Feb 2010

Lasheen MR, Abdel-Gawad FK, Alaneny AA, Abd El Bary HMH (2012) Fish as bio indicators in aquatic environmental pollution assessment: a case study in Abu-Rawash area, Egypt. World Appl Sci J 19(2):265–275. doi:10.5829/idosi.wasj.2012.19.02.6485

Lo Turco V, Di Bella G, Furci P, Cicero N, Pollicino G, Dugo G (2012) Heavy metals content by ICP-OES in Sarda sarda, Sardinella aurita and Lepidopus caudatus from the Strait of Messina (Sicily, Italy). Nat Prod Res 27(6):518–523. doi:10.1080/14786419.2012.673611

Morgano MA, Rabonato LC, Milani RF, Miyagusku L, Quintaes KD (2014) As, Cd, Cr, Pb and Hg in seafood species used for sashimi and evaluation of dietary exposure. Food Contam 36:24–29

Oronsaye JAO, Wangboje OM, Oguzie FA (2010) Trace metals in some benthic fishes of the Ikpoba river dam, Benin City, Nigeria. Afr J Biotechnol 9(51):8860–8864. doi:10.5897/AJB10.657

Pennino MG, Bellido JM (2012) Can a simple Pelagic-Demersal ratio explain ecosystem functioning? Biodivers J 3(1):69–78

Raissy M, Ansari M (2014) Health risk assessment of mercury and arsenic associated with consumption of fish from the Persian Gulf. Environ Monit Assess 186(2):1235–1240. doi:10.1007/s10661-013-3452-4

Regulation (EC) No 688/2014 of 12 May 2014 amending Regulation (EC) No 1881/2006 setting maximum levels for certain contaminants in foodstuffs

Regulation UE 2065/2001 of 22 October 2001 laying down detailed rules for the application of Council Regulation (EC) No 104/2000 as regards informing consumers about fishery and aquaculture products. Off J Eur Union L 278, 6–8

Regulation (EC) No 629/2008 of 2 July 2008 amending Regulation (EC) No 1881/2006 setting maximum levels for certain contaminants in foodstuffs

Regulation CE n. 1881/2006 of 19 December 2006 setting maximum levels for certain contaminants in foodstuff. Off J Eur Union L 364, 5–24

Renieri EA, Alegakis AK, Kiriakakis M, Vinceti M, Ozcagli Wilks MF, Tsatsakis AM (2014) Cd, Pb and Hg biomonitoring in fish of the mediterranean region and risk estimations on fish consumption. Toxics 2:417–442. doi:10.3390/toxics2030417

Salvo A, Cicero N, Vadalà R, Mottese FA, Bua D, Mallamace D, Giannetto C, Dugo G (2015) Toxic and essential metals determination in commercial seafood: paracentrotus lividus by ICP-MS. Nat Product Res. doi:10.1080/14786419.2015.1038261

Salvo A, Potortì AG, Cicero N, Bruno M, Lo Turco V, Di Bella G, Dugo G (2014) Statistical characterisation of heavy metal contents in Paracentrotus lividus from Mediterranean Sea. Nat Product Res 28(10):718–726. doi:10.1080/14786419.2013.878937

Sidhu KS (2003) Health benefits and potential risks related to consumption of fish or fish oil. Regul Toxicol Pharmacol 38:336–344. doi:10.1016/j.yrtph.2003.07.002

Stergiou KI, Karpouzi VS (2002) Feeding habits and trophic levels of Mediterranean fish. Rev Fish Biol Fish 11:217–254. doi:10.1111/j.1439-0426.2006.00829.x

Storelli MM (2009) Intake of essential minerals and metals via consumption of seafood from the Mediterranean Sea. J Food Prot 72:1116–1120

Storelli MM, Barone G (2013) Toxic metals (Hg, Pb, and Cd) in commercially important demersal fish from Mediterranean Sea: contamination levels and dietary exposure assessment. J Food Sci 78(2):T362–T366. doi:10.1111/j.1750-3841.2012.02976.x

Yi Y, Yang Z, Zhang S (2011) Ecological risk assessment of heavy metals in sediment and human health risk assessment of heavy metals in fishes in the middle and lower reaches of the Yangtze River basin. Environ Poll 159:2575–2585. doi:10.1016/j.envpol.2011.06.011
About this article
Cite this article
Naccari, C., Cicero, N., Ferrantelli, V. et al. Toxic Metals in Pelagic, Benthic and Demersal Fish Species from Mediterranean FAO Zone 37. Bull Environ Contam Toxicol 95, 567–573 (2015). https://doi.org/10.1007/s00128-015-1585-6
Received:

Accepted:

Published:

Issue Date:
Keywords
Toxic metals

Pelagic

Benthic and demersal fishes

FAO zones