Abstract
Variation, run-off and degradation characteristics of the insecticide dinotefuran, (EZ)-(RS)-1-methyl-2-nitro-3-(tetrahydro-3-furyl-methyl)guanidine, in water and soil from two paddy fields after aerial application was investigated as well as in river water. Maximum concentrations of dinotefuran were 290 and 720 µg/L in the two paddy waters, 25 and 28 µg/kg dry in the two paddy soils, and 10 µg/L in the river water. Runoff ratios of dinotefuran from the paddy fields were calculated as 14 %–41 %. Mean half-lives of dinotefuran were 5.4 days in the paddy water and 12 days in the paddy soil. Results obtained in this study are important for the evaluation of the actual behavior of dinotefuran in paddy fields and rivers.
Access options
Buy single article
Instant access to the full article PDF.
USD 39.95
Price includes VAT (USA)
Tax calculation will be finalised during checkout.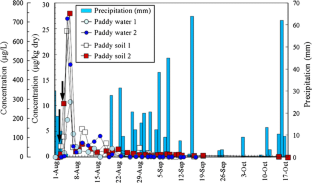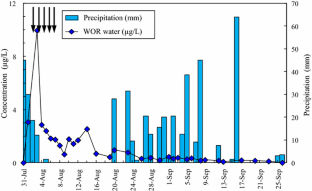 References
Act Beyond Trust (2013) Shipping amounts of neonicotinoids by prefecture. http://www.actbeyondtrust.org/wp-content/uploads/2013/05/nb2013-02_01.xls. Accessed 13 August 2014

Food Safety Commission (2005) Dinotefuran, evaluation report. Food Safety Commission, Tokyo

Japan Plant Protection Association (2008) Report on investigation and evaluation of management methods of paddy field to prevent leakage of applied pesticide. Japan Plant Protection Association, Tokyo

Japan Plant Protection Association (2010) Report on FY 2009 Survey results of residual pesticides. Japan Plant Protection Association, Tokyo

Japan Plant Protection Association (2011) Report on FY 2010 Survey results of residual pesticides. Japan Plant Protection Association, Tokyo

Morohashi M, Nagasawa S, Enya N, Suzuki K, Kose T, Kawata K (2012) Behavior of bromobutide in paddy water and soil after application. Bull Environ Contam Toxicol 88:521–525

Van der Sluijs JP, Simon-Delso N, Goulson Dave, Maxim L, Bonmatin JM, Belzunces LP (2013) Neonicotinoids, bee disorders and the sustainability of pollinator services. Curr Opin Environ Sustain 5:293–305

Wakita T, Yasui N, Yamada E, Kishi D (2005) Development of a novel insecticide, dinotefuran. J Pestic Sci 30:122–123

Yamada T, Yamada K, Wada N (2012) Influence of dinotefuran and clothianidin on a bee colony. Jpn J Clin Ecol 21:10–23

Yamamoto A, Terao T, Hisatomi H, Kawasaki H, Arakawa R (2012) Evaluation of river pollution of neonicotinoids in Osaka City (Japan) by LC/MS with dopant-assisted photoionisation. J Environ Monit 14:2189–2194
About this article
Cite this article
Yokoyama, S., Ito, M., Nagasawa, S. et al. Runoff and Degradation of Aerially Applied Dinotefuran in Paddy Fields and River. Bull Environ Contam Toxicol 94, 796–800 (2015). https://doi.org/10.1007/s00128-015-1554-0
Received:

Accepted:

Published:

Issue Date:
Keywords
Neonicotinoid

Water

Soil

Half-life