Abstract
This study compared the phytoremediation potential of Zea mays in soil either aged or freshly amended with chromium (Cr) and benzo[a]pyrene (B[a]P). Z. mays showed increased shoot biomass in aged soils than in freshly spiked soils. The shoot biomass in contaminated soils increased by over 50 % in aged soil when compared to freshly amended soils, and over 29 % more Cr was accumulated in the shoot of Z. mays in aged soil than in freshly amended soil. Planting Z. mays in aged soil helped in the dissipation of more than 31 % B[a]P than in freshly spiked soil, but in the absence of plants, there seemed to be no difference between the dissipation rates of B[a]P in freshly and aged co-contaminated soil. Z. mays seemed to enhance the simultaneous removal of Cr and B[a]P in aged soil than in freshly spiked soil and hence can be a good plant choice for phytoremediation of co-contaminated soils.
Access options
Buy single article
Instant access to the full article PDF.
USD 39.95
Price includes VAT (USA)
Tax calculation will be finalised during checkout.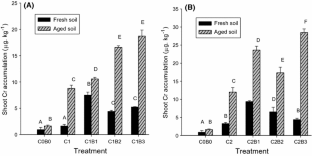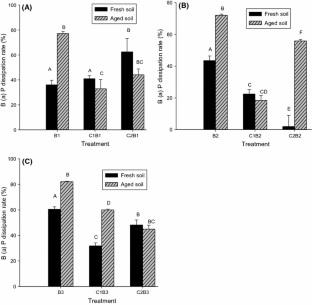 References
Adriano DC (2001) Trace elements in the terrestrial environment: biogeochemistry, bioavailability and risks of metals, 2nd edn. Springer, New York

Blakemore LC, Searle PL, Daly BK (1987) Methods for chemical analysis. N Z Soil Bur Sci Rep 80

Bossert ID, Bertha R (1986) Structure biodegradability relationships of polycyclic aromatic hydrocarbons in soil. Bull Environ Contam Toxicol 37:490–495

Chigbo C, Batty L (2013) Phytoremediation potential of Brassica juncea in Cu-pyrene co-contaminated soil: comparing freshly spiked soil with aged soil. J Environ Manag 129:18–24

Chigbo C, Batty L (2014) Phytoremediation for co-contaminated soils of chromium and benzo (a) pyrene using Zea mays L. Environ Sci Pollut Res 21:3051–3059

Fischer R, Kreuzig R, Bahadir M (1994) Extraction behavior of polycyclic aromatic hydrocarbons adsorbed on waste incinerator fly ash. Chemosphere 29:311–317

Fu D, Teng Y, Luo Y, Tu C, Li S, Li Z, Christie P (2012) Effects of alfalfa and organic fertilizer on benzo (a) pyrene dissipation in an aged contaminated soil. Environ Sci Pollut Res 19:1605–1611

Jalali M, Khanlari ZV (2008) Effect of ageing process on the fractionation of heavy metals in some calcareous soils of Iran. Geoderma 143:26–40

Letellier H, Budzinski J, Bellocq J, Connan J (1999) Focused microwave-assisted extraction of polycyclic aromatic hydrocarbons and alkanes from sediments and source rocks. Org Geochem 30:1353–1365

Lin D, Xing B (2008) Root uptake and phytotoxicity of ZnO nanoparticules. Environ Sci Technol 42:5580–5585

Lock K, Janssen CR (2003) Influence of aging on zinc bioavailability in soils. Environ Pollut 126:371–374

Lytle CM, Lytle FW, Yang N, Qian J, Hansem D, Zayed A, Terry N (1998) Reduction of Cr(VI) to Cr(III) by wetland plants: potential for in situ heavy metals detoxification. Environ Sci Technol 32:3087–3093

Marschner H, Romheld V (1983) In vivo measurement of root-induced pH changes at the soil-root interface: effect of plant species and nitrogen source. Z Pflanz Physiol 111:241–251

Naqvi SM, Rizvi SA (2000) Accumulation of chromium and copper in three different soils and bioaccumulation in an aquatic plant Alternanthera philoxeroides. Bull Environ Contam Toxicol 65:55–61

Nedunuri KV, Govindaraju RS, Banks MK, Schwab AP, Chen Z (2000) Evaluation of phytoremediation for field-scale degradation of total petroleum hydrocarbons. J Environ Eng 126:483–490

Panda SK, Choudhury S (2005) Chromium stress in plants. Braz J Plant Physiol 17:95–102

Robinson SL, Novak JT, Widdowson M, Crosswell SB, Fetterolf GJ (2003) Field and laboratory evaluation of the impact of tall fescue on polyaromatic hydrocarbon degradation in an aged creosote-contaminated surface soil. J Environ Eng 129:232–240

Ruark M, Bundy L, Andraski T, Peterson A (2012) Fifty years of continuous corn: effects on soil fertility. In: Winconsin Crop Management Conference, vol 51

Shahid M, Pinelli E, Pourrut B, Silvestre J, Dumat C (2011) Lead-induced genotoxicity to Vicia faba L. roots in relation with metal cell uptake and initial speciation. Ecotoxicol Environ Saf 74:78–84

Shanker AK, Cervantes C, Loza-Tavera H, Avudainayagam S (2005) Chromium toxicity in plants. Environ Int 31:739–753

Sims RC, Overcash MR (1983) Fate of polynuclear aromatic compounds (PNAs) in soil-plant systems. Resid Rev 88:1–68

Smith MJ, Flowers TH, Duncan HJ, Alder J (2006) Effects of polycyclic aromatic hydrocarbons on germination and subsequent growth of grasses and legumes in freshly contaminated soil and soil with aged PAHs residues. Environ Pollut 141:519–525

Soleimani M, Afyuni M, Hajabbasi MA, Nourbakhsh F, Sabzalian M, Christensen JH (2010) Phytoremediation of an aged petroleum contaminated soil using endophyte infected and non-infected grasses. Chemosphere 81:1084–1090

Wenzel W (2009) Rhizosphere processes and management in plant-assisted bioremediation (phytoremediation) of soils. Plant Soil 321:385–408

Wilcock RJ, Corban GA, Northcott GC, Wilkins AL, Langdon AG (1996) Persistence of polycyclic aromatic compounds of different molecular size and water solubility in surfcial sediment on an intertidal sandflat. Environ Toxicol Chem 15:670–676

Zapusek U, Lestan D (2009) Fractionation, mobility and bio-accessibility of Cu, Zn, Cd, Pb and Ni in aged artificial soil mixtures. Geoderma 154:164–169
About this article
Cite this article
Chigbo, C. Effect of Soil Aging on the Phytoremediation Potential of Zea mays in Chromium and Benzo[a]Pyrene Contaminated Soils. Bull Environ Contam Toxicol 94, 777–782 (2015). https://doi.org/10.1007/s00128-015-1550-4
Received:

Accepted:

Published:

Issue Date:
Keywords
Dissipation

Aged soil

Root biomass

Shoot biomass