Abstract
The present study was focused on the assessment of glutathion-S-transferase (GST) and catalase (CAT) activities in the digestive gland and foot of the land snail, Cantareus apertus (Born, 1778), exposed to different nominal dietary concentrations of Pb (25 and 2500 mg Pb/Kg), Cd (5 and 100 mg Cd/Kg) and their combination (25 mg Pb + 5 mg Cd/Kg and 2500 mg Pb + 100 mg Cd/Kg) for 7 and 60 days. GST activity was significantly increased after 7 and 60 days exposure to the highest concentration of Pb, Cd and their combination. The levels of CAT activity were different in the two studied organs but in both cases it resulted increased after 7 and 60 days of exposure, which varied significantly between metals and dietary concentrations. Therefore, it can be concluded that GST and CAT enzymes in digestive gland and foot of C. apertus are responsive to Cd, Pb and their combination, whereby they are suitable to be included in a battery of biomarkers for ecosystem health assessment in metal polluted soils using this species as sentinel.
Access options
Buy single article
Instant access to the full article PDF.
USD 39.95
Price includes VAT (USA)
Tax calculation will be finalised during checkout.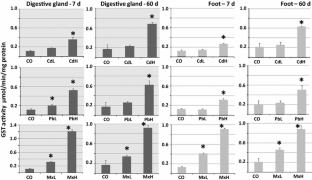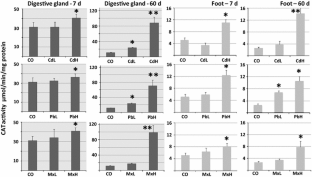 References
Abdel-Halim KY, Abo El-Saad AM, Talha MM, Hussein AA, Bakry NM (2013) Oxidative stress on land snail Helix aspersa as a sentinel organism for ecotoxicological effects of urban pollution with heavy metals. Chemosphere 93:1131–1138

Aebi H (1984) Catalase in vivo. Methods Enzymol 105:121–126

Bagchi D, Vuchetich P, Bagchi M, Hassoun E, Tran M, Tang L, Stohs S (1997) Induction of oxidative stress by chronic administration of sodium dichromate (chromium VI) and cadmium chloride (cadmium II) to rats. Free Radic Biol Med 22:471–478

Beeby A, Richmond L (2002) Evaluation of Helix aspersa as a sentinel for mapping metal pollution. Ecol Indic 1:261–270

Berger B, Dallinger R (1993) Terrestrial snails as quantitative indicators of environmental metal pollution. Environ Monit Assess 25:65–84

Bradford MM (1976) A rapid and sensitive method for quantitation of microgram quantities of protein utilizing the principle of protein dye-binding. Anal Biochem 72:248–254

Canesi L, Viarengo A, Leonzio C, Filippelli M, Gallo G (1999) Heavy metals and glutathione metabolism in mussel tissues. Aquat Toxicol 46:67–76

Chandran R, Sivakumar A, Mohandass S, Aruchami M (2005) Effect of cadmium and zinc on antioxidant enzyme activity in the gastropod, Achatina fulica. Comp Biochem Physiol 140C:422–426

Cunha I, Mangas-Ramirez E, Guilhermino L (2007) Effects of copper and cadmium on cholinesterase and glutathione S-transferase activities of two marine gastropods (Monodonta lineata and Nucella lapillus). Comp Biochem Physiol 145C:648–657

Dallinger R, Berger B, Gruber C, Hunziker P, Sturzenbaum S (2000) Metallothioneins in terrestrial invertebrates: structural aspects, biological significance and implications for their use as biomarkers. Cell Mol Biol 46:331–346

Di Giulio RT, Washburn PC, Wenning RJ, Winston GW, Jewell CS (1989) Biochemical responses in aquatic animals: a review of determinants of oxidative stress. Environ Toxicol Chem 8:1103–1123

El-Gendy KS, Radwan MA, Gad AF (2009) In vivo evaluation of oxidative stress biomarkers in the land snail, Theba pisana exposed to copper-based pesticides. Chemosphere 77:339–344

Elia AC, Galarini R, Dorr AJM, Taticchi MI (2007) Heavy metal contamination and antioxidant response of a freshwater bryozoan (Lophopus crystallinus Pall., Phylactolaemata). Ecotoxicol Environ Saf 66:188–194

Geret F, Serafim A, Barreira L, Bebianno MJ (2002) Effect of cadmium on antioxidant enzyme activities and lipid peroxidation in the gills of the clam Ruditapes decussatus. Biomarkers 7:242–256

Habig WH, Jakoby WB (1981) Glutathione-S-transferase (rat and human). Methods Enzymol 77:218–231

Habig WH, Pabst MJ, Jakoby WB (1974) Glutathione S-transferases. The first enzymatic step in mercapturic acid formation. J Biol Chem 249:7130–7139

Hermes-Lima M (2004) Oxygen in biology and biochemistry: role of free radicals. In: Storey KB (ed) Functional metabolism: regulation and adaptation. Wiley, Hoboken, pp 319–368

Itziou A, Dimitriadis VK (2011) Introduction of the land snail, Eobania vermiculata, as a bioindicator organism of terrestrial pollution using a battery of biomarkers. Sci total Environ 409:1181–1192

Itziou A, Kaloyianni M, Dimitriadis VK (2011) In vivo and in vitro effects of metals in reactive oxygen species production, protein carbonylation, and DNA damage in land snails Eobania vermiculata. Arch Environ Contam Toxicol 60:697–707

Kammenga JE, Dallinger R, Donker MH, Kohler HR, Simonsen V, Triebskorn R, Weeks JM (2000) Biomarkers in terrestrial invertebrates for ecotoxicological soil risk assessment. Rev Environ Contam Toxicol 164:93–147

Khessiba A, Hoarau P, Gnassia-Barelli M, Aissa P, Romeo M (2001) Biochemical response of the mussel Mytilus galloprovincialis from Bizerta (Tunisia) to chemical pollutant exposure. Arch Environ Contam Toxicol 40:222–229

Khessiba A, Romeo M, Aissa P (2005) Effects of some environmental parameters on catalase activity measured in the mussel (Mytilus galloprovincialis) exposed to lindane. Environ Pollut 133:275–281

Larba R, Soltani N (2014) Use of the land snail Helix aspersa for monitoring heavy metal soil contamination in Northeast Algeria. Environ Monit Assess 186:4987–4995

Laskowski R, Hopkin SP (1996) Accumulation of Zn, Cu, Pb and Cd in the garden snail (Helix aspersa): implications of predators. Environ Pollut 91:289–297

Livingstone DR (2001) Contaminant-stimulated reactive oxygen species production and oxidative damage in aquatic organisms. Mar Pollut Bull 42:656–666

Manzl C, Krumschnabel G, Schwarzbaum PJ, Dallinger R (2004) Acute toxicity of cadmium and copper in hepatopancreas cells from the Roman snail (Helix pomatia). Comp Biochem Physiol 138C:45–52

Marigómez I, Kortabitarte M, Dussart GBJ (1998) Tissue-level biomarkers in sentinel slugs as cost-effective tools to assess metal pollution in soils. Arch Environ Contam Toxicol 34:167–176

Marigómez I, Soto M, Cajaraville MP, Angulo E, Giamberini L (2002) Cellular and subcellular distribution of metals in molluscs. Microsc Res Tech 56:358–392

Markus J, McBratney AB (2001) A review of the contamination of soil with lead. II. Spatial distribution and risk assessment of soil lead. Environ Int 27:399–411

Moreira SM, Guilhermino L (2005) The use of Mytilus galloprovincialis acetylcholinesterase and gluthatione-S-transferase activities as biomarkers of environmental contamination along the northwest Portuguese coast. Environ Monit Assess 105:309–325

Morgan BA, Veal EA, Toone WM, Jones N (2002) Distinct roles for glutathione S-transferases in the oxidative stress response in Schizosaccharomyces pombe. J Biol Chem 277:3552331

NCM-WHO (2003) Cadmium review. NMR Rep 1, World Health Organisation, 23 p

Nica DV, Bordean D-M, Borozan AB, Gergen I, Bura M, Banatean-Dunea I (2013) Use of land snails (Pulmonata) for monitoring copper pollution in terrestrial ecosystems. Rev Environ Contam Toxicol 225:95–137

Nowakowska A, Łaciak T, Caputa M (2012) Organ profiles of the antioxidant defence system and accumulation of metals in Helix aspersa snails. Pol J Environ Stud 21:1369–1375

Orbea A, Ortiz-Zarragoitia M, Cajaraville MP (2002) Interactive effects of benzo(a)pyrene and cadmium and effects of di(2-ethylhexyl)phthalate on antioxidant and peroxisomal enzymes and peroxisomal volume density in the digestive gland of mussel Mytilus galloprovincialis Lmk. Biomarkers 7:33–48

Pihan F, de Vaufleury AG (2000) The snail as a target organism for the evaluation of the contamination and the efficiency of a THC remediation: interest of passive and active monitoring. Ecotoxicol Environ Saf 46:137–147

Popham JD, D'Auria M (1980) Arion ater (Mollusca: Pulmonata) as an indicator of terrestrial environmental pollution. Water Air Soil Pollut 14:115–124

Radwan MA, Essaw AE, Abdelmeguied NE, Hamed SS, Ahmed AE (2008) Biochemical and histochemical studies on the digestive gland of Eobania vermiculata snails treated with carbamate pesticides. Pestic Biochem Physiol 90:154–167

Radwan MA, El-Gendy KS, Gad AF (2010a) Biomarkers of oxidative stress in the land snail, Theba pisana for assessing ecotoxicological effects of urban metal pollution. Chemosphere 79:40–46

Radwan MA, El-Gendy KS, Gad AF (2010b) Oxidative stress biomarkers in the digestive gland of Theba pisana exposed to heavy metals. Arch Environ Contam Toxicol 58:828–835

Regoli F, Principato G (1995) Glutathione, glutathione dependent and antioxidant enzymes in mussel, Mytilus galloprovincialis, exposed to metals under field and laboratory conditions: implications for the use as of biochemical biomarkers. Aquat Toxicol 31:143–164

Regoli F, Gorbi S, Fattorini D, Tedesco S, Notti A, Machella N, Bocchetti R, Benedetti M, Piva F (2006) Use of the land snail Helix aspersa sentinel organism for monitoring ecotoxicologic effects of urban pollution: an integrated approach. Environ Health Perspect 114:63–69

Rodriguez-Ariza A (1993) Biochemical indicators of oxidative stress in fish from polluted littoral areas. Can J Fish Aquat Sci 50:2568–2573

Roling JA, Baldwin WS (2006) Alterations in hepatic gene expression by trivalent chromium in Fundulus heteroclitus. Mar Environ Res 62:122–127

Romeo M, Hoarau P, Garello G, Gnassia-Barelli M, Girard JP (2003) Mussel transplantation and biomarkers as useful tools for assessing water quality in the NW Mediterranean. Environ Pollut 122:369–378

Salama AK, Osman KA, Saber NA, Soliman SA (2005) Oxidative stress induced by different pesticides in the land snails, Helix aspersa. Pak J Biol Sci 8:92–96

Swaileh KM, Hussein R, Halaweh N (2002) Metal accumulation from contaminated food and its effect on growth of juvenile land snails Helix engaddensis. J Environ Sci Health 37B:151–159

Van der Oost R, Beyer J, Vermeulen NPE (2003) Fish bioaccumulation and biomarkers in environmental risk assessment: a review. Environ Toxicol Pharmacol 13:57–149

Weckx JEJ, Clijsters HM (1997) Zinc phytotoxicity induces oxidative stress in primary leaves of Phaseolus vulgaris. Plant Physiol Biochem 35:405–410

Zaldibar B, Cancio I, Soto M, Marigómez I (2007) Digestive cell turnover in digestive gland epithelium of slugs experimentally exposed to a mixture of cadmium and kerosene. Chemosphere 70:144–154

Zaldibar B, Cancio I, Soto M, Marigómez I (2008) Changes in cell-type composition in digestive gland of slugs and its influence in biomarkers following transplantation between a relatively unpolluted and a chronically metal-polluted site. Environ Pollut 156:267–379
Acknowledgments
This research was funded by Basque Government (Etortek Res Proj IE06-179; Cons Res Grp Grant, GIC07/26-IT-393-07) and Univ Basque Country "Ecosystem Health Protection" UFI 11/37).
About this article
Cite this article
Mleiki, A., Marigómez, I. & El Menif, N.T. Effects of Dietary Pb and Cd and Their Combination on Glutathion-S-Transferase and Catalase Enzyme Activities in Digestive Gland and Foot of the Green Garden Snail, Cantareus apertus (Born, 1778). Bull Environ Contam Toxicol 94, 738–743 (2015). https://doi.org/10.1007/s00128-015-1542-4
Received:

Accepted:

Published:

Issue Date:
Keywords
Cantareus apertus

Oxidative stress

Cadmium

Lead

CAT

GST