Abstract
Metal contamination in aquatic environments may occur when the anthropogenic emission exceeds the natural contribution although other factors might influence the metal distribution. In the small-size Macaé river basin, most of the metal emission was originated from anthropogenic sources suggesting a contamination status. Total and exchangeable metal concentrations were determined in sediments from the pristine upstream to the urban estuary and compared to the metal content in rocks to establish contamination and background concentrations. The enrichment of Pb in sediments compared to the regional background and high exchangeable concentrations suggest the influence of anthropogenic sources on Pb distribution. Al, Fe Mn, Zn, Ba, Cu, Cr, Ni concentrations in sediments were similar to the rock content and the values were considered regional background. Spatial distribution did not follow the whole-basin emission source gradient suggesting that despite actual anthropogenic sources, the sediment mineralogy and basin geomorphology might influence the sediment metal distribution.
Access options
Buy single article
Instant access to the full article PDF.
USD 39.95
Price includes VAT (USA)
Tax calculation will be finalised during checkout.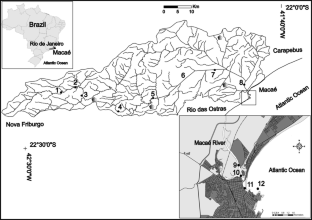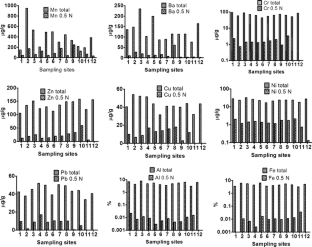 References
Almeida et al (2012) Geologia e recursos minerais da folha Macaé SF.24-Y-A-I, Estado do Rio de Janeiro, CPRM, Belo Horizonte

Assumpção AP, Marçal M (2012) Retificação dos canais fluviais e mudanças geomorfológicas na planície do rio Macaé (RJ). R Geog 29:18–36

Environmental Protection Agency (1996) Soil screening guidance: Technical background document. U.S. EPA Rep. 540/R-95/128.US Gov. Print. Office: Washington, DC

Farias MM, Sanchez BA (2001) Geochemistry and mineralogy of recent sediments of Guanabara Bay (NE sector) and its major rivers—Rio de Janeiro State—Brazil. An Acad Bras Ciênc 73:121–133

Fry B (2006) Stable isotope ecology. Springer, New York

Grim RE (1953) Clay mineral. McGraw-Hill, New York

IBGE Cidades (2014) Instituto Brasileiro de Geografia e Estatísticas. http://www.cidades.ibge.gov.br/xtras/home.php. Accessed 14 June 2014

Kabata-Pendias A, Pendias H (2001) Trace elements in soils and plants. CRC Press, Boca Raton

Lacerda LD, Molisani MM, Sena D, Maia LP (2008) Estimating the importance of natural and anthropogenic sources of N and P to estuaries along the Ceará State Coast NE Brazil. Environ Monit Assess 141:149–164

Marçal WC, Gaste L, Nascimento MRL, Oliveira HS (2003) Teores de chumbo em suplementos minerais comercializados no Mato Grosso do Sul. Cienc Rural 33:775–778

Mello CSB (1996) A contribuição da geologia e da geoquímica na avaliação ambiental e no prognóstico da qualidade da água de abastecimento do rio Macaé, RJ. Dissertation, Universidade Federal do Rio de Janeiro

Molisani MM, Salomão MSMB, Ovalle ARC, Rezende CE, Lacerda LD, Carvalho CEV (1999) Heavy metal in sediments of the lower Paraíba do Sul River. Paraíba do Sul River. Bull Environ Contam Toxicol 63:682–690

Molisani MM, Salomão MS, Ovalle ARC (2005) Partitioning of metals in sediments from the lower Paraíba do Sul River, SE, Brazil. Geochim Brasil 19:48–59

Molisani MM, Esteves FA, Lacerda LD, Rezende CE (2013) Emissões naturais e antrópicas de nitrogênio, fósforo e metais para a bacia do rio Macaé (Macaé, RJ, Brasil) sob a influência das atividades de exploração de petróleo e gás na Bacia de Campos. Quim Nova 36:27–33

Onursal B, Gautam SP (1997) Vehicular air pollution: experiences from seven Latin American Urban Centers. World Bank technical paper #373. World Bank Press, Washington, DC

Pandarinath K, Narayana AC (1992) Clay minerals and trace metal association in the Gangoli Estuarine Sediments, West Coast of India. Estuar Coast Shelf Sci 35:363–370

Pinheiro MRC (2008) Avaliação de usos preponderantes e qualidade da água como subsídios para os instrumentos de gestão dos recursos hídricos, aplicada à bacia hidrográfica do rio Macaé. Dissertation, Centro Federal de Educação Tecnológica de Campos

Reis A, Parker A, Alencoão A (2014) Storage and origin of metals in active stream sediments from mountainous rivers: a case study in the River Douro basin (North Portugal). Appl Geochem 44:69–79

Reuer MK, Weiss DJ (2002) Anthropogenic lead dynamics in the terrestrial and marine environment. Philos Trans R Soc Lond A 360:2889–2904

Savage C (2005) Tracing the influence of sewage nitrogen in a coastal ecosystem using stable nitrogen isotopes. Ambio 34:145–150

Sousa PA, Oliveira D, Hingel RL, Cunha A (2009) Caracterização do uso da terra na bacia do rio Macaé, RJ. Anais XIII Simpósio Brasileiro de Geografia Física Aplicada, Brasil, p 80

Woitke P, Wellmitz J, Helm D, Kube P, Lepom P, Litheraty P (2003) Analysis and assessment of heavy metal pollution in suspended solids and sediments of the river Danube. Chemosphere 51:633–642
Acknowledgments
This study was supported by FAPERJ (DCTR, 112.565/2012). C.E. Rezende and M.G. Almeida integrate the INCT about the material transfers in the land–ocean interface (Proc. 573.601/08-9).
About this article
Cite this article
Molisani, M.M., Noronha, F.R.C., Schultz, M.S. et al. Mismatch Between Sediment Metal Distribution and Pollution Source Gradient: A Case Study of a Small-Size Drainage Basin (Southeastern Brazil). Bull Environ Contam Toxicol 94, 770–776 (2015). https://doi.org/10.1007/s00128-015-1524-6
Received:

Accepted:

Published:

Issue Date:
Keywords
Trace metal

Sediment background

Estuary

Contamination

Bioavailability