Abstract
Two sites of collection along river Nile, nearby metal-related factories (site2) and 7 km downstream (site3) were compared to unpolluted reference fish farm (site1). Metals concentration (Cu, Zn, Pb, Fe, Mn and Cd) in water and sediment samples showed highly significant (p < 0.01) differences among sites. According to contamination factor and pollution load index values, overall pollution was ordered as site2 > site3 > site1. Compared with Oreochromis niloticus of site1, activities of superoxide dismutase, catalase and glutathione-S-transferase as well as malondialdehyde formation were significantly (p < 0.01) increased in both liver and gills of fish collected from metal contaminated sites. This increment showed a tissue-specific pattern with higher rate of increment in liver than in gills. While reduced glutathione level was sharply decreased in site2 and site3. Micronucleus test was assessed as an environmental genotoxic endpoint in erythrocytes. Assessment of eight nuclear deformations showed gradient frequencies related to the distance from the industrial discharges.
Access options
Buy single article
Instant access to the full article PDF.
USD 39.95
Price includes VAT (USA)
Tax calculation will be finalised during checkout.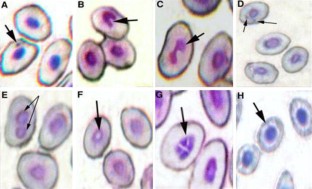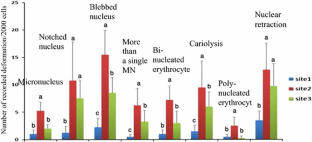 References
Aebi H (1984) Catalase in vitro. Methods Enzymol 105:121–126

AEP (1997) Alberta water quality guideline for the protection of freshwater aquatic life: Dissolved oxygen. Standards and Guidelines Branch, Alberta Environmental Protection, Edmonton

APHA (2005) Standard methods for the examination of water and wastewater. American Public Health Association, New York

Atli G, Alptekin O, Tukel S, Canli M (2006) Response of catalase activity to Ag2+, Cd2+, Cr2+, Cu2+ and Zn2+ in five tissues of freshwater fish Oreochromis niloticus. Comp Biochem Physiol C 143:218–224

Baysoy E, Atli G, Gürler CÖ, Dogan Z, Eroglu A, Kocalar K, Canli M (2012) The effects of increased freshwater salinity in the biodisponibility of metals (Cr, Pb) and effects on antioxidant systems of Oreochromis niloticus. Ecotoxicol Environ Saf 84:249–253

Beutler E, Duron O, Kelly BM (1963) Improved method for the determination of blood glutathione. J Lab Clin Med 61:882–888

Boyd CE (1990) Water quality in ponds for aquaculture. Birmingham Publishing Co., Birmingham, Alabama

Burton CA, Hatlelid K, Divine K, Carter DE, Fernando Q, Brendel K, Gandolfi AJ (1995) Glutathione effects on toxicity and uptake of mercuric chloride and sodium arsenite in rabbit renal cortical slices. Environ Health Perspect 103:81–84

Cabrera F, Conde B, Flores V (1992) Heavy metals in the surface sediments of the tidal river Tinto (SW Spain). Fresenius Environ Bull 1:400–405

Cao L, Huang W, Liu J, Yin X, Dou S (2010) Accumulation and oxidative stress biomarkers in Japanese flounder larvae and juveniles under chronic cadmium exposure. Comp Biochem Physiol C 151:386–392

Cao L, Huang W, Shan X, Ye Z, Dou S (2012) Tissue-specific accumulation of cadmium and its effects on antioxidative responses in Japanese flounder juveniles. Environ Toxicol Pharmacol 33:16–25

CCME (1999) Canadian water quality guidelines for the protection of aquatic life: summary table. In: Canadian environmental quality guidelines. Canadian Council of Ministers of the Environment, Winnipeg, Canada

Da Silva Souza T, Fontanetti CS (2006) Micronucleus test and observation of nuclear alterations in erythrocytes of Nile tilapia exposed to waters affected by refinery effluent. Mutat Res 605(1–2):87–93

Dautremepuits C, Marcogliese DJ, Gendron AD, Fournier M (2009) Gill and kidney antioxidant processes and innate immune system responses of yellow perch (Perca flavescens) exposed to different contaminants in the St. Lawrence River, Canada. Sci Total Environ 407:1055–1064

Ergene S, Avas TC, Celik A, Koleli N, Kaya F, Karahan A (2007) Monitoring of nuclear abnormalities in peripheral erythrocytes of three fish species from the Goksu Delta (Turkey): genotoxic damage in relation to water pollution. Ecotoxicology 16(4):385–391

Fenech M (1993) The cytokinesis-block micronucleus technique: a detailed description of the method and its application to genotoxicity studies in human populations. Mutat Res 285:35–44

Fenech M, Chang WP, Kirsch-Volders M, Holland N, Bonassi S, Zeiger E (2003) HUMN project: detailed description of the scoring criteria for the cytokinesis block micronucleus assay using isolated human lymphocyte cultures. Mutat Res 534(1–2):65–75

Guilherme S, Válega M, Pereira ME, Santos MA, Pacheco M (2008) Antioxidant and biotransformation responses in Liza aurata under environmental mercury exposure–relationship with mercury accumulation and implications for public health. Mar Poll Bull 56:845–859

Habig WH, Pabst MJ, Jakoby WB (1974) Glutathione S-transferases. The first enzymatic step in mercapturic acid formation. J Biol Chem 249:7130–7139

Hakanson L (1980) An ecological risk index for aquatic pollution control a sedimentological approaches. Water Res 14(8):975–1001

Harabawy AS, Mosleh YY (2014) The role of vitamins A, C, E and selenium as antioxidants against genotoxicity and cytotoxicity of cadmium, copper, lead and zinc on erythrocytes of Nile tilapia, Oreochromis niloticus. Ecotoxicol Environ Saf 104:28–35

Has-Schon E, Bogut I, Strelec I (2006) Heavy metal profile in five fish species included in human diet, domiciled in the end flow of River Neretva (Croatia). Arch Environ Contam Toxicol 50(4):545–551

Hseu ZY (2004) Evaluating heavy metal contents in nine composts using four digestion methods. Bioresour Technol 95:53–59

Issac RA, Kerber JD (1971) Atomic absorption and flame photometry. Techniques and uses in soil, plant and water analysis. In: Walsh LM (ed) Instrumental methods for analysis of soil and plant tissue. Soil Science Society of America-Agronomy Society of America Inc, Madison, WI, pp 17–37

MacDonald DD, Ingersoll CG, Berger TA (2000) Development and evaluation of consensus-based sediment quality guidelines for freshwater ecosystems. Arch Environ Contam Toxicol 39:20–31

Martin J, Meybeck M (1979) Elemental mass-balance of material carried by major world rivers. Mar Chem 7(3):178–206

Melegaria SP, Perreault F, Costa RHR, Popovic R, Matias WG (2013) Evaluation of toxicity and oxidative stress induced by copper oxide nanoparticles in the green alga Chlamydomonas reinhardtii. Aquat Toxicol 142–143:431–440

Nishikimi M, Appaji N, Yagi K (1972) The occurrence of superoxide anion in the reaction of reduced phenazine methosulfate and molecular oxygen. Biochem Biophys Res Commun 46:849–854

Ohkawa H, Ohishi N, Yagi K (1979) Assay for lipid peroxides in animal tissues by thiobarbituric acid reaction. Anal Biochem 95:351–358

Omar WA, Zaghloul KH, Abdel-Khalek AA, Abo-Hegab S (2012) Genotoxic effects of metal pollution in two fish species, Oreochromis niloticus and Mugil cephalus, from highly degraded aquatic habitats. Mutat Res 746:7–14

Persaud D, Jaagumagi R, Hayton A (1993) Guidelines for the protection and management of aquatic sediment quality in Ontario. Ontario Ministry of the Environment, Queen's Printer of Ontario, Ontario

Qu R, Feng M, Wang X, Qin L, Wang C, Wang Z, Wang L (2014) Metal accumulation and oxidative stress biomarkers in liver of freshwater fish Carassius auratus following in vivo exposure to waterborne zinc under different pH values. Aquat Toxicol 150:9–16

Robert FC, David FB, Gary AC (1986) Effects of pH on the Toxicities of cadmium, copper, and zinc to Steelhead Trout (Salmo gairdneri). Can J Fish Aquat Sci 43(8):1497–1503

Ruas CBG, Carvalho Cd-S, de Araújo HSS, Espíndola ELG, Fernandes MN (2008) Oxidative stress biomarkers of exposure in the blood of cichlid species from a metal-contaminated river. Ecotoxicol Environ Saf 71:86–93

Sampaio FG, Boijink CL, Oba ET, Santos LRB, Kalinin AL, Rantin FT (2008) Antioxidant defenses and biochemical changes in pacu (Piaractus mesopotamicus) in response to single and combined copper and hypoxia exposure. Comp Biochem Physiol C 147:43–51

Souid G, Souayed N, Yaktiti F, Maaroufi K (2014) Lead accumulation pattern and molecular biomarkers of oxidative stress in sea bream (Sparus aurata) under short-term metal treatment. Drug Chem Toxicol 15:1–8

Tomlinson DC, Wilson JG, Harris CR, Jeffrey DW (1980) Problems in assessment of heavy metals in estuaries and the formation of pollution index. Helgol Mar Res 33:566–575

Turkmen A, Turkmen M, Tepe Y, Mazlum Y, Oymael S (2006) Metal concentrations in Blue Crab (Callinectes sapidus) and Mullet (Mugil cephalus) in Iskenderun Bay, Northern East Mediterranean, Turkey. Bull Environ Contam Toxicol 77:186–193
Conflict of interest
Amr Adel Abdel-Khalek declares that he has no conflict of interest.
Compliance with Ethical Standards
This manuscript complies to the Ethical Rules applicable for this journal.
About this article
Cite this article
Abdel-Khalek, A.A. Antioxidant Responses and Nuclear Deformations in Freshwater Fish, Oreochromis niloticus, Facing Degraded Environmental Conditions. Bull Environ Contam Toxicol 94, 701–708 (2015). https://doi.org/10.1007/s00128-015-1509-5
Received:

Accepted:

Published:

Issue Date:
Keywords
Antioxidant biomarkers

Metal toxicity

Nuclear anomalies