Abstract
In this study, bioleaching was coupled with electrokinetics (BE) to remove heavy metals (Cu, Zn, Cr and Pb) from contaminated soil. For comparison, bioleaching (BL), electrokinetics (EK), and the chemical extraction method were also applied alone to remove the metals. The results showed that the BE method removed more heavy metals from the contaminated soil than the BL method or the EK method alone. The BE method was able to achieve metal solubilization rates of more than 70 % for Cu, Zn and Cr and of more than 40 % for Pb. Within the range of low current densities (<1 mA cm−2), higher current density led to more metal removal. However, the metal solubilization rates did not increase with increasing current density when the current density was higher than 1 mA cm−2. Therefore, it is suggested that bioleaching coupled with electrokinetics can effectively remediate heavy metal-contaminated soils and that preliminary tests should be conducted before field operation to detect the lowest current density for the greatest metal removal.
Access options
Buy single article
Instant access to the full article PDF.
USD 39.95
Price includes VAT (USA)
Tax calculation will be finalised during checkout.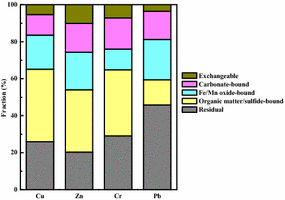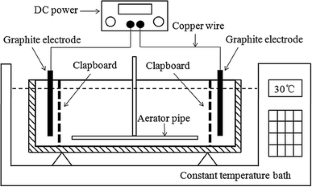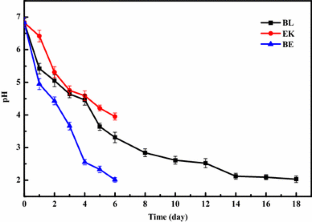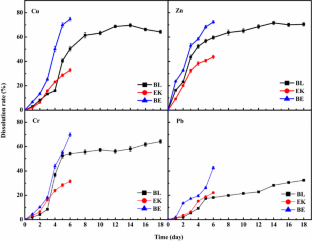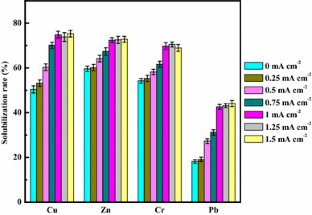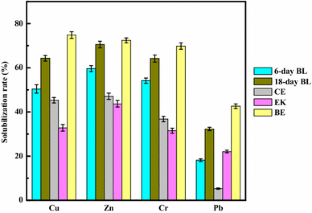 References
Blais J, Tyagi R, Auclair J (1993) Metals removal from sewage sludge by indigenous iron-oxidizing bacteria. J Environ Sci Health Part A 28:443–467

Chen SY, Lin JG (2001) Bioleaching of heavy metals from sediment: significance of pH. Chemosphere 44:1093–1102

Cunningham SD, Berti WR, Huang JW (1995) Phytoremediation of contaminated soils. Trends Biotechnol 13:393–397

Du YG, Tyagi RD, Sreekrishnan TR (1995) Operational strategy for metal bioleaching based on pH measurements. J Environ Eng 121:527–535

Han FX, Kingery WL, Selim HM (2001) Accumulation, redistribution, transport and bioavailability of heavy metals in waste-amended soils. In: Iskandar IK, Kirkham MB (eds) Trace elements in soil: bioavailability, flux, and transfer. CRC Press, Boca Raton, FL, pp 141–168

Kim IS, Lee JU, Jang A (2005) Bioleaching of heavy metals from dewatered sludge by Acidithiobacillus ferrooxidans. J Chem Technol Biotechnol 80:1339–1348

Lee KY, Kim KW (2010) Heavy metal removal from shooting range soil by hybrid electrokinetics with bacteria and enhancing agents. Environ Sci Technol 44:9482–9487

Lee KY, Yoon IH, Lee BT, Kim SO, Kim KW (2009) A novel combination of anaerobic bioleaching and electrokinetics for arsenic removal from mine tailing soil. Environ Sci Technol 43:9354–9360

Lee KY, Kim HA, Lee BT, Kim SO, Kwon YH, Kim KW (2011) A feasibility study on bioelectrokinetics for the removal of heavy metals from tailing soil. Environ Geochem Health 33:3–11

Liu G, Yin J, Cong W (2007) Effect of fluid shear and particles collision on the oxidation of ferrous iron by Acidithiobacillus ferrooxidans. Miner Eng 20:1227–1231

Liu YG, Zhou M, Zeng GM, Wang X, Li X, Fan T, Xu WH (2008) Bioleaching of heavy metals from mine tailings by indigenous sulfur-oxidizing bacteria: effects of substrate concentration. Bioresour Technol 99:4124–4129

Maini G, Sharman AK, Sunderland G, Knowles CJ, Jackman SA (2000) An integrated method incorporating sulfur-oxidizing bacteria and electrokinetics to enhance removal of copper from contaminated soil. Environ Sci Technol 34:1081–1087

Maksymiec W (2007) Signaling responses in plants to heavy metal stress. Acta Physiol Plant 29:177–187

Martin TA, Ruby MV (2004) Review of in situ remediation technologies for lead, zinc, and cadmium in soil. Remediation J 14:35–53

Mercier G, Chartier M, Couillard D (1996) Strategies to maximize the microbial leaching of lead from metal-contaminated aquatic sediments. Water Res 30:2452–2464

Mulligan C, Yong R, Gibbs B (2001) Remediation technologies for metal-contaminated soils and groundwater: an evaluation. Eng Geol 60:193–207

Nahmani J, Capowiez Y, Lavelle P (2005) Effects of metal pollution on soil macroinvertebrate burrow systems. Biol Fertil Soils 42:31–39

Naresh Kumar R, Nagendran R (2009) Fractionation behavior of heavy metals in soil during bioleaching with Acidithiobacillus thiooxidans. J Hazard Mater 169:1119–1126

Nareshkumar R, Nagendran R, Parvathi K (2008) Bioleaching of heavy metals from contaminated soil using Acidithiobacillus thiooxidans: effect of sulfur/soil ratio. World J Microbiol Biotechnol 24:1539–1546

Olson G, Brierley J, Brierley C (2003) Bioleaching review part B. Appl Microbiol Biotechnol 63:249–257

Seidel H, Löser C, Zehnsdorf A, Hoffmann P, Schmerold R (2004) Bioremediation process for sediments contaminated by heavy metals: feasibility study on a pilot scale. Environ Sci Technol 38:1582–1588

Tessier A, Campbell PG, Bisson M (1979) Sequential extraction procedure for the speciation of particulate trace metals. Anal Chem 51:844–851

Ure AM (1995) Methods of analysis for heavy metals in soils. In: Alloway BJ (ed) Heavy Metals in the Environment. Blackie Academic and Professional, London, pp 58–102

Villar LD, Garcia O Jr (2006) Effect of anaerobic digestion and initial pH on metal bioleaching from sewage sludge. J Environ Sci Health Part A 41:211–222

Wang JY, Zhang DS, Stabnikova O, Tay JH (2005) Evaluation of electrokinetic removal of heavy metals from sewage sludge. J Hazard Mater 124:139–146

Wick LY, Shi L, Harms H (2007) Electro-bioremediation of hydrophobic organic soil-contaminants: a review of fundamental interactions. Electrochim Acta 52:3441–3448

Wong J, Xiang L, Gu X, Zhou L (2004) Bioleaching of heavy metals from anaerobically digested sewage sludge using FeS2 as an energy source. Chemosphere 55:101–107

Zagury GJ, Narasiah KS, Tyagi RD (1994) Adaptation of indigenous iron-oxidizing bacteria for bioleaching of heavy metals in contaminated soils. Environ Technol 15:517–530
Acknowledgments
This work was financially supported by the Foundation for Excellent Young Scientist in Guangdong Academy of Sciences (qnjj201401), the Science and Technology Planning Project of Guangzhou City, China (2014Y2-00194) and the Scientific Research Fund of Hunan Provincial Education Department (13C1082).
About this article
Cite this article
Huang, Q., Yu, Z., Pang, Y. et al. Coupling Bioleaching and Electrokinetics to Remediate Heavy Metal Contaminated Soils. Bull Environ Contam Toxicol 94, 519–524 (2015). https://doi.org/10.1007/s00128-015-1500-1
Received:

Accepted:

Published:

Issue Date:
Keywords
Bioleaching

Electrokinetics

Heavy metal-contaminated soil

Metal solubilization rate

Current density