Abstract
The accumulation and biotransformation of vanadium (V) in Opuntia microdasys were investigated under hydroponic conditions to determine the toxicity of pentavalent V [i.e., V(V)] to the plant and the mechanism of tolerance by the plant to V. Results showed that the concentration of V(V) in nutrient solution was negatively correlated to plant biomass. Moreover, the water content of cladodes decreased under V(V) stress. In V(V)-treated plants, most of the adsorbed V remained in the roots and in the cell wall compartment. In the cladodes, the ratios of V(V) to Vtotal were lower in V(V)-treated plants than those in the control plants. These results indicate that a high concentration of V(V) is toxic to O. microdasys but that the plants may limit this toxicity through the compartmentalization of V in the cell wall and the biotransformation of V from V(V) to tetravalent V [i.e., V(IV)].
Access options
Buy single article
Instant access to the full article PDF.
USD 39.95
Price includes VAT (USA)
Tax calculation will be finalised during checkout.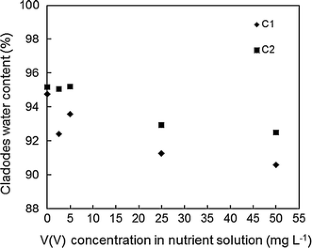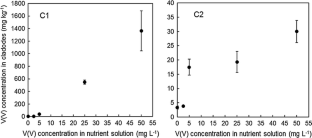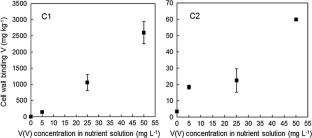 References
Arnon DI, Wessel G (1953) Vanadium as an essential element for green plants. Nature 172:1039–1040

Baken S, Larsson MA, Gustafsson JP, Cubadda F, Smolders E (2012) Ageing of vanadium in soils and consequences for bioavailability. Eur J Soil Sci 63:839–847

Deiana S, Dessi A, Micera G, Gessa C, De Cherchi ML (1983) Aspects of the interaction between polysaccharides and metal ions in relation to the mineral nutrition of plant roots. Inorg Chim Acta 79:231–232

García J, González JC, Frascaroli MI, García S, Blanes P, Correia I, Pessoa JC, Sala LF (2013) Spectroscopic studies of vanadium biosorption on different types of carbohydrate biomass. Can J Chem 91:186–195

Hara T, Sonoda Y, Iwai I (1976) Growth response of cabbage plants to transition elements under water culture conditions. I. Titanium, Vanadium, Chromium, Manganese, and Iron. Soil Sci Plant Nutr 22:307–315

Hart JJ, Di Tomaso JM, Linscott DL, Kochian LV (1992) Characterization of the transport and cellular compartmentation of paraquat in roots of intact maize seedlings. Pestic Biochem Physiol 43:212–222

Hoagland DR, Arnon DI (1950) The water–culture method for growing plants without soil. Calif Agric Exp Stn 347:1–32

Krämer U, Pickering IJ, Prince RC, Raskin I, Salt DE (2000) Subcellular localization and speciation of nickel in hyperaccumulator and non-accumulator Thlaspispecies. Plant Physiol 122:1343–1354

Lu RK (1999) Agricultural chemistry analysis method of soil. China Agricultural Scientech Press, Beijing

Macara IG (1980) Vanadium–an element in search of a role. Trends Biochem Sci 5:92–94

Mandiwana KL, Panichev N (2006) Speciation analysis of plants in the determination of V(V) by ETAAS. Talanta 70:1153–1156

Minelli L, Veschetti E, Giammanco S, Mancini G, Ottaviani M (2000) Vanadium in Italian waters: monitoring and speciation of V(IV) and V(V). Microchem J 67:83–90

Morrell BG, Lepp NW, Phipps DA (1986) Vanadium uptake by higher plants: some recent developments. Environ Geochem Health 8:14–18

Mukherjee B, Patra B, Mahapatra S, Banerjee P, Tiwari A, Chatterjee M (2004) Vanadium–an element of atypical biological significance. Toxicol Lett 150:135–143

Olness A, Nelsen T, Rinke J, Voorhees WB (2000) Ionic ratios and crop performance: I. Vanadate and phosphate on soybean. J Agron Crop Sci 185:145–151

Olness A, Gesch R, Forcella F, Archer D, Rinke J (2005) Importance of vanadium and nutrient ionic ratios on the development of hydroponically grown cuphea. Ind Crop Prod 21:165–171

Ringelband U (2001) Salinity dependence of vanadium toxicity against the brackish water hydroid Cordylophora caspia. Ecotoxicol Environ Saf 48:18–26

Singh BB (1971) Effects of vanadium on the growth, yield and chemical composition of maize. Plant Soil 34:209–213

Teng YG, Ni SJ, Zhang CJ, Wang JS, Lin XY, Huang Y (2006) Environmental geochemistry and ecological risk of vanadium pollution in Panzhihua mining and smelting area, Sichuan, China. Chinese J Geochem 25:379–385

The Health and Safety Executive (2002) Vanadium and its inorganic compounds. HSE Books (Risk Assessment Document EH72/15, ISBN 0 7176 1845 5)

Tian LY, Yang JY, Alewell C, Huang JH (2014) Speciation of vanadium in Chinese cabbage (Brassica rapa L.) and soils in response to different levels of vanadium in soils and cabbage growth. Chemosphere 111:89–95

Vaccarino C, Cimino G, Tripodo MM, Laganà G, Giudice LOL, Matarese R (1983) Leaf and fruit necroses associated with vanadium-rich ash emitted from a power plant burning fossil fuel. Agric Ecosyst Environ 10:275–283

Wallace A, Alexander GV, Chaudhry FM (1977) Phytotoxicity of cobalt, vanadium, titanium, silver, and chromium. Commun Soil Sci Plant Anal 8:751–756

Yang J, Teng YG, Wang JS, Li J (2011) Vanadium uptake by alfalfa grown in V-Cd-contaminated soil by pot experiment. Biol Trace Elem Res 142:787–795

Zu YQ, Li Y, Chen JJ, Chen HY, Qin L, Schvartz C (2005) Hyperaccumulation of Pb, Zn and Cd in herbaceous grown on lead-zinc mining area in Yunnan, China. Environ Int 31:755–762
Acknowledgments
This work was financially supported by the National Natural Science Foundation of China (41101484), China-EU Science & Technology Cooperation Program (2011DFA101222), and 111 Project of China (B08037).
About this article
Cite this article
Yang, J.Y., Tang, Y. Accumulation and Biotransformation of Vanadium in Opuntia microdasys . Bull Environ Contam Toxicol 94, 448–452 (2015). https://doi.org/10.1007/s00128-015-1498-4
Received:

Accepted:

Published:

Issue Date:
Keywords
Heavy metal

Plant

Uptake

Toxicity

Detoxification