Abstract
The stingless bee Scaptotrigona postica is an important pollinator of native and cultivated plants in Brazil. Among the factors affecting the survival of these insects is the indiscriminate use of insecticides, including the neonicotinoid imidacloprid. This work determined the toxicity of imidacloprid as the topical median lethal dose (LD50) and the oral median lethal concentration (LC50) as tools for assessing the effects of this insecticide. The 24 and 48 h LD50 values were 25.2 and 24.5 ng of active ingredient (a.i.)/bee, respectively. The 24 and 48 h LC50 values were 42.5 and 14.3 ng a.i./µL of diet, respectively. Ours results show the hazard of imidacloprid and the vulnerability of stingless bees to it, providing relevant toxicological data that can used in mitigation programs to ensure the conservation of this species.
Access options
Buy single article
Instant access to the full article PDF.
USD 39.95
Price includes VAT (USA)
Tax calculation will be finalised during checkout.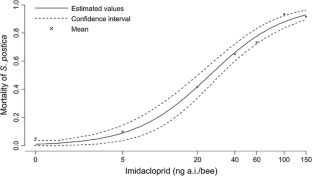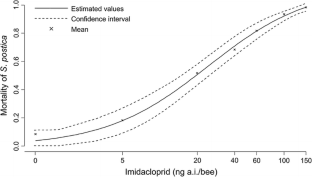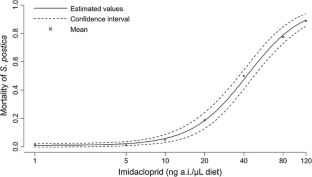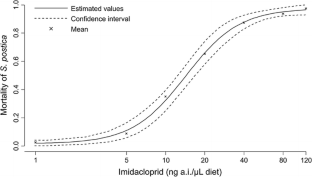 References
Alix A, Vergnet C (2007) Risk assessment to honey bees: a scheme developed in France for non-sprayed systemic compounds. Pest Manag Sci 63:1069–1080. doi:10.1002/ps.1463

Brittain C, Potts SG (2011) The potential impacts of insecticides on the life-history traits of bees and the consequences for pollination. Basic Appl Ecol 12:321–331. doi:10.1016/j.baae.2010.12.004

Casida JE (2011) Neonicotinoid metabolism: compounds, substituents, pathways, enzymes, organisms, and relevance. J Agric Food Chem 59:2923–2931. doi:10.1021/jf102438c

Castro MS, Koedam D, Contrera FAL, Venturieri GC, Parra GN, Malagodi-Braga KS, Campos LO, Cortopassi-Laurino M, Nogueira-Neto P, Peruquetti RC, Imperatriz-Fonseca VL (2006) Stingless bee. In: Imperatriz-Fonseca VL, Saraiva AM, Jong DD (eds) Bees as pollinators in Brazil: assessing the status and suggesting best practices. Holos, Ribeirão Preto, pp 75–83

Decourtye A, Armengaud C, Renou M, Devillers J, Cluseau S, Gauthier M, Pham-Delegue MH (2004) Imidacloprid impairs memory and brain metabolism in the honeybee (Apis mellifera L.). Pest Biochem Phys 78:83–92. doi:10.1016/j.pestbp.2003.10.001

Elbert A, Haas M, Springer B, Thielert W, Nauen R (2008) Applied aspects of neonicotinoid uses in crop protection. Pest Manag Sci 64:1099–1105. doi:10.1002/ps.1616

Ellis JD, Evans JD, Pettis J (2010) Colony losses, managed colony population decline, and colony collapse disorder in the United States. J Apic Res 49:134–136. doi:10.3896/IBRA.1.49.1.30

Faria ABC (2009) Revisão sobre alguns grupos de inseticidas utilizados no manejo integrado de pragas florestais. Ambiência 5:345–358

Goulson D (2013) An overview of the environmental risks posed by neonicotinoid insecticides. J App Ecol 50:977–987. doi:10.1111/1365-2664.12111

Jacob CRO, Soares HM, Carvalho SM, Nocelli RCF, Malaspina O (2013) Acute toxicity of fipronil to the stingless bee Scaptotrigona postica Latreille. Bull Environ Contam Toxicol 90:69–72. doi:10.1007/s00128-012-0892-4

Kearns CA, Inouye DW (1997) Pollinators, flowering plants, and conservation biology. Much remains to be learned about pollinators and plants. Bioscience 47:297–307

Kerr WE, Nascimento VA, Carvalho GA (1999) Preservation of native Brazilian bees: a question of historical and ecological conscience. Ciênc Cult 51:390–393

Kerr WE, Carvalho GA, Silva AC, Assis MGP (2001) Biodiversidade, pesquisa e desenvolvimento na Amazônia. Aspectos pouco mencionados da biodiversidade amazônica. Parcerias Estratégicas 12:20–41

Kevan PG, Eisikowitch D, Kinuthia W, Martin P, Mussen EC, Partap U, Taylor OR, Thomas VG, Thorp RW, Vergara CH, Winter K (2007) High quality bee products are important to agriculture: why, and what needs to be done. J Apic Res 46:59–64. doi:10.3896/IBRA.1.46.1.11

Klein AM, Vaissière BE, Cane JH, Steffan-Dewenter I, Cunningham SA, Kremen C, Tscharntke T (2007) Importance of pollinators in changing landscapes for world crops. Proc R Soc B 274:303–313. doi:10.1098/rspb.2006.3721

Lourenço CT, Carvalho SM, Malaspina O, Nocelli RCF (2012) Oral Toxicity of fipronil insecticide against the stingless bee Melipona scutelaris (Latreilli, 1811). Bull Environ Contam Toxicol 89:921–924. doi:10.1007/s00128-012-0773-x

Macieira OJD, Proni EA (2004) Capacidade de resistência a altas e baixas temperaturas em operárias de Scaptotrigona postica (Latreille) (Hymenoptera, Apidae) durante os períodos de verão e inverno. Rev Bras Zool 21:893–896. doi:10.1590/S0101-81752004000400025

Mayer DF, Kovacs G, Lunden JD (1998) Field and laboratory tests on the effects of cyhalothrin on adults of Apis mellifera, Megachile rotundata, Nomia melanderi. J Apic Res 37:33–37

Medrzycki P, Montanari R, Bortolotti L, Sabatini AG, Maini S, Porrini C (2003) Effects of imidacloprid administered in sub-lethal doses on honey bee behaviour. Lab Tests Bull Insectology 56:59–62

Moraes SS, Bautista ARL, Viana BF (2000) Avaliação da toxicidade aguda (DL50 e CL50) de inseticidas para Scaptotrigona tubiba (Smith) (Hymenoptera: Apidae): via de Contato. An Soc Entomol Bras 29:31–37. doi:10.1590/S0301-80592000000100004

Nauen R, Ebbinghaus-Kintscher U, Schmuck R (2001) Toxicity and nicotinic acetylcholine receptor interaction of imidacloprid and its metabolites in Apis mellifera (Hymenoptera: Apidae). Pest Manag Sci 57:577–586. doi:10.1002/ps.331

OECD-Organization for Economic Cooperation and Development (1998a) honeybees, acute contact toxicity test. Guidelines for the testing of chemicals, n.214

OECD-Organization for Economic Cooperation and Development (1998b) honeybees, acute oral toxicity test. Guidelines for the testing of chemicals, n.213

Ritz C, Streibig JC (2005) Bioassay analysis using R. J Stat Softw 12:1–22

Roessink I, van der Steen JJM, Kasina M, Gikungu M, Nocelli RCF (2011) Is the European honey bee (Apis mellifera mellifera) a good representative for other pollinator species? In SETAC Europe 21st Annual Meeting: Ecosystem Protection in a Sustainable World: a Challenge for Science and Regulation. Milan, Italy, pp 15–19

Schmuck R, Schoning R, Stork A, Schramel O (2001) Risk posed to honeybees (Apis mellifera L, Hymenoptera) by an imidacloprid seed dressing of sunflowers. Pest Manag Sci 57:225–238. doi:10.1002/ps.270

Schneider CW, Tautz J, Grünewald B, Fuchs S (2012) RFID Tracking of sublethal effects of two neonicotinoid insecticides on the foraging behavior of Apis mellifera. PLoS One 7:1–9. doi:10.1371/journal.pone.0030023

Suchail S, Debrauwer L, Belzunces LP (2003) Metabolism of imidacloprid in Apis mellifera. Pest Manag Sci 60:291–296. doi:10.1002/ps.772

van der Valk H, Koomen I, Nocelli RCF, Ribeiro MF, Freitas BM, Carvalho SM, Kasina JM, Martins DJ, Maina G, Ngaruiya P, Gikungu M, Mutiso MN, Odhiambo C, Kinuthia W, Kipyab P, Blacquière T, van der Steen J, Roessink I, Wassenberg J, Gemmill-Herren B (2013) Aspects determining the risk of pesticides to wild bees: risk profiles for focal crops on three continents. Food and agriculture organization of the United Nations, Rome

Yang EC, Chuang YC, Chen YL, Chang LH (2008) Abnormal foraging behavior induced by sublethal dosage of imidacloprid in the honey bee (Hymenoptera: Apidae). J Econ Entomol 101:1743–1748. doi:10.1603/0022-0493-101.6.1743
Acknowledgments
The authors thank the Coordenação de Aperfeiçoamento de Pessoal de Nível Superior—CAPES that provided the scholarship for the Hellen Maria Soares and the Fundação de Amparo à Pesquisa do Estado de São Paulo—FAPESP (2012/50197-2).
About this article
Cite this article
Soares, H.M., Jacob, C.R.O., Carvalho, S.M. et al. Toxicity of Imidacloprid to the Stingless Bee Scaptotrigona postica Latreille, 1807 (Hymenoptera: Apidae). Bull Environ Contam Toxicol 94, 675–680 (2015). https://doi.org/10.1007/s00128-015-1488-6
Received:

Accepted:

Published:

Issue Date:
Keywords
Acute toxicity

Neonicotinoid

Stingless bee