Abstract
Treated wastewater (TWW) and freshwater used separately or within the same agricultural soil is a key element in soil parameter evolution, soil–plant pollution and crop yields. The long-term application of TWW increased CaCO3, P, N, K, TOC, metal contents, pH and salinity in isohumic soil in semi-arid and arid climates. Also, it was found that using freshwater after TWW within the same land leached soil compounds and pollutants. Consequently, a clear decline of salinity, pH, macronutrient and pollutant concentrations occured. Therefore, the economic profitability in topsoil decreased. TWW contributed to crop production increase, despite high fertilizer and metal concentrations in TWW and soil. Also, no toxic metal trace was detected in cultivated plants despite soil pollution. Occasional rainwater removed the stable part of fertilizers in topsoil and slightly improved plant development.
Access options
Buy single article
Instant access to the full article PDF.
USD 39.95
Price includes VAT (USA)
Tax calculation will be finalised during checkout.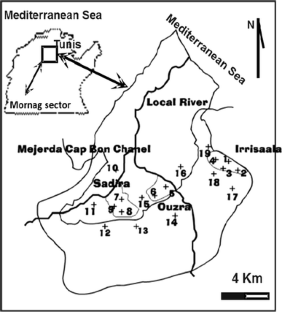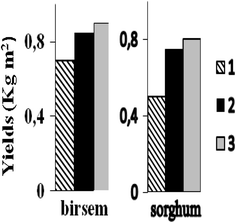 References
Adrover M, Farrus E, Moya G, Vadell J (2012) Chemical properties and biological activity in soils of Mallorca following twenty years of treated wastewater irrigation. J Environ Manag 95:188–192

AFNOR (1979) France (norms AFNOR, www.afnor.fr)

Anne P (1945) Carbone organique total du sol et de l'humus. Ann Agron 15:161–172

Bedbabis S, Ben Rouina B, Boukhris M, Ferrara G (2014) Effect of irrigation with treated wastewater on soil chemical properties and infiltration. J Environ Manag 133:45–50

Ben Ahmed C, Magdich S, Ben Rouina B, Boukhris M, Ben Abdullah F (2012) Saline water irrigation effects on soil salinity distribution and some physiological responses of field grown Chemlali olive. J Environ Manag 113:538–544

Bremner JM, Mulvaney CS (1982) Nitrogen-total. In: Page AL (ed) Methods of Soil Analysis. American Soc Agron Madison, WI

Chen W, Wu L, Frankenberger WT, Chang AC (2008) Soil enzyme activities of long-term reclaimed wastewater irrigated soils. J Environ Qual 37:36–42

Datta SP, Biswas DR, Saharan N, Ghosh SK, Rattan RK (2000) Effect of long term application of sewage effluents on organic carbon, bioavailable phosphorus potassium and heavy metal status of soil and content of heavy metal in crop grown. J Indian Soc Sci 48:836–839

Franco A, Abreu-Junior CH, Perecin D, Oliveira FC, Granja ACR, Braga VS (2010) Sewage sludge as nitrogen and phosphorus source for cane plant and first ratoon crops. Rev Bras Ciens Solo 34:553–561

Gasco G, Lobo MC (2007) Composition of Spanish waste water sludge and effects on treated soil and olive trees. Waste Manag 27:1494–1500

Gelsomino A, Badalucco L, Ambrosoli R, Crechio C, Puglisi E, Meli SM (2006) Changes in chemical and biological soil properties as induced by anthropogenic disturbance: case study of an agriculture soil under recurrent flooding by wastewater. Soil Biol Biochem 38:2069–2080

Harrison AF (1987) Soil organic phosphorus: a review of world literature. CAB International, Wallingford, UK

Jardao CP, Nascentes CC, Cecon PRF, Fontes RL, Pereira JL (2006) Heavy metals availability in soil amended with composted urban waste. Environ Monit Assess 112:309–326

Jin CW, Zheng SJ, He YF, Zhou GD, Zhou ZX (2005) Lead contamination in tea garden soil and factors affecting its bioavailability. Chemosphere 59:1151–1159

Kabata-Pendias A, Mukherjee AB (2007) Trace elements from soil to human. Springer, Heidelberg

Klay S, Charef A, Ayed L, Houmane B, Rezgui F (2010) Effect of irrigation with treated wastewater on geochemical properties (saltiness, C, N and heavy metals) of isohumic soils (Zaouit Sousse perimeter, Oriental Tunisia). Desalination 253:180–187

Luo J, Ye Y, Gao Z, Wang Y, Wang W (2014) Characterization of heavy metals in the habitat of Red-Crowned Crane (Grus japonensis) in Zhalong Wetland, Northeastern China. Bull Environ Contam Toxicol 93:327–333

Madejon E, Madejon P, Burgos P, Perez de Mora A, Cabrera F (2009) Trace elements, pH and organic matter evolution in contaminated soils under assisted natural remediation: 4-year field study. J Hazard Mater 162:931–938

Mancino CF, Pepper IL (1992) Irrigation of turfgrass with secondary sewage effluent: soil quality. Agron J 84:650–654

Martaza G, Ghafoor A, Qadir M (2008) Accumulation and implications of cadmium, cobalt and manganese in soil and vegetable irrigated with city effluent. J Sci Food Agric 88:100–107

Mazlani S, Maarouf A, Rada A, Meray M, Pihan JC (1994) Study of the contamination by HM in spreading wastewater field in Marrakech (Maroc) city. Rev Sci de l'Eau 7:55–67

Montoroi JP (1997) Electric conductivity of soil solution and aqueous extract. Etudes et Gestion des Sols 4:279–298

Morugan-Coronado A, Garcia-Orenes F, Mataix-Solera J (2011) Short-term effect of treated wastewater irrigation on Mediterranean calcareous soil. Soil Till Res 112:18–26

Rodier J, Bazin C, Broutin JP, Chanbon P, Champsaur H, Rodi L (1997) Analysis of natural water, wastewater and seawater (in french), 8th edn. Dunod, Paris

Shahalam A, Bassamm A, Jaradat A (1998) Wastewater irrigation effect on soil, crop and environment: a pilot scale study at Irbid, Jordan. Water Air soil Poll 106:425–445

Singh PK, Deshbhratar PB, Ramteke DS (2012) Effect of sewage wastewater irrigation on soil properties, crop yield and environment. Agric Water Manag 103:100–104

Tarchouna LG, Merdy P, Raynaud M, Pfeifer HR, Lucas Y (2010) Effect of long-term irrigation with treated wastewater. Part I: evolution of soil-chemical properties. Appl Geoch 25:1703–1710

Xu J, Wu L, Chang AC, Zhang Y (2010) Impact of long-term reclaimed wastewater irrigation on agricultural soils: a preliminary assessment. J Hazard Mater 183:780–790

Xue ZJ, Liu SQ, Liu YL, Yan YL (2012) Health risk assessment of heavy metals for edible parts of vegetables grown in sewage-irrigated soil in suburbs of Baoding City, China. Environ Monit Assess 184:3503–3513
About this article
Cite this article
Azouzi, R., Charef, A. & Ayed, L. Water Quality and Toxic Element Effects on Isohumic Soil Properties and Crops in Semi-arid Regions. Bull Environ Contam Toxicol 94, 764–769 (2015). https://doi.org/10.1007/s00128-015-1487-7
Received:

Accepted:

Published:

Issue Date:
Keywords
Treated wastewater

Freshwater

Soil evolution

Metal-pollutants

Soil profitability