Abstract
The toxicity of permethrin on the fertilization and early development of sea urchin Paracentrotus lividus embryos were studied. Spermiotoxicity was evaluated on the basis of fertilization rate. Embryotoxicity was determined by comparing the frequency of normal development and malformations in embryos exposed to permethrin throughout their development. Permethrin inhibited fertilization success, and yielded IC25 and IC50 values of 0.58 (CL = 0.44–0.77) and 0.94 (CL = 0.92–0.95) µg/L, respectively. The embryotoxicity of permethrin was concentration dependent indicating a decreased percentage of normally developed plutei with increasing permethrin concentrations: IC25 = 0.195 µg/L (CL = 0.15–0.26) and IC50 = 0.346 µg/L (CF = 0.29–0.41). Associated with the decrease in normal pluteus frequency was an increase in larval malformations as skeleton deformities. The results suggest that permethrin is more highly toxic to embryos than to sperm, and that this insecticide may present a potential risk for the sea urchin in contaminated marine environments.
Access options
Buy single article
Instant access to the full article PDF.
USD 39.95
Price includes VAT (USA)
Tax calculation will be finalised during checkout.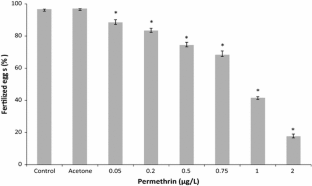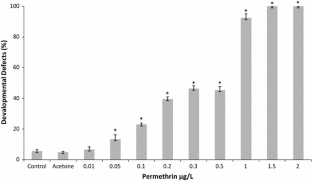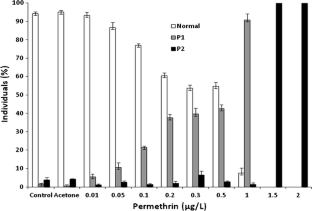 References
Anastassiades M, Lehotay SJ, Stajnbaher D, Schenck FJ (2003) Fast and easy multiresidue method employing acetonitrile extraction/partitioning and dispersive solid-phase extraction for the determination of pesticide residues in produce. J AOAC Int 86(2):412–431

Buono S, Manzo S, Maria G, Sansone G (2012) Toxic effects of pentachlorophenol, azinphos-methyl and chlorpyrifos on the development of Paracentrotus lividus embryos. Ecotoxicology 21:688–697

Delorenzo ME, Fulton MH (2012) Comparative risk assessment of permethrin, chlorothalonil, and diuron to coastal aquatic species. Mar Environ Res 64:1291–1299

DeLorenzo ME, Serrano L, Chung KW, Hoguet J, Key PB (2006) Effects of the insecticide permethrin on three life stages of the grass shrimp, Palaemonetes pugio. Ecotoxicol Environ Saf 64:122–127

Gonzalez-Doncel M, de la Pena E, Barrueco C, Hinton DE (2003) Stage sensitivity of medaka (Oryzias latipes) eggs and embryos to permethrin. Aquat Toxicol 62:255–268

His E, Beiras R, Seaman MNL (1999) The assessment of aquatic contamination: bioassays with bivalve embryos and larvae. Adv Mar Biol 37:1–178

Imgrund H (2003) Environmental fate of permethrin. Department of Pesticide Regulation, Environmental Monitoring Branch, Sacramento, CA

Kobayashi N, Okamura H (2002) Effects of new antifouling compounds on the development of sea urchin. Mar Pollut Bull 44:748–751

Kobayashi N, Okamura H (2004) Effects of heavy metals on sea urchin embryo development. 1. Tracing the cause by the effects. Chemosphere 55:1403–1412

Manzo S (2004) Sea urchin embryotoxicity test: proposal for a simplified bioassay. Ecotoxicol Environ Saf 57(2):123–128

Manzo S, Buono S, Cremisini C (2006) Toxic effects of irgarol and diuron on sea urchin Paracentrotus lividus early development, fertilization, and offspring quality. Arch Environ Contam Toxicol 51:61–68

Mekebri A, Crane DB, Blondina GJ, Oros DR, Rocca JL (2008) Extraction and analysis methods for the determination of pyrethroid insecticides in surface water, sediments and biological tissues at environmentally relevant concentrations. Bull Environ Contam Toxicol 80:455–460

ÓDonnell M, Todgham, A, Sewell M, Hammond L, Ruggiero K, Fangue N, Zippay M, Hofmann G (2010) Ocean acidification alters skeletogenesis and gene expression in larval sea urchins. Marine Ecol Prog Ser 398:157–171

Pagano G, Esposito A, Bove P, De Angelis M, Rota A, Giordano GG (1983) The effects of hexavalent and trivalent chromium on fertilization and development sea urchins. Environ Res 30:442–452

Pagano G, Cipollaro M, Corsale G, Esposito A, Ragucci E, Giordino GG, Trief NM (1986) The sea urchin: bioassay for the assessment of damage from environmental contaminants, community toxicity testing. In: Cairns J Jr (ed) ASTM STP 920, American Society for Testing and Materials, Philadelphia, pp 66–92

Pagano G, Iaccarino M, Guida M, Manzo S, Oral R, Romanelli R, Rossi M (1996a) Cadmium toxicity in spiked sediment to sea urchin embryos and sperm. Mar Environ Res 42:54–55

Pagano G, His E, Beiras R, De Biase A, Korkina LG, Iaccarino M, Oral R, Qiuniou F, Warnau M, Trieff NM (1996b) Cytogenetic, developmental, and biochemical effects of aluminium, iron, and their mixture in sea urchins and mussels. Arch Environ Contam Toxicol 31:466–474

Pagano G, Laccarino M, De Biase A, MeriÅ S, Warnau M, Oral R, Trieff NM (2001) Factors affecting R6 fungicide toxicity on sea urchin fertilization and early development: roles of exposure routes and mixture components. Hum Exper Toxicol 20:404–411

Parent LM, Delorenzo ME, Fulton MH (2011) Effects of the synthetic pyrethroid insecticide, permethrin, on two estuarine fish species. J Environ Sci Health Part B 46:615–622

Pesando D, Huitorel P, Dolcini V, Angelini C, Guidetti P, Falugi C (2003) Biological targets of neurotoxic pesticides analysed by alteration of developmental events in the Mediterranean sea urchin, Paracentrotus lividus. Mar Environ Res 55:39–57

Rasmussen JJ, Wiberg-Larsen P, Kristensen EA, Cedergreen N, Friberg N (2013) Pyrethroid effects on freshwater invertebrates: a meta-analysis of pulse exposures. Environ Pollut 182:479–485

Schenck FJ, Hobbs JE (2004) Evaluation of the quick, easy, cheap, effective, rugged, and safe (QuEChERS) approach to pesticide residue analysis. Bull Environ Contam Toxicol 73(1):24–30

Schleier JJ, Peterson RKD (2013) A refined aquatic ecological risk assessment for pyrethroid insecticide used for adult mosquito management. Environ Toxicol Chem 32(4):948–953

Sharma T, Ettensohn CA (2010) Activation of the skeletogenic gene regulatory network in the early sea urchin embryo. Development 137:1149–1157

USEPA (1995) Short-term methods for estimating the chronic toxicity of effluents and receiving waters to west coast marine and estuarine organisms. EPA-600-R95-136 U.S. Environmental Protection Agency. Cincinnati, OH

USEPA (2005) EFED revised risk assessment for the reregistration eligibility decision on permethrin after error correction comments. U.S. Environmental Protection Agency, Washington, DC

USEPA (2009) Reregistration eligibility decision (RED) for permethrin. U.S. Environmental Protection Agency, Washington, DC

Werner I, Moran K (2008) Effects of pyrethroid insecticides on aquatic organisms. In: Gan J, Spurlock F, Hendley P, Weston DP (eds) synthetic pyrethroids: occurrence and behavior in aquatic environments. American Chemical Society, Washington, DC, pp 310–335

Yang Y, Ma H, Zhou J, Liu J, Liu W (2014) Joint toxicity of permethrin and cypermethrin at sublethal concentrations to the embryo-larval zebrafish. Chemosphere 96:146–154

Yurtkuran Z, Saygı Y (2013) Assessment of pesticide residues in Karabogaz Lake from Kızılırmak Delta, Turkey. Bull Environ Contam Toxicol 91:165–170
Acknowledgments
The author wishes to thank Dr. Oner KOÇAK of the Insecticide Test Laboratory, Hacettepe University, Turkey for a generous gift of technical permethrin; T. Norberg-King (USEPA, Duluth, MN) for the ICPIN Program (Version 2.0) and Dr. R. Erickson (USEPA, Duluth, MN) for the TRAP Program (Version 1.22) used in calculation of toxicity data.
About this article
Cite this article
Erkmen, B. Spermiotoxicity and Embryotoxicity of Permethrin in the Sea Urchin Paracentrotus lividus . Bull Environ Contam Toxicol 94, 419–424 (2015). https://doi.org/10.1007/s00128-015-1482-z
Received:

Accepted:

Published:

Issue Date:
Keywords
Sea urchin

Paracentrotus lividus

Embryotoxicity

Spermiotoxicity

Synthetic pyrethroids

Permethrin