Abstract
The tropical earthworm Eudrilus eugeniae was chronically exposed to hexavalent chromium (Cr) in its substrate over a concentration range from 0.24 to 893 mg kg−1. Histological alterations in the body wall epithelium included cell fusion, reduction in thickness of the epithelial layer, a marked increase in pyknotic nuclei and epithelial sloughing. Similar changes were noted in the circular and longitudinal muscles with damage being indicated by the prominent inter-muscular cell spaces and disintegration. Many of these noted alterations intensified with increasing levels of exposure. It is significant that some of the changes recorded here were evident even at the lowest concentration of 0.24 mg kg−1, an environmentally relevant concentration. Hence, the observed trends could be taken as an early warning to the imminent threats of heavy metal pollution to epigeic earthworm species.
Access options
Buy single article
Instant access to the full article PDF.
USD 39.95
Price includes VAT (USA)
Tax calculation will be finalised during checkout.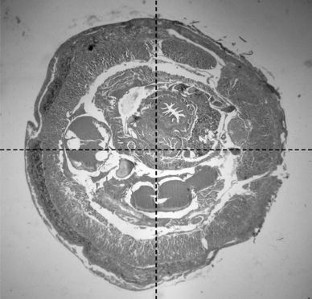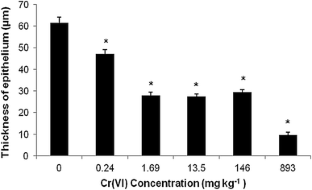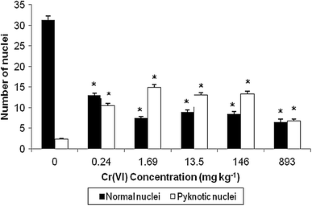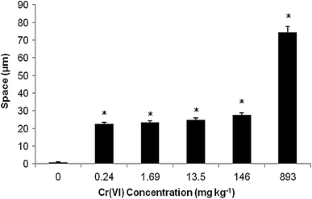 References
Amaral AFS, Rodrigues AS (2005) Metal accumulation and apoptosis in the alimentary canal of Lumbricus terrestris as a metal biomarker. Biometals 18:199–206

Amaral A, Soto M, Cunha R, Marigo´mez I, Rodrigues A (2006) Bioavailability and cellular effects of metals on Lumbricus terrestris inhabiting volcanic soils. Environ Pollut 142:103–108

ASTM (2000) Annual Book of ASTM Standards Vol. 11.01 Water. Standard guide for preparation of biological samples for inorganic chemical analysis D 4638-03. ASTM, Pennsylvania

CEA/Euroconsult (1993) Wetland site report and conservation management plan, Bellanwila-Attidiya marsh. Wetland Conservation Project, Central Environmental Authority, Sri Lanka

de Silva PMCS, Pathiratne A, van Gestel CAM (2010) Toxicity of chlorpyrifos, carbofuran, mancozeb and their formulations to the tropical earthworm Perionyx excavatus. Appl Soil Ecol 44:56–60

Domingo LE, Kyuma K (1983) Trace elements in tropical Asian paddy soils. Soil Sci Plant Nutr 29(4):439–452

Edwards CA, Bohlen PJ (1996) Biology and ecology of earthworms. Chapman & Hall, London

Gobi M, Gunasekaran P (2010) Effect of butachlor herbicide on earthworm Eisenia fetida—its histological perspicuity. Appl Environ Soil Sci. doi:10.1155/2010/850758

Hobbelen PHF, Koolhaas JE, van Gestel CAM (2006) Bioaccumulation of heavy metals in the earthworms Lumbricus rubellus and Aporrectodea caliginosa in relation to total and available metal concentrations in field soils. Environ Pollut 144:639–646

Illeperuma OA (2000) Environmental pollution in Sri Lanka: a review. J Natn Sci Found Sri Lanka 28(4):301–325

Iordache M, Borza I (2012) The bioremediation potential of earthworms (Oligochaeta: Lumbricidae) in a soil polluted with heavy metals. J Food Agric Environ 10(2):1183–1186

Jais HM, Hassan HM (2008) Waste conversion to vermicast by Eisenia foetida given four types of organic substrates in the natural Malaysian environmental conditions. J Biosci 9(2):63–72

Kavitha P, Ravikumar G, Manivannan S (2010) Vermicomposting of banana agro-waste using an epigeic earthworm Eudrilus eugeniae (Kinberg). Int J Recent Sci Res 1:32–35

Kılıç GA (2011) Histopathological and biochemical alterations of the earthworm (Lumbricus terrestris) as biomarker of soil pollution along Porsuk River Basin (Turkey). Chemosphere 83:1175–1180

Lee KE (1992) Some trends and opportunities in earthworm research. Soil Biol Biochem 24(12):1765–1771

Lourenço J, Silva A, Carvalho F, Oliveira J, Malta M, Mendo S, Gonçalves F, Pereira R (2011) Histopathological changes in the earthworm Eisenia andrei associated with the exposure to metals and radionuclides. Chemosphere 85:1630–1634

Manage PM, Wijesinghe LPRJ (2009) Heavy metal contamination levels in Kelani river. Proceedings of the 29th annual sessions of the Institute of Biology, Sri Lanka 39

Manerikar RS, Apte AA, Ghole VS (2008) In vitro and in vivo genotoxicity assessment of Cr(VI) using comet assay in earthworm coelomocytes. Environ Toxicol Pharmacol 25:63–68

Morowati M (2000) Histochemical and histopathological study of the intestine of the earthworm (Pheretima elongata) exposed to a field dose of the herbicide glyphosate. Environmentalist 20:105–111

Muangphra P, Gooneratne R (2011) Toxicity of commercial neem extract to earthworms (Pheretima peguana). Appl Environ Soil Sci. doi:10.1155/2011/925950

Rangasamy S, Alagirisamy B, Santiago M (2013) Poultry manure induce biotransformation of hexavalent chromium in soil. IOSR-JESTFT 5(6):27–32

Reinecke SA, Reinecke AJ (2004) The comet assay as biomarker of heavy metal genotoxicity in earthworms. Arch Environ Contam Toxicol 46:208–215

Robidoux PY, Hawari J, Thiboutot S, Ampleman G, Sunahara GI (1999) Acute toxicity of 2,4,6-trinitrotoluene in earthworm (Eisenia andrei). Ecotoxicol Environ Saf 44(3):311–321

Sharma VJ, Satyanarayan S (2011) Effect of selected heavy metals on the histopathology of different tissues of earthworm Eudrillus eugeniae. Environ Monit Assess 180:257–267

Shi-ping Z, Chang-qun D, Hui F, Yu-hui C, Xue-hua W, Ze-fen Y (2007) Toxicity assessment for chlorpyrifos-contaminated soil with three different earthworm test methods. J Environ Sci 19:854–858

Sivakumar S, Subbhuraam CV (2005) Toxicity of chromium(III) and chromium(VI) to the earthworm Eisenia fetida. Ecotox Environ Saf 62:93–98

van Gestel CA, van Dis WA, van Breemen EM, Sparenburg PM (1989) Development of a standardized reproduction toxicity test with the earthworm species Eisenia fetida andrei using copper, pentachlorophenol, and 2,4-dichloroaniline. Ecotoxicol Environ Saf 18(3):305–312

Wijegoonawardane PKM (1995) Accumulation of chromium in soil, water and selected fish species in Kelani river due to industrial pollution. Dissertation, University of Colombo, pp 1–148
Acknowledgments
We acknowledge the financial assistance from the World Bank (HETC/CMB/QIGW3/SCI) and the University of Colombo (AP/3/2/2013/RG/Sc/06). We are grateful to the Department of Zoology, University of Colombo for providing necessary facilities to carry out the research work.
About this article
Cite this article
Fernando, V.K., Perera, I.C., Dangalle, C.D. et al. Histological Alterations in the Body Wall of the Tropical Earthworm Eudrilus eugeniae Exposed to Hexavalent Chromium. Bull Environ Contam Toxicol 94, 744–748 (2015). https://doi.org/10.1007/s00128-015-1480-1
Received:

Accepted:

Published:

Issue Date:
Keywords
Earthworms

Heavy metal

Histology

Pollution

Toxicity