Abstract
This study determined the source contribution of PM2.5 (particulate matter <2.5 μm) in air at three locations on the Malaysian Peninsula. PM2.5 samples were collected using a high volume sampler equipped with quartz filters. Ion chromatography was used to determine the ionic composition of the samples and inductively coupled plasma mass spectrometry was used to determine the concentrations of heavy metals. Principal component analysis with multilinear regressions were used to identify the possible sources of PM2.5. The range of PM2.5 was between 10 ± 3 and 30 ± 7 µg m−3. Sulfate (SO4 2−) was the major ionic compound detected and zinc was found to dominate the heavy metals. Source apportionment analysis revealed that motor vehicle and soil dust dominated the composition of PM2.5 in the urban area. Domestic waste combustion dominated in the suburban area, while biomass burning dominated in the rural area.
Access options
Buy single article
Instant access to the full article PDF.
USD 39.95
Price includes VAT (USA)
Tax calculation will be finalised during checkout.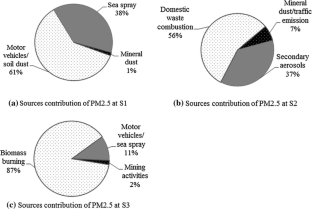 References
Balasubramanian R, Qian WB, Decesari S, Facchini MC, Fuzzi S (2003) Comprehensive characterization of PM2.5 aerosols in Singapore. J Geophys Res-Atmos 108:4523

Bingöl D, Ay Ü, Karayünlü Bozbaş S, Uzgören N (2013) Chemometric evaluation of the heavy metals distribution in waters from the Dilovası region in Kocaeli, Turkey. Mar Pollut Bull 68:134–139

Charlson RJ, Schwartz SE, Hales JM, Cess RD, Coakley JA Jr, Hansen JE, Hofmann DJ (1992) Climate forcing by anthropogenic aerosols. Science 255:423–430

Dockery DW, Pope CA, Xu X, Spengler JD, Ware JH, Fay ME, Ferris BG, Speizer FE (1993) An association between air pollution and mortality in six U.S. cities. N Engl J Med 329:1753–1759

Dominick D, Juahir H, Latif MT, Zain SM, Aris AZ (2012) Spatial assessment of air quality patterns in Malaysia using multivariate analysis. Atmos Environ 60:172–181

Fang G-C, Chang C-N, Chu C-C, Wu Y-S, Fu PP-C, Yang IL, Chen M-H (2003) Characterization of particulate, metallic elements of TSP, PM2.5 and PM2.5-10 aerosols at a farm sampling site in Taiwan. Taichung. Sci Total Environ 308:157–166

Han NMM, Latif MT, Othman M, Dominick D, Mohamad N, Juahir H, Tahir NM (2014) Composition of selected heavy metals in road dust from Kuala Lumpur city centre. Environ Earth Sci 72:849–859

Herrera Murillo J, Roman SR, Marin JFR, Ramos AC, Jimenez SB, Gonzalez BC, Baumgarnder DG (2013) Chemical characterization and source apportionment of PM10 and PM2.5 metropolitan area of Costa Rica. Central America. Atmos Pollut Res 4:181–190

Hogarh JN, Seike N, Kobara Y, Habib A, Nam J-J, Lee J-S, Li Q, Liu X, Li J, Zhang G, Masunaga S (2012) Passive air monitoring of PCBs and PCNs across East Asia: a comprehensive congener evaluation for source characterization. Chemosphere 86:718–726

Huang B, Liu M, Ren Z, Bi X, Zhang G, Sheng G, Fu J (2013) Chemical composition, diurnal variation and sources of PM2.5 at two industrial sites of South China. Atmos Pollut Res 4:298–305

Khan MF, Hirano K, Masunaga S (2010) Quantifying the sources of hazardous elements of suspended particulate matter aerosol collected in Yokohama, Japan. Atmos Environ 44:2646–2657

Kim E, Hopke PK (2008) Source characterization of ambient fine particles at multiples sites in the Seattle area. Atmos Environ 42:6047–6056

Kim Oanh NT, Upadhyay N, Zhuang YH, Hao ZP, Murthy DVS, Lestari P, Villarin JT, Chengchua K, Co HX, Dung NT, Lindgren ES (2006) Particulate air pollution in six Asian cities: spatial and temporal distributions, and associated sources. Atmos Environ 40:3367–3380

Kundu S, Stone E (2014) Composition and sources of PM2.5 across urban and rural sites in the midwestern United States. Environ Sci: Processes Impacts 16:1360–1370

Liu CW, Lin KH, Kuo YM (2003) Application of factor analysis in the assesment of ground water quality in Blackforest disease area in Taiwan. Sci Total Environ 313:77–89

Mohd Tahir N, Koh M, Suratman S (2013a) PM2.5 and associated ionic species in a sub-urban coastal area of Kuala Terengganu, Southern South China Sea (Malaysia). Sains Malays 42:1065–1072

Mohd Tahir N, Suratman S, Fong FT, Hamzah MS, Latif MT (2013b) Temporial distribution and chemical characterization of atmospheric particulate matter in the eastern coast of Peninsular Malaysia. Aerosol Air Qual Res 13:584–595

Pope CA III, Burnett RT, Thun MJ, Calle EE, Krewski D, Ito K, Thurston GD (2002) Lung cancer, cardiopulmonary mortality, and long-term exposure to fine particulate air pollution. J Am Med Assoc 287:1132–1141

Pöschl U (2005) Atmospheric aerosols: composition, transformation, climate and health effects. Angew Chem Int Ed 44:7520–7540

Thurston GD, Spengler JD (1985) A quantitative assessment of source contributions to inhalable particulate matter pollutant in metropolitan Boston. Atmos Environ 19:9–25

Wahid NBA, Latif MT, Suratman S (2013) Composition and source apportionment of surfactants in atmospheric aerosols of urban and semi-urban areas in Malaysia. Chemosphere 91:1508–1516

Yin J, Harrison RM, Chen Q, Rutter A, Schauer JJ (2010) Source apportionment of fine particles at urban background and rural sites in the UK atmosphere. Atmos Environ 44:841–851
Acknowledgments
We thank the Malaysian Ministry of Education (FRGS/1/2013/SPWN01/UKM/02/2 Research Grant) and Dr. Rose Norman for proofreading this manuscript.
About this article
Cite this article
Ee-Ling, O., Mustaffa, N.I.H., Amil, N. et al. Source Contribution of PM2.5 at Different Locations on the Malaysian Peninsula. Bull Environ Contam Toxicol 94, 537–542 (2015). https://doi.org/10.1007/s00128-015-1477-9
Received:

Accepted:

Published:

Issue Date:
Keywords
Chemical compositions

PCA-MLR

Urban

Suburban

Rural