Abstract
Alterations in gill ultra-structure of the catfish, Heteropneustes fossilis exposed to copper at varying pH were investigated using scanning electron microscopy. Fish were treated with 3 ppm copper sulphate (48 h LC50 concentration at pH 7 ± 0.5) at varying pH of diluent water. Low pH resulted in higher copper (30.01 µg/g dry wt.) accumulation on gills as compared to neutral and high pH treatments, at 18.01 and 16.07 µg/g respectively. Post (48 h) exposure observations included lesions in gills of the treated fish, epithelial lifting, loss of alignment of primary and secondary lamellae, hyperplasia, and hypertrophy of the respiratory epithelium. Fish at pH 5 ± 0.5 showed relatively greater injury compared to pH 8 ± 0.5. The severity of gill damage in copper treated fish followed the sequence of pH 5 ± 0.5 > pH 7 ± 0.5 > pH 8 ± 0.5. Results indicate the synergistic stress caused in fish gill due to acute toxicity of copper and low pH.
Access options
Buy single article
Instant access to the full article PDF.
USD 39.95
Price includes VAT (USA)
Tax calculation will be finalised during checkout.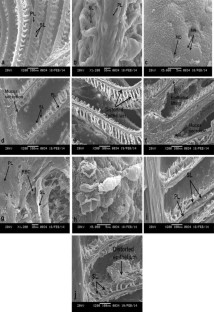 References
Acharya S, Dutta T, Das MK (2005) Physiological and ultrastructural changes in Labeo rohita (Hamilton–Buchanan) fingerlings exposed to sublethal acidic and alkaline pH for long duration. Asian Fish Sci 18:295–305

Adhikari S, Sinha AK, Munshi JSD (1998) Malathion induced structural changes in the gills of Heteropneustes fossilis (Bloch) and their functional significance in oxygen uptake. J Freshw Biol 10:69–74

Albert R, Berlin M, Finklea J et al (1973) Accumulation of toxic metals with special reference to their absorption, excretion and biological halftimes. Environ Physiol Biochem 3:65–107

APHA (2005) Standard methods for the examination of water and waste water, 21st edn, Washington, DC

Ayandiran TA, Fawole OO, Adewoye SO, Ogundiran MA (2009) Bioconcentration of metals in the body muscle and gut of Clarias gariepinus exposed to sublethal concentrations of soap and detergent effluent. J Cell Anim Biol 3:113–118

Camargo MM, Martinez CB (2007) Histopathology of gills, kidney and liver of a neotropical fish caged in an urban stream. Neotrop Ichthyol 5:327–336

Dey S, Kharbuli SM (2010) A transmission microscopical evaluation of environmental acid stress in a hill stream fish, Devario aequipinnatus. Natl Acad Sci Lett 33:183–186

Dey S, Basu Baul TS, Roy B (1989) A new rapid method of air drying for scanning electron microscopy using tetramethylsilane. J Microsc 156:259–261

Dey S, Ramanujam SN, Dkhar PS, Bhattacharjee CR, Purkayastha D (2001) Disturbances in cellular features and elemental homeostasis in the integument of freshwater fish Channa punctatus (Bloch) in relation to hydrogen ion concentration of polluted water. Cytobios 106:233–244

Di Toro DM, Allen HE, Bergman HL, Meyer JS, Paquin PR, Santore RC (2001) Biotic ligand model of the acute toxicity of metals. 1. Technical basis. Environ Toxicol Chem 20:2383–2396

Eneji IS, Ato RS, Annune PA (2011) Bioaccumulation of Heavy metals in fish (Tilapia zilli and Clarias gariepinus) organs from river Benue, North-Central Nigeria. Pak J Anal Environ Chem 12:25–31

Evans DH, Piermarini PM, Choe KP (2005) The multifunctional fish gill: dominant site of gas exchange, osmoregulation, acid-base regulation, and excretion of nitrogenous waste. Physiol Rev 85:97–177

Fedeli D, Carloni M, Falcioni G (2010) Oxidative damage in trout erythrocyte in response to "in vitro" copper exposure. Mar Environ Res 69:172–177

Figueiredo-Fernandes A, Ferreira-Cardoso JV, Garcia-Santos S, Monteiro SM, Carrola J, Matos P, Fontainhas-Fernandes A (2007) Histopathological changes in liver and gill epithelium of Nile tilapia, Oreochromis niloticus exposed to waterborne copper. Pesq Vet Bras 27:103–109

Gomes LC, Chippari-Gomes AR, Oss RN, Fernandes LFL, Magris RDA (2009) Acute toxicity of copper and cadmium for Piauçu, Leporinus macrocephalus and curimatã, Prochilodus vimboides. Acta Sci Biol Sci 31:313–315

Grosell M, Wood CM, Walsh PJ (2003) Copper homeostasis and toxicity in the elasmobranch Raja erinacea and the teleost Myoxocephalus octodecemspinosus during exposure to elevated water-borne copper. Comp Biochem Physiol C Toxicol Pharmacol 135:179–190

Hakanson L (1984) Metal in fish and sediment from the River Kolbacksan water system, Sweden. Arch Hydrobiol 101:373–474

Howarth RS, Sprague JB (1978) Copper lethality to rainbow trout in waters of various hardness and pH. Water Res 12:455–462

Hughes GM, Perry SF (1976) Morphometric study of trout gills: a light-microscopic method suitable for the evaluation of pollutant action. J Exp Biol 64:447–460

Kirk RS, Lewis JW (1993) An evaluation of pollutant induced changes in the gills of rainbow trout using scanning electron microscopy. Environ Technol 14:577–585

Lloyd R, Herbert DWM (1962) The effect of the environment on the toxicity of poisons to fish. Inst Public Health Eng J 61:132–145

Martinez CBR, Nagae MY, Zaia CTBV, Zaia DAM (2004) Morphological and physiological acute effects of lead in the neotropical fish Prochilodus lineatus. Braz J Biol 64:797–807

Mazon AF, Fernandez MN (1999) Toxicity and differential tissue accumulation of copper in the tropical freshwater fish, Prochilodus scrofa (Phrocilodontidae). Bull Environ Contam Toxicol 63:797–804

Mazon AF, Cerqueira CCC, Fernandes MN (2002) Gill cellular changes induced by copper exposure in the South American tropical fish Prochilodus scrofa. Environ Res Sect 88:52–63

McDonald J (2006) Alkalinity and pH relationship. CSTN 393–394

McDonald DG, Reader JP, Dalziel TRK (1989) The combined effects of pH and trace metals on fish ionoregulation. In: Morris R, Taylor EW, Brown DJA, Brown JA (eds) Acid toxicity and aquatic animals. Cambridge University Press, Cambridge, pp 221–242

McDonald DG, Freda J, Cavdek V, Gonalez R, Zia S (1991) Interspecific differences in gill morphology of freshwater in relation to tolearance of low-pH environments. Physiol Zool 64:124–144

Miller TG, Mackay WC (1982) Relationship of secreted mucus to copper and acid toxicity in rainbow trout. Bull Environ Contam Toxicol 28:68–74

Mylliemngap BK, Ramanujam SN (2012) Morphological changes in the gills of Heteropneustes fossilis (Bloch) exposed to coal mining effluent water. J Environ Biol 33:735–739

Parker MM, Humoller FL, Mahler DJ (1967) Determination of copper and zinc in biological material. Clin Chem 13:40

Patil RM, Sankpal ST, Naikwade PV (2014) Bioaccumulation of heavy metals in fish species of Ratnagiri Coast, Maharashtra. Ind J Appl Res 4:393–394

Perry SF, Laurent P (1993) Environmental effects on fish gill structure and function. In: Rankin JC, Jensen FB (eds) Fish ecophysiology. Chapman & Hall, London, pp 231–264

Perschbacher PW, Wurts WA (1999) Effects of calcium and magnesium hardness on acute copper toxicity to juvenile channel catfish Ictalurus punctatus. Aquacult 172:275–280

Pyle G, Swanson S, Lehmkuhl D (2002) The influence of water hardness, pH and suspended solids on nickel toxicity to larval fathead minnows (Pimephales promelas). Water Air Soil Poll 133:215–226

Rajbanshi VK, Gupta AK (1988) Alterations in the architecture of gill surface produced by water-borne copper in Heteropneustes fossilis (Bloch). Acta Hydrochim Hydrobiol 16:325–332

Sampaio FG, Boijink CL, Santos LRB, Oba ET, Kalinin AL, Rantin FT (2010) The combined effect of copper and low pH on antioxidant defences and biochemical parameters in neotropical fish Pacu, Piaractus mesopotamicus (Holmberg, 1887). Ecotoxicol 19:963–976

Shyong WJ, Chen HC (2000) Acute toxicity of copper, cadmium and mercury to the freshwater fish Varicorhinus barbatus and Zacco barbata. Acta Zool Taiwanica 11:33–45

Sola F, Isaia J, Mansoni A (1995) Effects of copper on gill structure and transport function in the rainbow trout, Oncorhynchus mykiss. J Appl Toxicol 15:391–398

Tang CH, Lee TH (2011) Morphological and ion-transporting plasticity of branchial mitochondrion-rich cells in the euryhaline spotted green pufferfish, Tetraodon nigroviridis. Zool Stud 50:31–42

Tao S, Liangt T, Cao J, Dawson R, Liu CF (1999) Synergistic effect of copper and lead uptake by fish. Ecotoxicol Environ Saf 44:190–195

Tao S, Wen Y, Long A, Dawson R, Cao J, Xu F (2001) Simulation of acid-base condition and copper speciation in fish gill microenvironment. Comp Chem 25:215–222

Taylor LN, McGeer JC, Wood CM, McDonald DG (2000) Physiological effects of chronic copper exposure to rainbow trout (Oncorhynchus mykiss) in hard and soft water: evaluation of chronic indicators. Environ Toxicol Chem 19:2298–2308

Tietge JE, Johnson RD, Bergman HL (1988) Morphometric changes in gill secondary lamellae of brook trout (Salvelinus fontinalis) after long-term exposure to acid and aluminium. Can J Fish Aquat Sci 45:1643–1648
Acknowledgments
The authors wish to thank the Department of Zoology, North-Eastern Hill University, Shillong, and the University Grants Commission (UGC) for financial assistance. The authors also gratefully acknowledge the facilities and assistance provided by the Scanning Electron Microscope unit SAIF, NEHU, Shillong. The comments and suggestions of the anonymous referees for improving the manuscript are gratefully acknowledged.
About this article
Cite this article
Guite, L.L., Paul, R. & Ramanujam, S.N.I. Scanning Electron Microscopic Studies on the Gills of the Catfish Heteropneustes fossilis (Bloch) Exposed to Copper at Varying pH. Bull Environ Contam Toxicol 94, 709–714 (2015). https://doi.org/10.1007/s00128-014-1455-7
Received:

Accepted:

Published:

Issue Date:
Keywords
Heteropneustes fossilis

Copper

pH

Gill

Scanning electron microscopy

Ultra-structural changes