Abstract
Although songbirds accumulate mercury at rates equivalent to better-studied aquatic avian species, effects of mercury bioaccumulation in songbirds remain understudied. Little is known about the effects of mercury on endocrine physiology, but recent evidence indicates that mercury may disrupt the function of the hypothalamic–pituitary–adrenal axis. Both field-based correlational studies and a recent dosing experiment suggest that mercury exposure alters levels of the primary avian stress hormone, CORT. We sampled zebra finches that had been dosed with 0, 0.5, or 1.0 ppm dietary methylmercury for baseline CORT twice; once during pairing and once after successfully fledging young. Circulating levels of CORT were not significantly affected by mercury exposure. However, our findings indicate potentially important differences in CORT responses between the sexes when exposed to environmentally relevant doses of mercury across the nesting cycle.
Access options
Buy single article
Instant access to the full article PDF.
USD 39.95
Price excludes VAT (USA)
Tax calculation will be finalised during checkout.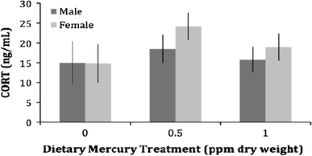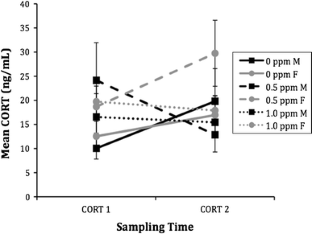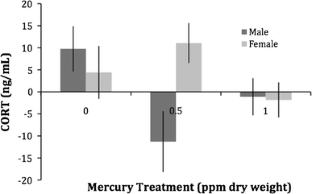 References
Adams EM, Frederick PC (2008) Effects of methylmercury and spatial complexity on foraging behavior and foraging efficiency in juvenile white ibises (Eudocimus albus). Environ Toxicol Chem 27:1708–1712. doi:10.1897/07-466.1

Adams EM, Frederick PC, Larkin ILV, Guillette LJ Jr (2009) Sublethal effects of methylmercury on fecal metabolites of testosterone, estradiol, and corticosterone in captive juvenile white ibises (Eudocimus albus). Environ Toxicol Chem 28:982–989. doi:10.1897/08-253.1

Brasso RL, Cristol DA (2008) Effects of mercury exposure on the reproductive success of tree swallows (Tachycineta bicolor). Ecotoxicology 17:133–141. doi:10.1007/s10646-007-0163-z

Breuner CW, Wingfield JC, Romero LM (1999) Diel rhythms of basal and stress-induced corticosterone in a wild, seasonal vertebrate, Gambel's white-crowned sparrow. J Exp Zool 284:334–342

Burton GV, Meikle AW (1980) Acute and chronic methyl mercury poisoning impairs rat adrenal and testicular function. J Toxicol Environ Health 6:597–606. doi:10.1080/15287398009529877

Cornett CR, Ehmann WD, Wekstein DR, Markesbery WR (1998) Trace elements in Alzheimer's disease pituitary glands. Biol Trace Elem Res 62:107–114. doi:10.1007/BF02820026

Franceschini MD, Lane OP, Evers DC, Reed JM, Hoskins B, Romero LM (2009) The corticosterone stress response and mercury contamination in free-living tree swallows, Tachycineta bicolor. Ecotoxicology 18:514–521. doi:10.1007/s10646-009-0309-2

Friedmann AS, Chen H, Rabuck LD, Zirkin BR (1998) Accumulation of dietary methylmercury in the testes of the adult brown Norway rat: impaired testicular and epididymal function. Environ Toxicol Chem 17:867–871. doi:10.1002/etc.5620170514

Guillette LJ, Crain DA, Gunderson MP, Kools SAE, Milnes MR, Orlando EF, Rooney AA, Woodward AR (2000) Alligators and endocrine disrupting contaminants: a current perspective. Am Zool 40:438–452. doi:10.1093/icb/40.3.438

Hallinger KK, Cristol DA (2011) The role of weather in mediating the effect of mercury exposure on reproductive success of tree swallows. Ecotoxicology 20:1368–1377. doi:10.1007/s10646-011-0694-1

Heinz GH, Hoffman DJ, Klimstra JD, Stebbins KR, Kondrad SL, Erwin CA (2011) Hormesis associated with a low dose of methylmercury injected into mallard eggs. Arch Environ Contam Toxicol 62:141–144. doi:10.1007/s00244-011-9680-0

Herring G, Ackerman JT, Herzog MP (2012) Mercury exposure may suppress baseline corticosterone levels in juvenile birds. Environ Sci Technol 46:6339–6346. doi:10.1021/es300668c

Hoffman DJ, Spalding MG, Frederick PC (2005) Subchronic effects of methylmercury on plasma and organ biochemistries in great egret nestlings. Environ Toxicol Chem 24:3078–3084. doi:10.1897/04-570.1

Hontela A, Rasmussen JB, Audet C, Chevalier G (1992) Impaired cortisol stress response in fish from environments polluted by PAHs, PCBs, and mercury. Arch Environ Contam Toxicol 22:278–283

Leblond VS, Hontela A (1999) Effects of in vitro exposures to cadmium, mercury, zinc, and 1-(2-chlorophenyl)-1-(4-chlorophenyl)-2,2-dichloroethane on steroidogenesis by dispersed interrenal cells of rainbow trout (Oncorhynchus mykiss). Toxicol Appl Pharmacol 157:16–22. doi:10.1006/taap.1999.8660

Moore CS, Cristol DA, Maddux SL, Varian-Ramos CW, Bradley EL (2014) Lifelong exposure to methylmercury disrupts stress-induced corticosterone response in zebra finches (Taeniopygia guttata). Environ Toxicol Chem 33:1072–1076. doi:10.1002/etc.2521

Remage-Healey L, Adkins-Regan E, Romero LM (2003) Behavioral and adrenocortical responses to mate separation and reunion in the zebra finch. Horm Behav 43:108–114. doi:10.1016/S0018-506X(02)00012-0

Schoech SJ, Rensel MA, Bridge ES, Boughton RK, Wilcoxen TE (2008) Environment, glucocorticoids, and the timing of reproduction. Gen Comp Endocrinol 163:201–207. doi:10.1016/j.ygcen.2008.09.009

Vahter ME, Mottet NK, Friberg LT, Lind SB, Charleston JS, Burbacher TM (1995) Demethylation of methyl mercury in different brain sites of Maccaca-fascicularis monkeys during long-term subclinical methyl mercury exposure. Toxicol Appl Pharmacol 134:273–284. doi:10.1006/taap.1995.1193

Varian-Ramos CW, Swaddle JP, Cristol DA (2014) Mercury reduces avian reproductive success and imposes selection: an experimental study with adult- or lifetime-exposure in zebra finch. PLoS One 9:e95674. doi:10.1371/journal.pone.0095674

Wada H, Cristol DA, McNabb FMA, Hopkins WA (2009) Suppressed adrenocortical responses and thyroid hormone levels in birds near a mercury-contaminated river. Environ Sci Technol 43:6031–6038. doi:10.1021/es803707f
Acknowledgments
Funding for this research was provided by a grant from E.I. DuPont de Nemours and Company and the Williamsburg Bird Club. Research was completed with oversight from the South River Science Team, which is a collaboration of state and federal agencies, academic institutions, and environmental interests. We thank Matthias Leu, John Swaddle, Margaret Whitney, Catherine Lewis, Kenton Buck, Amanda Bessler, Stephanie Apple, Joanna Weeks, and Eliza Spear.
About this article
Cite this article
Maddux, S.L., Cristol, D.A., Varian-Ramos, C.W. et al. The Effect of Mercury on Baseline Corticosterone in a Breeding Songbird. Bull Environ Contam Toxicol 94, 135–139 (2015). https://doi.org/10.1007/s00128-014-1440-1
Received:

Accepted:

Published:

Issue Date:

DOI: https://doi.org/10.1007/s00128-014-1440-1
Keywords
Corticosterone

Endocrine disruption

Mercury

Stress

Zebra finch