Abstract
In this research, homogeneous liquid–liquid extraction followed by ion mobility spectrometry (HLLE–IMS) with corona discharge ionization source has been developed for the determination of p-toluidine. The analyte was extracted by single-phase extraction in a ternary solvent system and then the extracted p-toluidine was injected into IMS for analysis. Optimization of different parameters which could influence HLLE–IMS was performed. Under optimum conditions, the dynamic linear range was obtained over 2.0–40.0 ng/mL with R 2 = 0.9966 while relative standard deviation was below 10 %. The limits of detection and quantification were 0.6 and 2.0 ng/mL of p-toluidine, respectively. The proposed method was applied to determine p-toluidine in environmental water samples which resulted in acceptable recoveries of the analyte, ranging from 85.3 %–90 %.
Access options
Buy single article
Instant access to the full article PDF.
USD 39.95
Price includes VAT (USA)
Tax calculation will be finalised during checkout.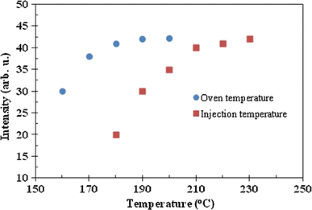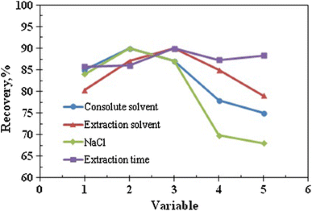 References
Akyüz M, Ata Ş (2006) Simultaneous determination of aliphatic and aromatic amines in water and sediment samples by ion-pair extraction and gas chromatography–mass spectrometry. J Chromatogr A 1129:88–94

Anthemidis AN, Ioannou KIG (2009) Recent developments in homogeneous and dispersive liquid–liquid extraction for inorganic elements determination: a review. Talanta 80:413–421

Berrueta LA, Gallo B, Vicente F (1995) A review of solid phase extraction: basic principles and new developments. Chromatographia 40:474–483

Cavallaro A, Piangerelli V, Nerini F, Cavalli S, Reschiotto C (1995) Selective determination of aromatic amines in water samples by capillary zone electrophoresis and solid-phase extraction. J Chromatogr A 709:361–366

Chang WY, Sung YH, Huang SD (2003) Analysis of carcinogenic aromatic amines in water samples by solid-phase microextraction coupled with high-performance liquid chromatography. Anal Chim Acta 495:109–122

Copolovici L, Baldea I (2002) Kinetic determination of aromatic amines at millimolar level. Anal Bioanal Chem 374:13–16

Ebrahimzadeh H, Yamini Y, Kamarei F, Shariati S (2007) Homogeneous liquid-liquid extraction of trace amounts of mononitrotoluenes from waste water samples. Anal Chim Acta 594:93–100

Jafari MT, Rezaei B, Zaker B (2009) Ion mobility spectrometry as a detector for molecular imprinted polymer separation and metronidazole determination in pharmaceutical and human serum samples. Anal Chem 81:3585–3591

Janardan KG, Schaeffer DJ, Somani SM (1980) Efficiencies of liquid-liquid extraction, carbon, and XAD-2 adsorptin in isolating organic compounds from environmental sources. Bull Environ Contam Toxicol 24:145–151

Keller T, Keller A, Tutsch-Bauer E, Monticelli F (2006) Application of ion mobility spectrometry in cases of forensic interest. Forensic Sci Int 161:130–140

Lai H, Guerra P, Joshi M, Almirall JR (2008) Analysis of volatile components of drugs and explosives by solid phase microextraction-ion mobility spectrometry. J Sep Sci 31:402–412

Liu X, Chen X, Yang S, Wang X (2007) Comparison of continuous flow microextraction and static liquid-phase microextraction for the determination of p-toluidine in Chlamydomonas reinhardtii. J Sep Sci 30:2506–2512

Rezaei F, Milani-Hosseini MR (2011) New method based on combining ultrasonic assisted miniaturized matrix solid-phase dispersion and homogeneous liquid–liquid extraction for the determination of some organochlorinated pesticides in fish. Anal Chim Acta 702:274–279

Rezaei F, Milani-Hosseini MR (2012) Improved homogeneous liquid–liquid extraction combined with GC–ECD for the determination of organochlorinated pesticides in water. Chromatographia 75:379–385

Sarafraz-Yazdi A, Mofazzeli F, Es'haghi Z (2009) A new high-speed hollow fiber based liquid phase microextraction method using volatile organic solvent for determination of aromatic amines in environmental water samples prior to high-performance liquid chromatography. Talanta 79:472–478

Schettgen T, Weiss T, Angerer J (2001) Biological monitoring of phenmedipham: determination of m-toluidine in urine. Arch Toxicol 75:145–149

Sentellas S, Moyano E, Puignou L, Galceran MT (2003) Determination of heterocyclic aromatic amines by capillary electrophoresis coupled to mass spectrometry using in-line preconcentration. Electrophoresis 24:3075–3082

Sharma N, Jain A, Verma KK (2011) Headspace solid-phase microextraction and on-fibre derivatization of primary aromatic amines for their determination by pyrolysis to aryl isothiocyanates and gas chromatography-mass spectrometry. Anal Methods 3:970–976

Sheibani A, Tabrizchi M, Ghaziaskar HS (2011) Determination of methadone in human hair by headspace extraction and ion mobility spectrometry. Anal Lett 44:667–675

Sheibani A, Masoumi S, Partovi S (2013) Corona discharge ion mobility spectrometry for the determination of theophylline and guaifenesin in human serum. Int J Ion Mobil Spectrom 16:259–263

Sommer L, Voznica P (1999) Some aspects of the contemporaneous analytical chemistry: a personal view. Chem Papers 53:184–199

Sun Y, Liang L, Zhao X, Yu L, Zhang J, Shi G, Zhou T (2009) Determination of aromatic amines in water samples by capillary electrophoresis with amperometric detection. Water Res 43:41–46

Sun XM, Sun Y, Wei-Wu L, Jiang CZ, Yu X, Gao Y, Wang LY, Song DQ (2012) Development of a vortex-assisted ionic liquid microextraction method for the determination of aromatic amines in environmental water samples. Anal Methods 4:2074–2080

Sutthivaiyakit P, Achatz S, Lintelmann J, Aungpradit T, Chanwirat R, Chumanee S, Kettrup A (2005) LC-MS/MS method for the confirmatory determination of aromatic amines and its application in textile analysis. Anal Bioanal Chem 381:268–276

Takahashi A, Ueki Y, Igarashi S (1999) Homogeneous liquid–liquid extraction of uranium (VI) from acetate aqueous solution. Anal Chim Acta 387:71–75

Tao Y, Liu JF, Jiang GB (2009) Hollow fiber supported ionic liquid membrane microextraction for determination of sulfonamides in environmental water samples by high-performance liquid chromatography. J Chromatogr A 1216:756–762

Tavakoli L, Yamini Y, Ebrahimzadeh H, Shariati S (2008) Homogeneous liquid–liquid extraction for preconcentration of polycyclicaromatic hydrocarbons using a water/methanol/chloroform ternary component system. J Chromatogr A 1196–1197:133–138

Ullmann's Encyclopedia of Industrial Chemistry (1985) Vol. 2A, Wiley, Weinheim, p. 37

Wang X, Fu L, Wei G, Hu J, Zhao X, Liu X, Li Y (2008) Determination of four aromatic amines in water samples using dispersive liquid–liquid microextraction combined with HPLC. J Sep Sci 31:2932–2938

Wu B, Zhang Y, Zhang X, Cheng S (2010) Health risk from exposure of organic pollutants through drinking water consumption in nanjing, china. Bull Environ Contam Toxicol 84:46–50

Zhang L, You J, Ping G, Zhang L, Duan J, Zhang W, Liang Z, Zhang Y (2003) Analysis of aromatic amines by high-performance liquid chromatography with pre-column derivatization by 2-(9-carbazole)-ethyl-chloroformate. Anal Chim Acta 494:141–147

Zhou Q, Zhang X, Xiao J (2009) Ultrasound-assisted ionic liquid dispersive liquid-phase micro-extraction: a novel approach for the sensitive determination of aromatic amines in water samples. J Chromatogr A 1216:4361–4365
Acknowledgments
The authors are thankful to the Islamic Azad University, Yazd branch for the financial support of this work.
About this article
Cite this article
Ashori, A., Sheibani, A. Homogeneous Liquid–Liquid Extraction Coupled to Ion Mobility Spectrometry for the Determination of p-Toluidine in Water Samples. Bull Environ Contam Toxicol 94, 474–478 (2015). https://doi.org/10.1007/s00128-014-1426-z
Received:

Accepted:

Published:

Issue Date:
Keywords
p-Toluidine

Homogeneous liquid–liquid extraction (HLLE)

Ion mobility spectrometry (IMS)

Environmental water samples