Abstract
Settling particles (SPs) and sediments collected in the Buenos Aires sewer area were analyzed for dioxin like polychlorinated biphenyls (dlPCBs) and polybrominated diphenyl ethers (PBDEs) to follow early diagenetic changes during transport and deposition of organic matter. SP showed a temporal trend of higher total organic carbon (TOC) and fresher dlPCBs and PBDEs signatures during warm-rainy months related to more efficient washout of residues. TOC-normalized sediment trap concentrations suggest a diagenetic magnification of dlPCBs during cold-dry months due to enhanced decomposition of TOC, whereas most labile PBDEs appear to follow TOC decay. The diagenetic behavior of individual congeners along seasonal changes (cold/warm) and during deposition (bottom sediment/SP) shows the selective preservation of heavier, more persistent congeners with a positive relationship with sediment half-lives. The 3–4 times diagenetic magnification of heavier congeners observed in bottom sediments would be a prevailing long-term pathway for dlPCBs and PBDEs bioaccumulation in detritus feeding organisms.
Access options
Buy single article
Instant access to the full article PDF.
USD 39.95
Price excludes VAT (USA)
Tax calculation will be finalised during checkout.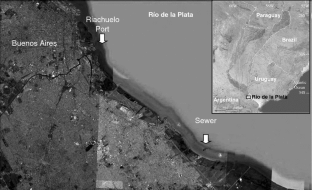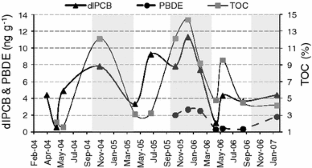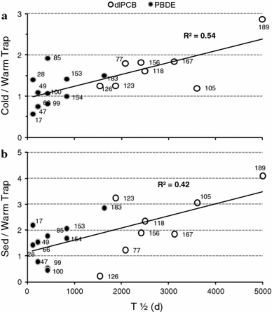 References
Alaee M, Arias P, Sjödin A, Bergman A (2003) An overview of commercially used brominated flame retardants, their applications, their use patterns in different countries/regions and possible modes of release. Environ Int 29:683–689

Arnot JA, Gouin T, Mackay D (2005) Practical methods for estimating environmental biodegradation rates. CEMN Report No. 200503. Tech Rep Environ Can

CCME, Canadian Council of Ministers of the Environment (2001) Canadian environmental quality guidelines for protection of aquatic life. Polychlorinated dibenzo-p-dioxins and polychlorinated dibenzofurans (PCDD/Fs)

Chen S-J, LuoX-J Lin Z, Luo Y, Li K-C, Peng X-Z, Mai B-X, Ran Y, Zeng EY (2007) Time trends of polybrominated diphenyl ethers in sediment cores from the Pearl River Estuary, South China. Environ Sci Technol 41:5595–5600

Cirelli A, Ojeda C (2008) Wastewater management in Greater Buenos Aires, Argentina. Desalination 218:52–61

Colombo JC, Cappelletti N, Lasci J, Migoya MC, Speranza E, Skorupka CN (2005a) Sources, vertical fluxes and accumulation of aliphatic hydrocarbons in coastal sediments of the Rio de la Plata Estuary, Argentina. Environ Sci Technol 39:8227–8234

Colombo JC, Cappelletti N, Barreda A, Migoya MC, Skorupka CN (2005b) Vertical fluxes and accumulation of PCBs in coastal sediments of the Río de la Plata estuary, Argentina. Chemosphere 61:1345–1357

Colombo JC, Cappelletti N, Speranza E, Migoya MC, Lasci J, Skorupka CN (2007) Vertical fluxes and organic composition of SP from the sewage impacted Buenos Aires coastal area, Argentina. Org Geochem 38:1941–1952

Colombo JC, Cappelletti N, Williamson M, Migoya MC, Speranza E, Sericano J, Muir DCG (2011) Risk ranking of multiple-POPs in detritivorous fish from the Río de la Plata. Chemosphere 83:882–889

de Boer JD, Wester PG, Horst AVD, Leonards PEG (2003) Polybrominated diphenyl ethers in influents, suspended particulate matter, sediments, sewage treatment plant and effluents and biota from the Netherlands. Environ Pollut 122:63–74

de Bruyn AM, Gobas FA (2004) Modelling the diagenetic fate of persistent organic pollutants in organically enriched sediments. Ecol Model 179:405–416

Della Site A (2001) Factors affecting sortion of organic compounds in natural sorbent/water systems and sortion coefficients for selected pollutants. A review. J Phys Chem Data 30(1):187–253

Drago E, Amsler M (1988) Suspended sediment at a cross section of the middle Paraná river: concentration, granulometry and influence of the main tributaries. En: Sediment budgets (Proceedings of teh Porto Alegre Symposium), IAHS publ. no. 174

Eljarrat E, de la Cal A, Raldua D, Duran C, Barceló D (2004) Occurrence and bioavailability of polybrominated diphenyl ethers and hexabromocyclododecane in sediment and fish from the Cinca River, a tributary of the Ebro River (Spain). Environ Sci Technol 38:2603–2608

Ikenaka Y, Eun H, Watanabe E, Kumon F, Miyabara Y (2005) Estimation of sources and inflow of dioxins and polycyclic aromatic hydrocarbons from the sediment core of lake. Environ Pollut 138:529–537

Johannessen SC, Macdonald RW, Wright CA, Burd B, Shaw DP, van Roodselaar A (2008) Joined by geochemistry, divided by history: PCBs and PBDEs in Strait of Georgia sediments. Mar Environ Res 66(Supplement):S112–S120

Kim K-S, Lee SC, Kim K-H, Shim W-J, Hong SH, Choi KH, Yoon JH, Kim J-G (2009) Survey on organochlorine pesticides, PCDD/Fs, dioxin-like PCBs and HCB in sediments from the Han River, Korea. Chemosphere 75:580–587

Mackintosh CE Maldonado JA, Ikonomou MG, Gobas FAPC (2006) Sorption of phthalate esters and PCBs in a marine ecosystem. Environ Sci Technol 40(11):3481–3488

Marvin C, Alaee M, Painter S, Charlton M, Kauss P, Kolic T, Macpherson K, Takeuchi D, Reiner E (2002) Persistent organic pollutants in Detroit River suspended sediments: polychlorinated dibenzo-p-dioxins and dibenzofurans, dioxin-like polychlorinated biphenyls and polychlorinated naphthalenes. Chemosphere 49:111–120

Marvin C, Williams D, Kuntz K, Klawunn P, Backus S, Kolic T, Lucaciu C, Macpherson K, Reiner E, Erie F (2007) Temporal trends in polychlorinated dibenzo-p-dioxins and dibenzofurans, dioxin-like PCBs, and polybrominateddiphenyl ethers in Niagara river suspended sediments. Chemosphere 67:1808–1815

Moon H-B, Yoon S-P, Jung R-H, Choi M (2008) Wastewater treatment plants (WWTPs) as a source of sediment contamination by toxic organic pollutants and fecal sterols in a semi-enclosed bay in Korea. Chemosphere 73:880–889

Paasivirta J, Sinkkonen SI (2009) Environmentally relevant properties of All 209 polychlorinated biphenyl congeners for modeling their fate in different natural and climatic conditions. J Chem Eng Data 54:1189–1213

Robrock KR, Korytár P (2008) Pathways for the anaerobic microbial debromination of polybrominated diphenyl ethers. Environ Sci Technol 42:2845–2852

Safe S (1992) Development, validation and limitations of toxic equivalency factors. Chemosphere 25(1–2):61–64

Salvadó J, Grimalt J, López J, Durrieu de Madron X, Heussner S, Canals M (2012) Transformation of PBDE mixtures during sediment transport and resuspension in marine environments (Gulf of Lion, NW Mediterranean Sea). Environ Pollut 168:87–95

Shen L, Gewurtz SB, Reiner EJ, Macpherson KA, Kolic TM, Khurana V, Helm PA, Howell ET, Burniston DA, Brindle ID, Marvin CH (2009) Occurrence and sources of polychlorinated dibenzo-p-dioxins, dibenzofurans and dioxin-like polychlorinated biphenyls in surficial sediments of Lakes Superior and Huron. Environ Pollut 157:1210–1218

Song W, Ford JC, Buckley DR, Rockne KJ (2004) Polybrominated diphenyl ethers in the sediments of the Great Lakes. 1. Lake superior. Environ Sci Technol 38:3286–3293

Torkaz J III, Ahn M, Leng J, Filley T, Nies L (2008) Reductive debromination of polybrominated diphenyl ethers in anaerobic sediment and a biomimetic system. Environ Sci Technol 42:1157–1164

USEPA (2011) Estimation Programs Interface Suite™ for Microsoft® Windows, v 4.10. United States Environmental Protection Agency, Washington, DC, USA

Van den Berg M, Birnbaum L, Bosveld AT, Brunstrom B, Cook P, Feeley M, Giesy JP, Hanberg A, Hasegawa R, Kennedy SW, Kubiak T, Larsen JC, Van Leeuwen FXR, Liem AKD, Nolt C, Peterson RE, Poellinger L, Safe S, Schrenk D, Tillitt D, Tsykline M, Younes M, Warn F, Zacharewski T (1998) Toxic equivalency factors (TEFs) for PCBs, PCDDs, PCDFs for humans and wildlife. Environ Health Perspect 106:775–792

Vonderheide A, Mueller K, Meija J, Welsh GL (2008) Polybrominated diphenyl ethers: causes for concern and knowledge gaps regarding environmental distribution, fate and toxicity. Sci Total Environ 400:425–436

Zheng GJ, Martin M, Richardson BJ, Yu H, Liu Y, Zhou C, Li J, Hu G, Lam MHW, Lam PKS (2004) Concentrations of polybrominated diphenyl ethers (PBDEs) in Pearl River Delta sediments. Mar Pollut Bull 49:520–524

Zhu LN, Hites RA, Erie L (2004) Temporal trends and spatial distributions of brominated flame retardants in archived fishes from the Great Lakes. Environ Sci Technol 38:2779–2784
About this article
Cite this article
Cappelletti, N., Skorupka, C.N., Migoya, M.C. et al. Behavior of Dioxin Like PCBs and PBDEs During Early Diagenesis of Organic Matter in Settling Material and Bottom Sediments from the Sewage Impacted Buenos Aires' Coastal Area, Argentina. Bull Environ Contam Toxicol 93, 388–392 (2014). https://doi.org/10.1007/s00128-014-1343-1
Received:

Accepted:

Published:

Issue Date:

DOI: https://doi.org/10.1007/s00128-014-1343-1
Keywords
Dioxin like PCB

PBDE

Rio de la Plata

Vertical fluxes

Diagenetic

Sewage