Abstract
In the present study, the effect of tributyltin (TBT) on the histopathological and hormonal changes during spermatogenesis in freshwater prawn Macrobrachium rosenbergii was documented. Three experimental concentrations such as 10, 100 and 1,000 ng/L were selected and exposed to prawns for 45 days. After TBT exposure, the reproductive activities like sperm count and sperm length were decreased when compared with control. Further, abnormal structure of the seminiferous tubule, decrease in spermatozoa concentration, diminution of the seminiferous tubule membrane and the abundance of spermatocytes in the testis were noticed in treated prawns. Interestingly, radioimmunoassay clearly revealed the reduction of testosterone level in TBT exposed groups. Thus, TBT has considerably reduced the level of testosterone and caused the impairment of spermatogenesis in the freshwater male prawn M. rosenbergii.
Access options
Buy single article
Instant access to the full article PDF.
US$ 39.95
Tax calculation will be finalised during checkout.
Subscribe to journal
Immediate online access to all issues from 2019. Subscription will auto renew annually.
US$ 119
Tax calculation will be finalised during checkout.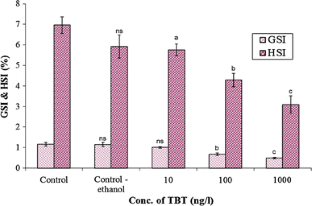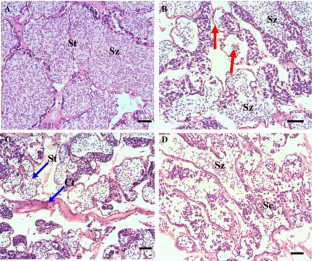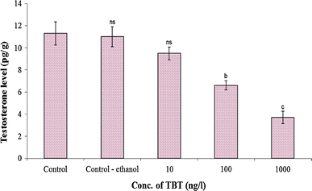 References
Baldwin WS, LeBlane GA (1994) Identification of multiple steroid hydroxylases in Daphnia magna and their modulation by xenobiotics. Environ Toxicol Chem 13:1013–1021

Chiliamovitch VP, Kuhn C (1977) Behavioral, hematological studies on acute toxicity of bis (tri-n-butyltin) oxide on Salmo gairdneri Richardson and Tilapia rendalli Boulenger. J Fish Biol 10:575–585

Duncan J (1980) The toxicology of molluscidies. Organotin Pharm Ther 10:407–429

Dutta GJ (1996) Uridine diphosphate glucose and the synthesis of glucosides by mollusks. Arch Biochem Biophysiol 116(1):399–405

FAO FAO/UNOP (1986) Meeting on the effect of pollution on marine ecosystem. FAO. Fish Report 352:20

Fent K (1996) Ecotoxicology of organotin compounds. Cri Rev Toxicol 26:1–117

Fent K, Hunn J (1995) Organotins in freshwater harbours and river-temporal distribution, annual trends and fate. J Environ Toxicol Chem 14:1123–1132

Haubruge E, Petit F, Gage MJG (2000) Reduced sperm counts in guppies (Poecilia reticulate) following exposure to low levels of Tributyltin and Bisphenol A. Biol Sci 267:2333–2337

Janer G, Sternberg RM, LeBlanc GA, Porte C (2005) Testosterone conjugating activities in invertebrates: are they targets for endocrine disruptors? Aquat Toxicol 71:273–282

Jegou B (1992) The sertoli cells in vivo and in vitro. Cell Biol Toxicol 8:49–54

Kharat PS, Laxmi I, Ghoble B, Shejule KB, Ghoble IBC (2009) Effect of TBTCL on glycogen profile in freshwater prawn, Macrobrachium kistnensis. World App Sci J 7(12):1534–1539

Kumar M, Trivedi SP, Misra A, Sharma S (2007) Histopathological changes in testis of the freshwater fish, Heteropneustes fossilis (Bloch) exposed to linear alkyl benzene sulphonate (LAS). J Environ Biol 28:679–684

Lavado R, Barbaglio A, Candia Carnevali MD, Porte C (2006) Steroid levels in crinoid echinoderms are altered by exposure to model endocrine disruptors. Steroids 71:489–497

Mansueto V, Vittoria CM, Faqi AS (2011) Post-embryonic development effect of bisphenol A and tributyltin effects in Ciona intestinalis. Caryologia 64(4):478–484

Michel P, Averty B (1991) Tributyltin analysis in seawater by GC-FPD after direct aqueous phase ethylation using sodium tetraethyl borate. Appl Organomet Chem 5:393–397

Morcillo Y, Porte C (1997) Interaction of tributyl and triphenyltin with the microsomal monooxygenase system of mollusks and fish from the western Mediterranean. Aquat Toxicol 38:35–46

Nakayama K, Oshima Y, Yamaguchi T, Tsuruda Y, Kang IJ, Kobayashi M, Imada N, Honjo T (2004) Fertilization success and sexual behavior in male medaka, Oryzias latipes exposed to tributyltin. Chemosphere 55:1331–1337

Oreczyk GP, Caldwell BV, Behrman HR (1974) Endocrinology. In: Jaffe BM, Behrman HR (eds) Methods of hormone radioimmunoassay. New York, Academic press, pp 256–258

Parks LG, LeBlanc GA (1996) Reductions in steroid hormone biotransformation/elimination as a biomarker of pentachlorophenol chronic toxicity. Aquat Toxicol 34:291–303

Revathi P (2010) Studies on the endocrine disruptor and its impact on the reproductive physiology of the freshwater prawn Macrobrachium rosenbergii (De Man). Ph. D., Thesis, University of Madras. Chennai, Tamil nadu, India

Revathi P, Munuswamy N (2010) Effect of TBT on the early embryonic development in the freshwater prawn Macrobrachium rosenbergii (De Man). Chemosphere 79:922–927

Revathi P, Iyapparaj P, Arockia Vasanthi L, Munuswamy N, Krishnan M (2013a) Impact of TBT on the vitellogenesis and sex hormones in freshwater prawn, Macrobrachium rosenbergii (De Man, 1879). Aquat Biosyst 9:10

Revathi P, Iyapparaj P, Arockia Vasanthi L, Munuswamy N, Krishnan M (2013b). Ultra structural changes during spermatogenesis, biochemical and hormonal evidences of testicular toxicity caused by TBT in prawn Macrobrachium rosenbergii (De Man). Environ Toxicol. doi:10.1002/tox.21848

Revathi P, Iyapparaj P, Arockia Vasanthi L, Munuswamy N, Krishnan M (2013c) Bioaccumulation of tributyltin and its impact on spermatogenesis in mud crab Scylla serrata (Forskal). Turk J Biol 37:296–304

Ruby SM, Idler DR, So YP (1986) The effect of sublethal cyanide exposure on plasma vitellogenesis levels in rainbow trout, Salmo gaidneri during early vitellogenesis. Arch Environ Contam Toxicol 15:603–607

Ruby SM, Idler DR, So YP (1987) Changes in plasma, liver and ovary vitellogenin in land-locked atlantic salmon following exposure to sublethal cyanide. Arch Environ Contam Toxicol 16:507–510

Sokal RZ, Madding CE, Swerdloff RS (1985) Lead toxicity and the hypothalamic pitutary testicular axis. Biol Reprod 33:722–728

Srivastava T, Yadav K, Sunil Trivedi P, Devi K (2008) Cyprin induced gonadal impairment in a freshwater food fish, Channa punctatus (Bloch). J Environ Biol 29(2):187–191

Tomar NS (1970) Artificial Insemination and reproduction of cattle and buffalo, 2nd edn. Saroj Prakashan, Katra, Allahabad-2

Verslycke T, Vercauteren J, DeVos C, Moens L, Sandra P, Janssen CR (2003a) Cellular energy allocation in the estuarine mysid shrimp Neomysis integer (Crustacea: Mysidacea) following tributyltin exposure. J Exp Mar Biol Ecol 288:167–179

Verslycke T, Poelmans S, De Wasch K, Vercauteren J, Devos CMoens L, Sandra P, De Brabander HF, Janssen CR (2003b) Testosterone metabolism in the estuarine mysid Neomysis integer (Crustacea: Mysidacea) following tributyltin exposure. Environ Toxicol Chem 22:2030–2036

Weis JS, Kim K (1988) Tributyltin is a teratogen in producing deformities in limbs of the fiddler crab, Uca pugilator. Arch Environ Contam Toxicol 17:583–587

Weis JS, Gottlieb J, Kwiatkowski J (1987) Tributyltin retards regeneration and produces deformities of limbs in the fiddler crab, Uca pugilator. Arch Environ Contam Toxicol 16:321–326

Zhang J, Zhenghong Z, Yixin C, Yang Z, Shuai H, Chonggang W (2007) Effect of tributyltin on the development of ovary in female cuvier (Sebasticus marmoratus). Aquat Toxicol 83:174–179

Zheng RH, Wang CG, Zhao Y, Zuo ZH, Chen YX (2005) Effect of tributyltin, benzo(a)pyrene and their mixture exposure on the sex hormone levels in gonads of cuvier (Sebastiscus marmoratus). Environ Toxicol Pharma 20:361–367

Zuo Z, Wang C, Wu M, Wang Y, Chen Y (2012) Exposure to tributyltin and triphenyltin induces DNA damage and alters nucleotide excision repair gene transcription in Sebastiscus marmoratus liver. Aquat Toxicol 122–123:106–112

Zutshi B (2005) Ultrastructure studies on the effect of fenthion on pituitary (GTH cells) and testis of Glossogobius giuris (Ham) during breeding phase. J Environ Biol 26(1):31–36

Zutshi B, Murthy PS (2001) Ultrastructural changes in testis of gold fish Glossogobius giuris (Ham.) induced by fenthion. Ind J Exp Bio 39:170–173
Acknowledgments
The authors would like to acknowledge sincere thanks to Dr. D. S. Kothari Post Doctoral Fellowship scheme of University Grants Commission (UGC), India for funding.
About this article
Cite this article
Revathi, P., Iyapparaj, P., Arockia Vasanthi, L. et al. Influence of Short Term Exposure of TBT on the Male Reproductive Activity in Freshwater Prawn Macrobrachium rosenbergii (De Man). Bull Environ Contam Toxicol 93, 446–451 (2014). https://doi.org/10.1007/s00128-014-1332-4
Received:

Accepted:

Published:

Issue Date:
Keywords
Macrobrachium rosenbergii

Tributyltin

Spermatogenesis

Male reproductive activity

Testosterone