Abstract
Bioremediation is an effective method for the treatment of major metal contaminated sites. Fungi were isolated from soil samples collected from different arsenate contaminated areas across India. An isolate, Penicillium coffeae, exhibited resistance to arsenate up to 500 mM. Results indicated that pretreatment of biomass with alkali (NaOH) enhanced the percentage of adsorption to 66.8 % as compared to that of live and untreated dead biomass whose adsorption was 22.9 % and 60.2 % respectively. The physiological parameters evaluated in this study may help pilot studies aimed at bioremediation of arsenate contaminated effluents using arsenate resistant fungus P. coffeae.
Access options
Buy single article
Instant access to the full article PDF.
USD 39.95
Price includes VAT (USA)
Tax calculation will be finalised during checkout.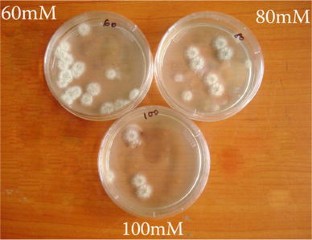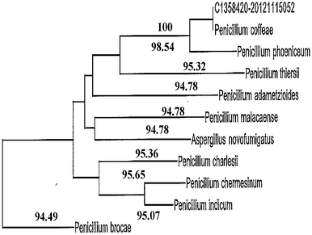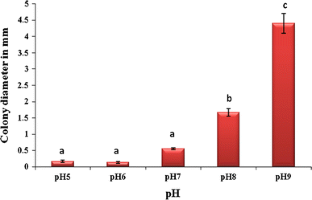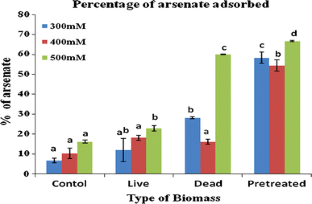 References
Ahalya N, Kanamadi RD, Ramachandra TV (2007) Cr(VI) and Fe(III) removal using Cajanus cajan husk. J Environ Biol 28(4):765–769

Alluri HK, Roanda SR, Settalluri VS, Bondii JS, Suryanarayana V, Venkateswar P (2007) Biosorption: an eco-friendly alternative for heavy metal removal. Afr J Biotechnol 6(25):2924–2931

Al-Sabbak M, Sadik Ali S, Savabi O, Savabi G, Dastgiri S, Savabieasfahani M (2012) Metal contamination and the epidemic of congenital birth defects in Iraqi cities. Bull Environ Contam Toxicol 89:937–944

Bishnoi NR, Garima (2005) Fungus—an alternative for bioremediation of heavy metal containing wastewater: a review. J Sci Ind Res 64:93–100

El-Sayed, El-Morsy M (2004) Cunninghamella echinulata a new biosorbent of metal ions from polluted water in Egypt. Mycologia 96:1183–1189

Kang SY, Kim DW, Kim KW (2007) Enhancement of As(V) adsorption onto activated sludge by methylation treatment. Environ Geochem Health 29(4):313–318

Kendall MJ, Paul RT (2005) Fungal-specific PCR primers developed for analysis of the ITS region of environmental DNA extracts. BMC Microbiol 5:28

Kumar P, Srivastava AV, Dwivedi S, Chakrabarty D, Nandita S, Tripathi RD (2011) Biological removal of arsenic pollution by soil fungi. Sci Total Environ 409:2430–2442

Lewis WP, Bretagne S, Klingspor L, Willem Melchers JG, McCulloch E, Schulz B, Finnstrom N, Mengoli C, Rosemary Barnes A, Peter Donnelly J, Loeffler J, On behalf of the European Aspergillus PCR Initiative (2010) Aspergillus PCR: one step closer to standardization. J Clin Microbiol 48:1231–1240

Maheswari S, Murugesan AG (2011) Removal of arsenic (III) ions from aqueous solution using Aspergillus flavus isolated from arsenic contaminated site. Indian J Chem Technol 18:45–52

Moller EM, Bahnweg G, Sandermann H, Geiger HH (1992) A simple and efficient protocol for isolation of high molecular weight DNA from filamentous fungi, fruit bodies, and infected plant tissues. Nucleic Acids Res 20:6115–6116

Narsi R, Bishnoi RK, Bishnoi K (2007) Biosorption of Cr(VI) with Trichoderma viride immobilized fungal biomass and cell free Ca-alginate beads. Indian J Exp Biol 45:654–657

O'Connell DW, Birkinshaw C, O'Dwyer TF (2008) Heavy metal adsorbents prepared from the modification of cellulose: a review. Bioresour Technol 99:6709–6724

Sathishkumar M, Binupriya AR, Swaminathan K, Choi JG, Yun SE (2008) Bio-separation of toxic arsenate ions from dilute solutions by native and pretreated biomass of Aspergillus fumigatus in batch and column mode: effect of biomass pretreatment. Bull Environ Contam Toxicol 81(3):316–322

Say R, Yılmaz N, Denizli A (2003) Biosorption of cadmium, lead, mercury, and arsenic ions by the fungus Penicillium purpurogenum. Sep Sci Technol 38:2039–2053

Sulaymon AH, Ebrahim SE, Mohammed-Ridha MJ (2013) Equilibrium, kinetic, and thermodynamic biosorption of Pb(II), Cr(III), and Cd(II) ions by dead anaerobic biomass from synthetic wastewater. Environ Sci Pollut Res Int 20(1):175–187

Tamura K, Dudley J, Nei M, Kumar S (2007) MEGA4: molecular evolutionary genetics analysis (MEGA) software version 4.0. Mol Biol Evol 24(8):1596–1599

Visoottiviseth P, Ponviroj N (2001) Selection of fungi capable of removing toxic arsenic compounds from liquid medium. Sci Asia 27:83–92

Wei YT, Zheng YM, Paul Chen J (2010) Enhanced adsorption of arsenate onto a natural polymer-based sorbent by surface atom transfer radical polymerization. J Colloid Interface Sci 356(1):234–239

Yan G, Viraraghavan T (2000) Effect of pretreatment on the biosorption of heavy metals on Mucor rouxii. Water SA 26:119–123
About this article
Cite this article
Bhargavi, S.D., Savitha, J. Arsenate Resistant Penicillium coffeae: A Potential Fungus for Soil Bioremediation. Bull Environ Contam Toxicol 92, 369–373 (2014). https://doi.org/10.1007/s00128-014-1212-y
Received:

Accepted:

Published:

Issue Date:
Keywords
Bioremediation

Heavy metal

Arsenate

Biosorption

Dead biomass