Abstract
Bacterial activity on pesticides can lead to decreased toxicity or persistence in aquatic systems. Rhizosphere activity is difficult to measure in situ. To mimic rhizosphere properties of the soft rush, Juncus effusus, a single-stage gradostat reactor was developed to study cycling of lambda-cyhalothrin by rhizobacteria and the effects of Fe(III) and citrate, both common in wetland soil, on lambda-cyhalothrin degradation. Redox gradient changes, greater than ±10 mV, were apparent within days 5–15 both in the presence and absence of ferric citrate. Through the production of a redox gradient (p < 0.05) by rhizobacteria and the ability to measure pesticide loss over time (p < 0.05), reactors were useful in expanding knowledge on this active environment.
Access options
Buy single article
Instant access to the full article PDF.
USD 39.95
Price includes VAT (USA)
Tax calculation will be finalised during checkout.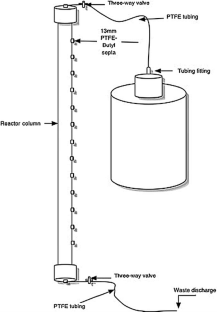 References
Anderson TA, Kruger EL, Coats JR (1994) Enhanced degradation of a mixture of three herbicides in the rhizosphere of a herbicide-tolerant plant. Chemosphere 28:1551–1557

Bennett ER, Moore MT, Cooper CM, Smith S Jr (2000) Method for the simultaneous extraction and analysis of two current use pesticides, atrazine and lambda-cyhalothrin, in sediment and aquatic plants. Bull Environ Contam Toxicol 64:825–833

Bennett ER, Moore MT, Cooper CM, Smith S Jr, Shields FD Jr, Drouillard KG, Schulz R (2005) Vegetated agricultural drainage ditches for the mitigation of pyrethroid associated runoff. Environ Toxicol Chem 24:2121–2127

Budd R, Bondarenko S, Haver D, Kabashima J, Gan J (2007) Occurrence and bioavailability of pyrethroids in a mixed land use watershed. J Environ Qual 36:1006–1012

Chang BV, Liu JY, Yuan SY (1998) Effects of alternative electron donors, acceptors, and inhibitors on 2,4-dichlorophenoxyacetic acid and 2,4,5-trichlorophenoxyacetic acid dechlorination in soil. J Environ Sci Health B33:161–177

Cozarelli IM, Herman JS, Baedecker MJ (1995) Fate of microbial metabolites of hydrocarbons in a contaminated aquifer: the role of electron acceptors. Environ Sci Technol 29:458–469

Fritzsche C, Niemann EG (1990) Investigations into the growth of a nitrogen fixing bacterium in gradients relevant to the rhizosphere of rice. Symbiosis 9:289–293

Gilbert ES, Walker AW, Keasling JD (2003) A constructed microbial consortium for biodegradation of the organophosphorus insecticide parathion. Appl Microbiol Biotechnol 61:77–81

Hazen TC (2010) Cometabolic bioremediation. In: Timmis KN (ed) Handbook of hydrocarbon and lipid microbiology. Springer, Berlin, pp 2506–2514

He LM, Troiano J, Wang A, Goh K (2008) Environmental chemistry, ecotoxicity, and fate of lambda-cyhalothrin. Rev Environ Contam Toxicol 195:71–92

Imfeld G, Vuilleumier S (2012) Measuring the effects of pesticides on bacterial communities in soil: a critical review. Eur J Soil Biol 49:22–30

Kamilova F, Kravchenko LV, Shaposhnikov AI, Azarova T, Makarova N, Lugtenberg B (2006) Organic acids, sugars, and L-tryptophane in exudates of vegetables growing on stonewool and their effects on activities of rhizosphere bacteria. Mol Plant Microbe Interact 19:250–256

Lovely DR, Anderson RT (2000) Influence of dissimilatory metal reduction on fate of organic and metal contaminants in the subsurface. Hydrogeol J 8:77–88

Luu YS, Ramsay JA (2003) Review: microbial mechanisms of accessing insoluble Fe(III) as an energy source. World J Microbiol Biotechnol 19:215–225

Meyer BN, Lam C, Moore S, Jones RL (2013) Laboratory degradation rates of 11 pyrethroids under aerobic and anaerobic conditions. J Agric Food Chem 61:4702–4708

Moore MT, Bennett ER, Cooper CM, Smith S Jr, Shields FD Jr, Farris JL, Milam CD (2001) Transport and fate of atrazine and lambda-cyhalothrin in an agricultural drainage ditch in the Mississippi Delta, USA. Agric Ecosyst Environ 87:309–314

Morgan JAW, Bending GD, White PJ (2005) Biological costs and benefits to plant–microbe interactions in the rhizosphere. J Exp Bot 56:1739

Nealson KH, Saffarini D (1994) Iron and manganese in anaerobic respiration: environmental significance, physiology, and regulation. Annu Rev Microbiol 48:311–334

Singh BK, Kuhad RC, Singh A, Lal R, Tripathi KK (1999) Biochemical and molecular basis of pesticide degradation by microorganisms. Crit Rev Biotechnol 19:197–225

Sukul P, Spiteller M (2001) Influence of biotic and abiotic factors on dissipating metalaxyl in soil. Chemosphere 45:941–947

Ueckert J, Huckfeldt K, Fendrik I (1995) Bioreactor systems for research on rhizosphere bacteria. NATO ASI Ser G37:393–397

Werner I, Deanovic LA, Miller J, Denton DL, Crane D, Moore MT, Wrysinski J (2010) Effectiveness of vegetated agricultural drainage ditches in removing pesticide toxicity. Environ Toxicol Chem 29:2859–2868

Wimpenny JWT, Earnshaw RG, Gest H, Hayes JM, Favinger JL (1992) A novel directly coupled gradostat. J Microbiol Methods 16:157–167
Acknowledgments
Mention of equipment, software or pesticide trade names does not constitute an endorsement for use by the USDA. All programs and services of the USDA are offered on a nondiscriminatory basis without regard to race, color, national origin, religion, sex, marital status, or handicap.
About this article
Cite this article
Peacock, T.J., Mikell, A.T., Moore, M.T. et al. Application of a Redox Gradostat Reactor for Assessing Rhizosphere Microorganism Activity on Lambda-Cyhalothrin. Bull Environ Contam Toxicol 92, 347–351 (2014). https://doi.org/10.1007/s00128-014-1202-0
Received:

Accepted:

Published:

Issue Date:
Keywords
Wetlands

Juncus effusus

Pyrethroid insecticide