Abstract
In birds, metal contaminants in feathers are influenced by prey concentrations and environmental quality. In Black-tailed Gull chicks, Cd, Pb and Cu concentrations were strongly correlated between feathers and stomach contents. Between feathers and livers, Pb, Zn and Fe concentrations were significantly correlated. Cd concentrations were within the range of other seabirds and within the background level for bird feathers (<2 μg/g dw). At the lighthouse, eight chicks exceeded the background for Pb level in feathers (>4 μg/g dw). Elevated Pb concentrations might be attributed to ingestion of paint-based chips and natural (soil and rocks) sources. There is evidence that the analyzed birds suffered from acute toxicity, including high levels of pecking from conspecifics and increased mortality from elevated Pb levels. It seems likely that these birds might experience negative health effects from this increased Pb exposure. As a result, Black-tailed Gull chick feathers are a very useful monitoring tool for assessing Cd, Pb and Cu contamination. Essential elements such as Fe, Zn, Mn and Cu were all within the acceptable range of normal concentrations for seabird species including gulls and may be maintained by normal homeostatic mechanisms.
Access options
Buy single article
Instant access to the full article PDF.
USD 39.95
Price includes VAT (USA)
Tax calculation will be finalised during checkout.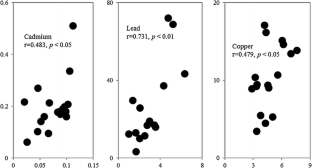 References
Agusa T, Matsumoto T, Ikemoto T, Anan Y, Kubota R, Yasunaga G, Kunito T, Tanabe S, Ogi H, Shibata Y (2005) Body distribution of trace elements in Black-tailed Gulls from Rishiri Island, Japan: age-dependent accumulation and transfer to feathers and eggs. Environ Toxicol Chem 24:2107–2120

Boncompagni E, Muhammad A, Jabeen R, Orvini E, Gandini C, Sanpera C, Ruiz X, Fasola M (2003) Egrets as monitors of trace-metal contamination in wetland of Pakistan. Arch Environ Contam Toxicol 45:399–406

Borgå K, Campbell L, Gabrielsen GW, Norstrom RJ, Muir DCG, Fisk AT (2006) Regional and species bioaccumulation of major and trace elements in arctic seabirds. Environ Toxicol Chem 25:2927–2936

Burger J, Gochfeld M (2000a) Effects of lead on birds (Laridae): a review of laboratory and field studies. J Toxicol Environ Health B Crit Rev 3:59–78

Burger J, Gochfeld M (2000b) Metal levels in feathers of 12 species of seabirds from Midway Atoll in the northern Pacific Ocean. Sci Total Environ 257:37–52

Burger J, Gochfeld M (2001) Metal levels in feathers of cormorants, flamingos and gulls from the coast of Namibia in southern Africa. Environ Monit Assess 69:195–203

Burger J, Gochfeld M (2009) Comparison of arsenic, cadmium, chromium, lead, manganese, mercury and selenium in feathers in bald eagle (Haliaeetus leucocephalus), and comparison with common eider (Somateria mollissima), glaucous-winged gull (Larus glaucescens), pigeon guillemot (Cepphus columba), and tufted puffin (Fratercula cirrhata) from the Aleutian Chain of Alaska. Environ Monit Assess 152:357–367

Custer TW, Custer CM, Eichhorst BA, David W (2007) Selenium and metal concentrations in waterbird eggs and chicks at Agassiz National Wildlife Refuge, Minnesota. Arch Environ Contam Toxicol 53:103–109

Dauwe T, Bervoets L, Blust R, Eens M (2002) Tissue levels of lead in experimentally exposed Zebra Finches (Taeniopygia guttata) with particular attention on the use of feathers as biomonitors. Arch Environ Contam Toxicol 42:88–92

Dauwe T, Janssens E, Kempenaers B, Eens M (2004) The effects of heavy metal exposure on egg size, eggshell thickness and the number of spermatozoa in blue tit Parus caeruleus eggs. Environ Pollut 129:125–129

Ferns PN, Anderson JI (1994) Cadmium in the diet and body tissues of Dunlins Calidris alpina, from the Bristol Channel, UK. Environ Pollut 86:225–231

Ferns PN, Anderson JI (1997) Lead in the diet and body tissues of Dunlins Calidris alpina, from the Bristol Channel, UK. Environ Pollut 96:35–42

Horai S, Watanabe I, Takada H, Iwamizu Y, Hayashi T, Tanabe S, Kuno K (2007) Trace element accumulations in 13 avian species collected from the Kanto area, Japan. Sci Total Environ 373:512–525

Janssens E, Dauwe T, Bervoets L, Eens M (2001) Heavy metal and selenium in feathers of Great Tits (Parus major) along a pollution gradient. Environ Toxicol Chem 20:2815–2820

Kim J, Koo T-H (2007) The use of feathers to monitor heavy metal contamination in herons, Korea. Arch Environ Contam Toxicol 53:435–441

Kim J, Oh J-M (2012) Monitoring of heavy metal contaminants using feathers of shorebirds, Korea. J Environ Monit 14:651–656

Kim J, Lee D-P, Koo T-H (2010) Effects of age on heavy metal concentrations of Black-crowned Night Herons Nycticorax nycticorax from Korea. J Environ Monit 12:600–607

Lee S-M (2003) A study on the heavy metal contents in Black-tailed Gulls Larus crassirostris in relation to the growth stage at Hong Islet. M.S. Thesis, Kyung Hee University, Korea, 43

Malinga M, Szefer P, Gabrielsen GW (2010) Age, sex and spatial dependent variations in heavy metals levels in the Glaucous Gulls (Larus hyperboreus) from the Bjørnøya and Jan Mayen, Arctic. Environ Monit Assess 169:407–416

Paiva VH, Tavares PC, Ramos JA, Pereira E, Antunes S, Duarte AC (2008) The influence of diet on mercury intake by Little Tern chicks. Arch Environ Contam Toxicol 55:317–328

Riget F, Dietz R, Johansen P, Asmund G (2000) Lead, cadmium, mercury and selenium in Greenland marine biota and sediments during AMAP phase 1. Sci Total Environ 245:3–14

Sileo L, Sievert PR, Samuel MD (1990) Cause of mortality of albatross chicks at Midway Atoll. J Wildl Dis 26:329–338

Spahn SA, Sherry TW (1999) Cadmium and lead exposure associated with reduced growth rates, poorer fledging success of Little Blue Heron chicks (Egretta caerulea). Arch Environ Contam Toxicol 37:377–384

Tiller B, Marco JD, Rickard WH (2005) Metal concentrations, foraging distances, and fledging success of Great Blue Herons nesting along Hanford Reach of the Columbia River. Environ Monit Assess 104:71–79

Work TM, Smith MR (1996) Lead exposure in Laysan albatross adults and chicks in Hawaii: prevalence, risk factors, and biochemical effects. Arch Environ Contam Toxicol 31:115–119
Acknowledgments
This work was supported by a grant from the Kyung Hee University in 2013. We are grateful to Thomas W. Custer (USGS) for critical reading and comments on the manuscript.
About this article
Cite this article
Kim, J., Oh, JM. Relationships of Metals Between Feathers and Diets of Black-Tailed Gull (Larus crassirostris) Chicks. Bull Environ Contam Toxicol 92, 265–269 (2014). https://doi.org/10.1007/s00128-014-1200-2
Received:

Accepted:

Published:

Issue Date:
Keywords
Black-tailed Gull chicks

Feathers

Stomach contents

Pb

Threshold level