Abstract
A study has been conducted to determine the composition of surfactants in runoff water in the semi-urban area of Bandar Baru Bangi, Selangor, Malaysia. Runoff samples were collected from five different locations with contrasting functional activities and the colorimetric method was used to analyze the concentrations of surfactants as methylene blue active substances (MBAS) for anionic surfactants and as disulphine blue active substances (DBAS) for cationic surfactants. The results showed that the highest surfactant concentrations of MBAS and DBAS in runoff water were recorded in the samples collected at the residential area, with the concentrations of 3.192 ± 0.727 and 0.170 ± 0.028 μmol/L, respectively. Anionic surfactants as MBAS were found to dominate the concentration of surfactants in both runoff and rainwater. The concentrations of both anionic and cationic surfactants in runoff water were recorded as being higher than in rainwater.
Access options
Buy single article
Instant access to the full article PDF.
USD 39.95
Price includes VAT (USA)
Tax calculation will be finalised during checkout.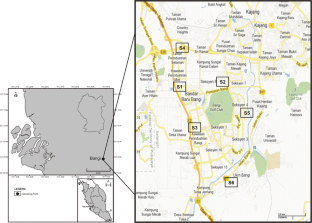 References
Boxall ABA, Maltby L (1995) The characterization and toxicity of sediment contaminated with road runoff. Water Res 29:2043–2050

Cirelli AF, Ojeda C, Castro MJL, Salgot M (2008) Surfactants in sludge-amended agricultural soils: a review. Environ Chem Lett 6:135–148

Da Silva Coelho K, Rocha O (2010) Assessment of the potential toxicity of a linear alkylbenzene sulfonate (LAS) to freshwater animal life by means of cladoceran bioassays. Ecotoxicol 19:812–818

Field R, Pitt RE (1990) Urban storm-induced discharge impacts: US Environmental Protection Agency Research Program Review. Water Sci Technol 22:1–7

Halim NHA, Hanif NM, Othman MR, Latif MT (2010) Colourimetric determination of features of an air sampling technique optimal for detection of surfactants. Sains Malays 39:175–179

Hanif NM, Latif MT, Ali MM, Othman MR (2009) Atmospheric surfactants around lake ecosystems. Eur J Sci Res 32:268–276

Huang JL, Du PF, Ao CT, Lei MH, Zhao DQ (2007) Characterization of surface runoff from a subtropics urban catchment. Environ Sci 19:148–152

Kayhanian M, Singh A, Suverkropp C, Borroum S (2003) Impact of annual average daily traffic on highway runoff pollutant concentration. Environ Eng 129(11):975–990

Kayhanian M, Suverkropp C, Ruby A, Tsay K (2007) Characterization and prediction of highway stormwater pollutant event mean concentrations. Environ Manag 85(2):279–295

Kayhanian M, Stransky C, Bay S, Lau SL, Stenstrom MK (2008) Toxicity of urban highway runoff with respect to storm duration. Sci Total Environ 389:386–406

Latif MT, Brimblecombe P (2004) Surfactants in atmospheric aerosols. Environ Sci Technol 38:6501–6506

Latif MT, Brimblecombe P, Ramli NA, Sentian J, Sukhapan J, Sulaiman N (2005) Surfactants in South East Asian Aerosols. Environ Chem 2:198–204

Mallin MA, Johnson VL, Ensign SH (2009) Comparative impacts of stormwater runoff on water quality of an urban, a suburban, and a rural stream. Environ Monit Assess 159:475–491

Mungray AK, Kumar P (2008) Occurrence of anionic surfactants in treated sewage: risk assessment to aquatic environment. J Hazard Mater 160:362–370

NOAA (1998) Classified shellfish growing waters. NOAA's State of the Coast Report. National Oceanic and Atmospheric Administration, Silver Spring, MD

Roslan RN, Hanif NM, Othman MR, Azmi WNFW, Yan XX, Ali MM (2010) Surfactants in the sea-surface microlayer and their contribution to atmospheric aerosols around coastal areas of the Malaysian Peninsular. Mar Pollut Bull 60:1584–1590

Sartor JD, Boyd GB (1972) Water pollution aspects of street surface contaminants. United States Environmental Protection Agency, Washington, DC

Savarino P, Montoneri E, Musso G, Boffa V (2010) Biosurfactants from urban wastes for detergent formulation: surface activity and washing performance. J Surfactants Deterg 13:59–68

Smith JEJ, Perdek JM (2004) Assessment and management of watershed microbial contaminants. Crit Rev Environ Sci Technol 34:109–139

Sodhi GS (2005) Fundamental concepts of environmental chemistry. United Kingdom Alpha Science International Ltd, Harrow

Wahid NBA, Latif MT, Suratman S (2013) Composition and source apportionment of surfactants in atmospheric aerosols of urban and semi-urban areas in Malaysia. Chemosphere 91(11):1508–1516
Acknowledgments
This study was funded by the Ministry of Science, Technology and Innovation of Malaysia (MOSTI) for the E-Science Fund 04-01-02-SF0752 Grant. Special thanks to Ms. K. Alexander for assistance with the proofreading of this manuscript.
About this article
Cite this article
Azmi, W.N.F.W., Latif, M.T., Wahid, N.B.A. et al. Surfactants in Runoff Water at Different Locations in Bandar Baru Bangi, Selangor, Malaysia. Bull Environ Contam Toxicol 92, 306–310 (2014). https://doi.org/10.1007/s00128-013-1194-1
Received:

Accepted:

Published:

Issue Date:
Keywords
Surfactant

MBAS

DBAS

Runoff water

Semi-urban area