Abstract
Aqueous solutions of the tinidazole (TNZ) have been treated by applying the combination of ultrasound irradiation and H2O2. Based on the results, the maximum removal efficiency of 75 % was achieved under the optimum operating conditions (pH 3, 120 kHz frequency, 333 mM/L of H2O2 and 150 min of operating time) while, under the same conditions the minimum removal efficiency was found to be 8.5 by ultrasound radiation in the absence of H2O2. The results also revealed that the degradation of TNZ was enhanced with decreasing both TNZ initial concentrations and pH. Furthermore, TNZ removal efficiency in the case of actual wastewater was less than of synthetic wastewater (75 % and 68 % of synthetic and actual, respectively). According to the chromatographic analyses, no harmful intermediate compounds were observed. The chemical oxygen demand analysis (65 % reduction) confirmed our findings.
Access options
Buy single article
Instant access to the full article PDF.
USD 39.95
Price includes VAT (USA)
Tax calculation will be finalised during checkout.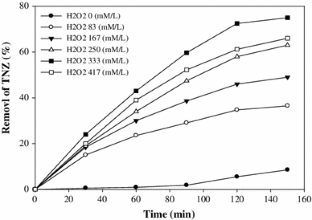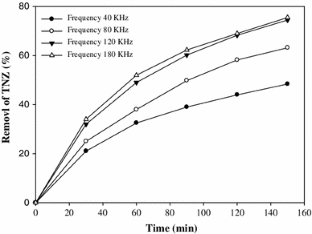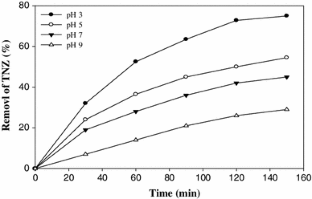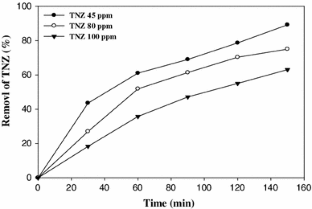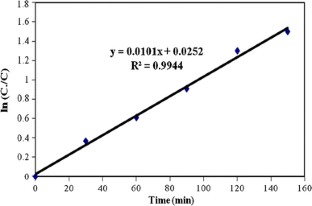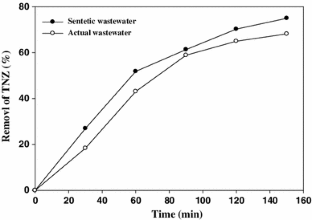 References
Anderson PD, D'Aco VJ, Shanahan P, Chapra SC, Buzby ME, Cunningham VL, Duplessie BM, Hayes EP, Mastrocco FJ, Parke NJ, Rader JC, Samuelian JH, Schwab BW (2004) Screening analysis of human pharmaceutical compounds in US surface waters. Environ Sci Technol 38:838–849. doi:10.1021/es034430b

APHA (2012) Standard methods for the examination of water and wastewater, 22nd edn. American Public Health Association, New York

Balciogglu IA, OOtker M (2003) Treatment of pharmaceutical wastewater containing antibiotics by O3 and O3/H2O2 process. Chemosphere 50:85–95. doi:10.1016/S0045-6535(02

Bazrafshan E, Mahvi AH, Nasseri S, Shaieghi M (2007) Performance evaluation of electrocoagulation process for diazinon removal from aqueous environments by using iron electrodes. Iranian J Environ Health Sci Eng 4:127–132. http://ijehse.tums.ac.ir/index.php/ijehse/article/view/121.pdf

Carballa M, Omil F, Lema JM, Llompart M, Garcia-Jares C, Rodriguez I, Gomez M, Ternes T (2004) Behavior of pharmaceuticals, cosmetics and hormones in a sewage treatment plant. Water Res 38:2918–2926. doi:10.1016/j.watres.2004.03.029

Cha JM, Yang S, Carlson KH (2006) Trace determination of β-lactam antibiotics in surface water and urban wastewater using liquid chromatography combined with electrospray tandem mass spectrometry. J Chromatogr A 1115:46–57. doi:10.1016/j.chroma.2006.02.086

Chintana T, Sucharit P, Mahakittikun V, Siripanth C, Suphadtanaphongs W (1986) In vitro studies on the sensitivity of local Entamoeba histolytica to anti-amoebic drugs. Southeast Asian J Trop Med Public Health 17:591–594. doi:10.1186/1476-0711-3-27

Elmolla ES, Chaudhuri M (2010) Photocatalytic degradation of amoxicillin, ampicillin and cloxacillin antibiotics in aqueous solution using UV/TiO2 and UV/H2O2/TiO2 photocatalysis. Desalination 252:46–52. doi:10.1016/j.desal.2009.11.003

Fan J, Guo Y, Wang J, Fan M (2009) Rapid decolorization of azo dye methyl orange in aqueous solution by nanoscale zerovalent iron particles. J Hazard Mater 166:904–910. doi:10.1016/j.jhazmat.2008.11.091

Fatta D, Nikolaou A, Achilleos A, Meric S (2007) Analytical methods for tracing pharmaceutical residues in water and wastewater. TrAC Trend Anal Chem 26:515–533. doi:10.1016/j.trac.2007.02.001

Fent K, Weston AA, Caminada D (2006) Ecotoxicology of human pharmaceuticals. Aquat Toxicol 76:22–159. doi:10.1016/j.aquatox.2005.09.009

Godini K, Azarian G, Nematollahi D, Rahmani AR, Zolghadrnasab H (2012) Electrochemical treatment of poultry slaughterhouse wastewater using iron and aluminum electrodes. Res J Chem Environ 16:98–103

Gordts B, Hemelhof W, Asselman C, Butzler JP (1985) In vitro susceptibilities of 25 Giardia lamblia isolates of human origin to six commonly use antiprotozoal agents. Antimicrob Agents Chemother 28:378–380

Hartmann J, Bartels P, Mau U, Witter M, Tümpling WV, Hofmann J, Nietzschmann E (2008) Degradation of the drug diclofenac in water by sonolysis in presence of catalysts. Chemosphere 70:453–461. doi:10.1016/j.chemosphere.2007.06.063

Heberer T (2002) Occurrence, fate, and removal of pharmaceutical residues in the aquatic environment: a review of recent research data. Toxicol Lett 131:5–17. doi:10.1016/S0378-4274(02

Homem V, Santos L (2011) Degradation and removal methods of antibiotics from aqueous matrices–a review. J Environ Manage 92:2304–2347

Hua W, Bennett ER, Letcher RJ (2006) Ozone treatment and the depletion of detectable pharmaceuticals and atrazine herbicide in drinking water sourced from the upper Detroit River, Ontario, Canada. Water Res 40:2259–2266. doi:10.1016/j.watres.2006.04.033

Ikehata K, Naghashkar NJ, Gamal El-Din M (2006) Degradation of aqueous pharmaceuticals by ozonation and advanced oxidation processes: a review. Ozone Sci Eng 28:353–414. doi:10.1080/01919510600985937

Khan SJ, Ongerth JE (2004) Modelling of pharmaceutical residues in Australian sewage by quantities of use and fugacity calculations. Chemosphere 54:355–367. doi:10.1016/j.chemosphere.2003.07.001

Klavarioti M, Mantzavinos D, Kassinos D (2009) Removal of residual pharmaceuticals from aqueous systems by advanced oxidation processes. Environ Int 35:402–417. doi:10.1016/j.envint.2008.07.009

Kolpin DW, Furlong ET, Meyer MT, Thurman EM, Zaugg ST, Barber LB, Buxton HT (2002) Pharmaceuticals, hormones and other organic wastewater contaminants in US streams, 1999–2000: a national reconnaissance. Environ Sci Technol 36:1202–1211. doi:10.1021/es011055j

Ku Y, Tu YH, Ma CM (2005) Effect of hydrogen peroxide on the decomposition of monochlorophenols by sonolysis in aqueous solution. Water Res 39:1093–1098. doi:10.1016/j.watres.2004.11.036

Kummerer K (2009) Antibiotics in the aquatic environment—a review—part I. Chemosphere 75:417–434. doi:10.1016/j.chemosphere.2008.11.086

Le-Minh N, Khan SJ, Drewes JE, Stuetz RM (2010) Fate of antibiotics during municipal water recycling treatment processes. Water Res 44:4295–4323. doi:10.1016/j.watres.2010.06.020

Lin AYC, Lin CF, Chiou JM, Hong PK (2009) O3 and O3/H2O2 treatment of sulfonamide and macrolide antibiotics in wastewater. J Hazard Mater 171:452–458. doi:10.1016/j.jhazmat.2009.06.031

Lindberg RH, Wennberg P, Johansson MI, Tysklind M, Andersson BAV (2005) Screening of human antibiotic substances and determination of weekly mass flows in five sewage treatment plants in Sweden. Environ Sci Technol 39:3421–3429. doi:10.1021/es048143z

Lucas MS, Peres JA (2006) Decolorization of the azo dye Reactive Black 5 by Fenton and photo-Fenton oxidation. Dyes Pigments 71:236–244. doi:10.1016/j.dyepig.2005.07.007

Mahvi AH (2009) Application of ultrasonic technology for water and wastewater treatment. Iranian J Public Health 38:1–17. http://ijph.tums.ac.ir/index.php/IJPH/article/view/140

Mahvi AH, Maleki A, Alimohamadi M, Ghasri A (2007) Photo-oxidation of phenol in aqueous solution: toxicity of intermediates. Korean J Chem Eng 24(1):79–82. doi:10.1007/s11814-007-5013-4

Maleki A, Mahvi AH, Nabizadeh FVR (2005) Ultrasonic degradation of phenol and determination of the oxidation by-products toxicity. Iran J Environ Health Sci Eng 2:201–206. http://ijehse.tums.ac.ir/index.php/ijehse/article/view/51.pdf

Mason TJ, Cobley AJ, Graves JE (2011) New evidence for the inverse dependence of mechanical and chemical effects on the frequency of ultrasound. Ultrason Sonochem 18:226–230. doi:10.1016/j.ultsonch.2010.05.008

Molina R, Martínez F, Melero JA, Bremner DH, Chakinala AG (2006) Mineralization of phenol by a heterogeneous ultrasound/Fe-SBA-15/H2O2 process: multivariate study by factorial design of experiments. Appl Catal B-Environ 66:198–207. doi:10.1016/j.apcatb.2006.03.015

Moussavi G, Bagheri A, Khavanin A (2012) The investigation of degradation and mineralization of high concentrations of formaldehyde in an electro-Fenton process combined with the biodegradation. J Hazard Mater 237–238:147–152. doi:10.1016/j.jhazmat.2012.08.022

Naddeo V, Belgiorno V, Napoli R (2007) Behaviour of natural organic matter during ultrasonic irradiation. Desalination 210:175–182. doi:10.1016/j.desal.2006.05.042

Nikolaou A, Meric S, Fatta D (2007) Occurrence patterns of pharmaceuticals in water and wastewater environments. Anal Bioanal Chem 387:1225–1234. doi:10.1007/s00216-006-1035-8

Petrier C, Jiang Y, Lamy MF (1998) Ultrasound and environment: sonochemical destruction of chloroaromatic derivatives. Environ Sci Technol 32:1316–1318

Rabiet M, Togola A, Brissaud F, Seidel JL, Budzinski H, Elbaz-Poulichet F (2006) Consequences of treated water recycling as regards pharmaceuticals and drugs in surface and ground waters of a medium-sized Mediterranean catchment. Environ Sci Technol 40:5282–5288. doi:10.1021/es060528p

Rahmani AR, Nematollahi D, Godini K, Azarian G (2013) Continuous thickening of activated sludge by electro-flotation. Sep Purif Technol 107:166–171. doi:10.1016/j.seppur.2013.01.022

Rivera-Utrilla J, Sanchez-Polo M, Prados-Joya G, Ferro-Garcia MA, Bautista-Toledo I (2010) Removal of tinidazole from waters by using ozone and activated carbon in dynamic regime. J Hazard Mater 174:880–886. doi:10.1016/j.jhazmat.2009.09.059

Seifrtová M, Nováková L, Lino C, Pena A, Solich P (2009) An overview of analytical methodologies for the determination of antibiotics in environmental waters. Anal Chim Acta 649:158–179. doi:10.1016/j.aca.2009.07.031

Sharma VK (2008) Oxidative transformations of environmental pharmaceuticals by Cl2, ClO2, O3, and Fe(VI): kinetics assessment. Chemosphere 73:1379–1386. doi:10.1016/j.chemosphere.2008.08.033

Shu HY, Chang MC (2005) Decolorization and mineralization of a phthalocyanine dye C.I. direct blue 199 using UV/H2O2 process. J Hazard Mater B 125:96–101. doi:10.1016/j.jhazmat.2005.05.016

Somensi CA, Simionatto EL, Dalmarco JB, Gaspareto P, Radetski CMA (2012) A comparison between ozonolysis and sonolysis/ozonolysis treatments for the degradation of the cytostatic drugs methotrexate and doxorubicin: kinetic and efficiency approaches. J Environ Sci Health A 47:1543–1550. doi:10.1080/10934529.2012.680414

Stackelberg PE, Furlong ET, Meyer MT, Zaugg SD, Henderson AK, Reissman DB (2004) Persistence of pharmaceutical compounds and other organic wastewater contaminants in a conventional drinking-water-treatment plant. Sci Total Environ 329:99–113. doi:10.1016/j.scitotenv.2004.03.015

Valverde RS, García M, Galera MM, Goicoechea HC (2006) Determination of tetracyclines in surface water by partial least squares using multivariate calibration transfer to correct the effect of solid phase preconcentration in photochemically induced fluorescence signals. Anal Chim Acta 562:85–93. doi:10.1016/j.aca.2006.01.035

Vieno NM, Tuhkanen T, Kronberg L (2006) Analysis of neutral and basic pharmaceuticals in sewage treatment plants and in recipient rivers using solid phase extraction and liquid chromatography−tandem mass spectrometry detection. J Chromatogr A 1134:101–111. doi:10.1016/j.chroma.2006.08.077

Wu CD, Liu XH, Fan JC, Wang LS (2001) Ultrasonic destruction of chloroform and carbon tetrachloride in aqueous solution. J Environ Sci Health A 36:947–955

Yang L, Yua LE, Rayb MB (2008) Degradation of paracetamol in aqueous solutions by TiO2 photocatalysis. Wat Res 42:3480–3488. doi:10.1016/j.watres.2008.04.023

Zhang H, Duan L, Zhang Y, Wu F (2005) The use of ultrasound to enhance the decolorization of the CI acid orange 7 by zero-valent iron. Dyes Pigments 65:39–43. doi:10.1016/j.dyepig.2004.06.015

Zhou M, Tan Q, Wang Q, Jiao Y, Oturan N, Oturan MA (2012) Degradation of organics in reverse osmosis concentrate by electro-Fenton process. J Hazard Mater 215–216:287–293. doi:10.1016/j.jhazmat.2012.02.070
Acknowledgments
This project received financial support from the Vice Chancellorship for Research Affairs of TUMS (Project No: 16517), which is hereby greatly acknowledged.
About this article
Cite this article
Rahmani, H., Gholami, M., Mahvi, A.H. et al. Tinidazole Removal from Aqueous Solution by Sonolysis in the Presence of Hydrogen Peroxide. Bull Environ Contam Toxicol 92, 341–346 (2014). https://doi.org/10.1007/s00128-013-1193-2
Received:

Accepted:

Published:

Issue Date:
Keywords
Tinidazole

Sonolysis process

Hydrogen peroxide