Abstract
The aim of the study was to quantify the cadmium (Cd), lead (Pb), chromium (Cr) and arsenic (As) contents in ninety honey samples from nine areas of southern Italy. Results showed that As content was below the detection limit, while Cd, Pb, and Cr contents were below the recommended maximum acceptable levels. Mean Cd, Pb, and Cr contents were 0.013, 0.289 and 0.707 mg kg−1, respectively. The metal contents in honey varied greatly depending on considered area. Correlations between the metals were statistically significant (p < 0.05), suggesting that polluting sources involve the simultaneous presence of metals in honey.
Access options
Buy single article
Instant access to the full article PDF.
USD 39.95
Price includes VAT (USA)
Tax calculation will be finalised during checkout.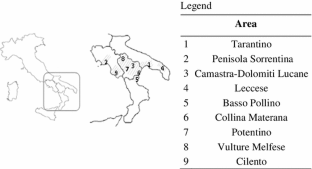 References
Abete MC, Voghera M (1999) Research on contamination by heavy metals in honey samples produced in the province of Turin (years 1996–1997) (Piedmont). Atti della Società Italiana delle Scienze Veterinarie 53:369–370

Adriano DC (1992) Biogeochemistry of trace metals. Lewis Publishers, Boca Raton, Florida

Bibi S, Husain SZ, Malik RN (2008) Pollen analysis and heavy metals detection in honey samples from seven selected countries. Pakistan J Bot 40(2):507–516

Byrne D (2000) EC commission decision (draft) amending Annex II to council directive. 92/118/EEC b

Caroli S, Forte G, Iamiceli AL, Galoppi G (1999) Determination of essential and potentially toxic trace elements in honey by inductively coupled plasma-based techniques. Talanta 50:327–336

Codex Alimentarius Commission (1993) Standard for honey. Ref. Nr. CL 1993/14-SH, FAO/WHO. Rome, Italy

D'Ambrosio M, Marchesini A (1982) Heavy metal contamination of honey. Atti della Società Italiana di Scienze Naturali 123(2):342–348

Delbono G, Ghidini S, Campanini G (1999) Metalli pesanti nel miele prodotto in Emilia. Università degli Studi di Parma, Annali della Facoltà di Medicina Veterinaria XIX, Italy

Devillers J, Doré JC, Marenco M, Poirier-Duchêne F, Galand N, Viel C (2002) Chemometrical analysis of 18 metallic and nonmetallic elements found in honey sold in France. J Agr Food Chem 50(21):5998–6007

Dobrzancki Z, Roman A, Gorecka H, Kolacz R (1994) Metals and macro–and microelements in honey from areas (of Poland) polluted by industrial plants. Bromatologia i Chemia Toksykologiczna 27:157–160

Euromobility (2012) La mobilità sostenibile in Italia—indagine sulle principali 50 città. Miligraf S.r.l, Formello (Roma)

Frías I, Rubio C, González-Iglesias T, Gutiérrez AJ, González-Weller D, Hardisson A (2008) Metals in fresh honeys from Tenerife Island, Spain. Bull Environ Contam Toxical 80:30–33

Galeno N, Rocca L, Ferrari A, Mulinelli E, Acrossa C (1992) Il miele di produzione ligure. Caratteristiche organolettiche e residui di metalli pesanti. Atti della Società Italiana delle Scienze Veterinarie XLVI:657–660

Garcia JCR, Garcia JB, Latorre CH, Martin SG, Crecent RMP (2005) Comparison of palladium-magnesium nitrate and ammonium dihydrogen phosphate modifiers for lead determination in honey by electrothermal atomic absorption spectrometry. Food Chem 91:435–439

González-Miret ML, Terrab A, Hernaz D, Fernández-Recamales MA, Heredia FJ (2005) Multivariate correlation between color and mineral composition of honeys and by their botanical origin. J Agr Food Chem 53:2574–2580

Hutton M, Symon C (1986) The quantities of cadmium, lead, mercury and arsenic entering the U.K. environment from human activities. Sci Total Environ 57:129–150

Jarup L (2003) Hazards of heavy metal contamination. Brit Med Bull 68:167–182

Lachman J, Kolihova D, Miholova D, Kosata J, Titera D, Kult K (2007) Analysis of minority honey components: possible use for the evaluation of honey quality. Food Chem 101:973–979

Peplow D (1999) Environmental impacts of mining in eastern Washington. University of Washington, Centre for Water and Watershed Studies Fact Sheet, Seattle

Petrovic ZT, Mandik ML, Grgic J, Grgic Z (1994) Ash and chromium levels of some types of honey. Z Lebensm Unters For 198(1):36–39

Pisani A, Protano G, Riccobono F (2008) Minor and trace elements in different honey types produced in Siena Country (Italy). Food Chem 107:1553–1560

Pohl P (2009) Determination of metal content in honey by atomic absorption and emission spectrometries. Trends Anal Chem 28(1):117–128

Pratt CR, Sikorski RS (1982) Lead contents of wildflowers and honey bees (Apis mellifera) along a roadway: possible contamination of a simple food chain. Proc Penn Acad Sci 54:151–152

Przybylowski P, Wilczynska A (2001) Honey as an environmental marker. Food Chem 74:289–291

Rashed MN, Soltan ME (2004) Major and trace elements in different types of Egyptian mono-floral and non-floral bee honeys. J Food Comp Anal 17:725–735

Rodríguez García JC, Iglesias Rodríguez R, Peña Crescente RM, Barciela García J, García Martín S, Herrero Latorre C (2006) Preliminary chemometric study on the use of honey as an environmental marker in Galicia (Northwestern Spain). J Agr Food Chem 54(19):7206–7212

Roman A, Popiela E (2011) Studies of chosen toxic elements concentration in multiflower bee honey. Potravinárstvo 52(2):67–69

Ruhnke G (1993) Trace elements in honey collected in 1992. Allgemeine Deutsche Imker Zeitung 27:26

Sangiorgi E, Ferretti E (1996) The chemical laboratory controls of honey for the consumer health: analysis and results in the year 1993. Selezione Veterinaria 11:755–761

Shukla V, Dhankhar M, Prakash J, Sastry KV (2007) Bioaccumulation of Zn, Cu, and Cd in Channa punctatus. J Environ Biol 28(2):395–397

SAS Institute (1996) User's guide: statistics (version, 7th edn. SAS Institute Inc., Cary, NC

Staniškienė B, Matusevičius P, Budreckienė R (2006) Honey as an indicator of environmental pollution. Environ Res Eng Manag 2(36):53–58

Stankovska E, Stafilov T, Šajn R (2006) The content of cadmium in honey from the Republic of Macedonia. Ekologija i Zaštita na Životnata Sredina 10(1–2):11–17

Tuzen M, Silici S, Mendil D, Soylak M (2007) Trace element levels in honey from different regions of turkey. Food Chem 103:325–330

UNEP/GPA (2004) Why the marine environment needs protection from heavy metals. Available via DIALOG. http://www.chem.unep.ch/gpahm/index.htm. Accessed Nov 2012

WHO (1982) Evaluation of certain food additives and contamination. Technical report series. N. 663. World Health Organization, Geneva
About this article
Cite this article
Perna, A., Intaglietta, I., Simonetti, A. et al. Metals in Honeys from Different Areas of Southern Italy. Bull Environ Contam Toxicol 92, 253–258 (2014). https://doi.org/10.1007/s00128-013-1177-2
Received:

Accepted:

Published:

Issue Date:
Keywords
As

Cd

Pb

Cr

Environmental pollution

Geographical area