Abstract
This study evaluated the toxicity of hexavalent and trivalent compounds of chromium to the pacu, Piaractus mesopotamicus, in acute exposures of 96 h through mortality and histopathological responses. Hexavalent potassium dichromate was more toxic than trivalent compounds of chromium chloride, chromium oxide and chromium carbochelate. Sufficient mortalities occurred only with potassium dichromate to yield an LC50 value at 124.2 mg L−1. Hexavalent chromium caused reversible and irreversible lesions, which may affect organ functionality. Histopathological evaluation showed that trivalent chromium caused lesions of lower severity. Pacu subjected to different concentrations of chromium carbochelate showed no histopathological changes in the kidneys, liver, skin and gills, being similar to those of the control fish. Among the three sources of Cr3+, only chromium chloride at 200 mg L−1 resulted in mortality, which reached 100 % within the first 18 h. These findings confirm that trivalent chromium, when administered within recommended levels, may be used safely in aquaculture.
Access options
Buy single article
Instant access to the full article PDF.
USD 39.95
Price includes VAT (USA)
Tax calculation will be finalised during checkout.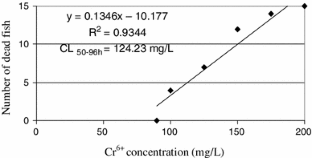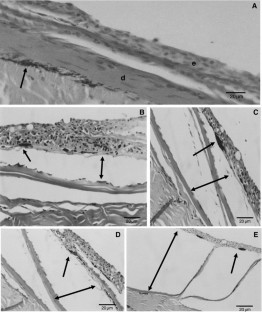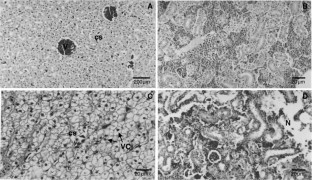 References
Abbasi SA, Soni R (1984) Toxicity of flower than permissible levels of chromium IV to the freshwater teleost Nuria denricus. Environ Pollut A 36:75–82

ABNT-Brazilian Association of Technical Standards, NBR 15088 (2011) Aquatic ecotoxicology —acute toxicology, method of bioassay for fish. São Paulo, 19 p

Alzemi BM, Lewis JW, Andrews EB (1996) Gill damage in freshwater fish Gnathonemus petersii (family: Mormyridae) exposed to selected pollutants: an ultrastructural study. Environ Sci Technol 17:225–238

Anderson RA (1994) Stress effects on chromium nutrition of humans and farm animals. Biotechnol Feed Industry. Nicholasville: Alltech. Tech. Pub. 10:267–273

Ayroza DMMR, Scorvo CMDF (2011) Quality of water for aquaculture. In: Ayroza LMS.(ed) Piscicultura. Manual técnico 79. CATI – Campinas

Belo MAA, Schalch SHC, Moraes FR, Soares VE, Otoboni A, Moraes JRE (2005) Effect of dietary supplementation with vitamin E and stocking density on macrophage recruitment and giant cell formation in teleost fish Piaractus mesopotamicus. J Comp Pathol 133:146–154

Belo MAA, Soares VE, Souza LM, Sobreira MFR, Cassol DMS, Toma SB (2012a) Hepatoprotective treatment attenuates oxidative damages induced by carbon tetrachloride in rat. Exp Toxicol Pathol 64:155–165

Belo MAA, Moraes JRE, Soares VE, Martins ML, Brum CD, Moraes FR (2012b) Vitamin C and endogenous cortisol in foreign-body inflammatory response in pacus. Pesq Agropec Bras 47:1015–1021

Berner TO, Murphy MM, Slesinski R (2004) Determining the safety of chromium tripicolinate for addition to foods as a nutrient supplement. Food Chem Toxicol 42:1029–1042

Castro MP (2012) Growth performance and acute inflammation in nile tilapia supplemented with chromium carboquelate and cell wall of Saccharomyces cerevisiae. São Paulo State University, Jaboticabal, Doctoral thesis presented in the Veterinary Medicine post graduate program 87 pp

Claudiano GS, Petrillo TR, Manrique WG, Castro MP, Loureiro BA, Marcusso PF, Belo MAA, Moraes JRE, Moraes FR (2013) Acute aerocystitis in Piaractus mesopotamicus: participation of eicosanoids and pro-inflammatory cytockines. Fish Shellfish Immunol 34:1057–1062

CONAMA, National Council of Enviroment (1986) Resolution number 20 published July 30th by the Brazilian official Dairy, Brasília

Fujimoto RY, Castro MP, Moares FR, Gonçalves FD (2005) Effect of diet supplementation with trivalent chromium on Piaractus mesopotamicus (Holmberg, 1887) at different stocking densities. Physiological parameters. Bol Inst Pesca 31:155–162

Fujimoto RY, Castro MP, Honorato CA, Moraes FR (2007) Body composition and nutrient efficiency use by pacus fed on ration supplemented with chromium. Pesq Agropec Bras 42:1763–1768

Fujimoto RY, Cruz C, Moraes FR (2008) Analysis of effluents and histology of skin, liver and kidney of the pacus (Piaractus mesopotamicus) supplemented with trivalent chromium. Bol Inst Pesca 34:117–124

Garton RB (1973) Biological effects of cooling tower blowdown. Am Inst Chem Eng J 69:284–292

Hamilton MA, Russo RC, Thurston V (1977) Trimmed Spearman–Karber method for estimating medial lethal concentrations in toxicity bioassays. Environ Sci Technol 7:714–719

Institute of Medicine (2003) Dietary reference intake for vitamin A, K, arsenic, boron, chromium, copper, iodine, iron, manganese, molybdenum, nickel, silicon, vanadium and zinc. National Academic Press, Washington 800p

Krumschnabel G, Nawaz M (2004) Acute toxicity of hexavalent chromium in isolated teleost hepatocytes. Aquat Toxicol 70:159–167

Li P, Elmendorf JS (2001) Changes in plasma membrane architecture as a basis for chromium activated GLUT 4 translocation. Diabetes A532 (abstr. 2306-PO)

Li ZH, Li P, Randak T (2011) Evaluation of the toxicity of environmental concentrations of waterborne chromium (VI) to a model teleost, Oncorhynchus mykiss: a comparative study of in vivo and in vitro. Comp Biochem Physiol C: Toxicol Pharmacol 153:402–407

Mataqueiro MI, Souza JP, Cruz C, Urbinati EC, Nakaghi LS (2009) Histopathological changes in the gill, liver and kidney of pacu (Piaractus mesopotamicus, Holmberg, 1887) exposed to various concentrations of trichlorfon. J Appl Ichthyol 25:124–129

Mishra AK, Mohanty B (2008) Histopathological effects of hexavalent chromium in the ovary of a fresh water fish, Channa punctatus (Bloch). Bull Environ Cont Toxicol 80:507–511

Nath K, Kumar N, Srivastav AK (1997) Chromium induced histological alterations in the gills of a freshwater teleost. Colisa fasciatus Fish Biol J Medaka 9:37–40

OECD 203 (2009) Guideline for testing of chemicals. Fish, acute toxicity test. OECD, Paris, p 9

Ohta Y, Imai Y, Matsura T, Kitagawa A, Yamada K (2006) Preventive effect of neutropenia on carbon tetrachloride-induced hepatotoxicity in rats. J Appl Toxicol 26:178–186

Pickering QH, Henderson C (1996) The acute toxicity of some heavy metals to different species of warm water fishes. Air Water Pollut J 10:453–463

Reque VR, Moraes JRE, Belo MAA, Moraes FR (2010) Inflammation induced by inactivated Aeromonas hydrophila in Nile tilapia fed diets supplemented with Saccharomyces cerevisiae. Aquaculture 300:37–42

Richard FC, Bourg ACM (1991) Aqueous geochemistry of chromium: a review. Water Resour 25:807–816

Roberts AP, Oris JT (2004) Multiple biomarkers responses in rainbow trout during exposure to hexavalent chromium. Comp Biochem Physiol 138:221–228

Tagliari KC, Vargas VMF, Zimiani K, Cecchini R (2004) Oxidative stress damage in the liver of fish and rats receiving a intraperitoneal injection of hexavalent chromium as evaluated by heminoluminescence. Environ Toxicol Pharmacol 17:148–157
Acknowledgments
This research was financed by FAPESP, Research Foundation of São Paulo State, Process Number: 05/57989-8.
About this article
Cite this article
Castro, M.P., de Moraes, F.R., Fujimoto, R.Y. et al. Acute Toxicity by Water Containing Hexavalent or Trivalent Chromium in Native Brazilian Fish, Piaractus mesopotamicus: Anatomopathological Alterations and Mortality. Bull Environ Contam Toxicol 92, 213–219 (2014). https://doi.org/10.1007/s00128-013-1174-5
Received:

Accepted:

Published:

Issue Date:
Keywords
Chromium

Toxicity

Piaractus mesopotamicus

Histopathology