Abstract
The widely used antibiotic metronidazole (MTZ) was investigated for its toxic effects on the innate immunity in common carp (Cyprinus carpio L.). The fish were exposed to MTZ at nominal concentrations of 0.1, 0.5, and 2.5 mg L−1 in water for 30 days, followed by a 5-days of cleanout period, after which certain innate immunity parameters were measured. The results showed that under the tested concentrations, MTZ-exposed fish exhibited decline in several humoral and cellular parameters, including complement activity, lysozyme activity, bactericidal activity, total serum protein levels, total WBC count, and the respiratory burst activity of kidney leukocytes. Except for total serum proteins, all of these parameters showed a significant difference in the 2.5 mg L−1 MTZ group compared to control group (p < 0.05). The results clearly support the contention that MTZ suppresses the innate immunity of common carp.
Access options
Buy single article
Instant access to the full article PDF.
USD 39.95
Price includes VAT (USA)
Tax calculation will be finalised during checkout.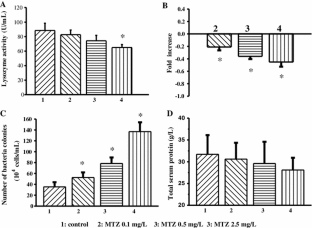 References
Bols NC, Brubacher JL, Ganassin RC, Lee LEJ (2001) Ecotoxicology and innate immunity in fish. Dev Comp Immunol 25:853–873

El-Nahas AF, El-Ashmawy IM (2004) Reproductive and cytogenetic toxicity of metronidazole in male mice. Pharmacol Toxicol 94:226–231

Fang Z, Chen J, Qiu X, Qiu X, Cheng W, Zhu L (2011) Effective removal of antibiotic metronidazole from water by nanoscale zero-valent iron particles. Desalination 268(1):60–67

Fararjeh M, Mohammad MK, Bustanji Y, AlKhatib H, Abdalla S (2008) Evaluation of immunosuppression induced by metronidazole in Balb/c mice and human peripheral blood lymphocytes. Int J Immunopharmacol 8:341–350

Guardiola F, Cerezuela R, Meseguer J, Esteban M (2012) Modulation of the immune parameters and expression of genes of gilthead seabream (Sparus aurata L.) by dietary administration of oxytetracycline. Aquaculture 334–337:51–57

Hamoutene D, Payne J, Volkoff H (2008) Effects of tebufenozide on some aspects of lake trout (Salvelinus namaycush) immune response. Ecotoxicol Environ Saf 69:173–179

Han J, Cai H, Wang J, Liu G (2013) Detrimental Effects of Metronidazole on the Liver of Freshwater Common Carp (Cyprinus carpio L.). Bull Environ Contam Toxicol 91:444–449

Isidori M, Nardelli A, Parrella A, Pascarella L, Previtera L (2006) A multispecies study to assess the toxic and genotoxic effect of pharmaceuticals: furosemide and its photoproduct. Chemosphere 63:785–793

Kollner B, Wasserrab B, Kotterba G, Fischer U (2002) Evaluation of immune functions of rainbow trout (Oncorhynchus mykiss)—how can environmental influences be detected? Toxicol Lett 131:83–95

Kum C, Sekkin S (2011) The immune system drugs in fish: immune function, immunoassay, drugs, recent advances in fish farms, Dr. Faruk Aral (Ed.), ISBN: 978-953-307-759-8, InTech

Li ZH, Velisek J, Zlabek V, Grabic R, Machova J, Kolarova J et al (2011) Chronic toxicity of verapamil on juvenile rainbow trout (Oncorhynchus mykiss): effects on morphological indices, hematological parameters and antioxidant responses. J Hazard Mater 185:870–880

Lunden T, Bylund G (2002) Effect of sulphadiazine and trimethoprim on the immune response of rainbow trout (Oncorhynchus mykiss). Vet Immunol Immunopathol 85:99–108

Lunden T, Lilius EM, Bylund G (2002) Respiratory burst activity of rainbow trout (Oncorhynchus mykiss) phagocytes is modulated by antimicrobial drugs. Aquaculture 207:203–212

Maher HM, Youssef RM, Khalil RH, El-Bahr SM (2008) Simultaneous multiresidue determination of metronidazole and spiramycin in fish muscle using high performance liquid chromatography with UV detection. J Chromatogr B 876:175–181

Nayak A, Das B, Kohli M, Mukherjee S (2004) The immunosuppressive effect of α-permethrin on Indian major carp, rohu (Labeo rohita Ham.). Fish Shellfish Immunol 16:41–50

Nishimuta K, Ito Y (2003) Effects of metronidazole and tinidazole ointments on models for inflammatory dermatitis in mice. Arch Dermatol Res 294:544–551

Rizzo A, Paolillo R, Guida L, Annunziata M, Bevilacqua N, Tufano MA (2010) Effect of metronidazole and modulation of cytokine production on human periodontal ligament cells. Int Immunopharmacol 10:744–750

Rodriguez L, Livengood EJ, Miles RD, Chapman FA (2011) Uptake of metronidazole in Artemia at different developmental life stages. J Aquat Anim Health 23:100–102

Salo HM, Hebert N, Dautremepuits C, Cejka P, Cyr DG, Fournier M (2007) Effects of montreal municipal sewage effluents on immune responses of juvenile female rainbow trout (Oncorhynchus mykiss). Aquatic Toxicol 84:406–414

Shemer H, Kunukcu YK, Linden KG (2006) Degradation of the pharmaceutical metronidazole via UV, Fenton and photo-Fenton processes. Chemosphere 63:269–276

Theophilus J, Rao P (2011) Electrophoretic studies on the serum proteins of the three species of genus Channa. Indian J Fish 35:294–297

Wang GX, Wang Y, Wu ZF, Jiang HF, Dong RQ, Li FY, Liu XL (2011) Immunomodulatory effects of secondary metabolites from thermophilic Anoxybacillus kamchatkensis XA-1 on carp, Cyprinus carpio. Fish Shellfish Immunol 30:1331–1338

West AP, Shadel GS, Ghosh S (2011) Mitochondria in innate immune responses. Nat Rev Immunol 11(6):389–402

Whyte SK (2007) The innate immune response of finfish – a review of current knowledge. Fish Shellfish Immunol 23:1127–1151
Acknowledgments
Financial support from the grants of Specialized Research Fund for the Doctoral Program of Liaoning Province (201201043) is gratefully acknowledged. We also would like to thank Editage for providing editorial assistance.
About this article
Cite this article
Han, J., Zhang, L., Yang, S. et al. Detrimental Effects of Metronidazole on Selected Innate Immunological Indicators in Common Carp (Cyprinus carpio L.). Bull Environ Contam Toxicol 92, 196–201 (2014). https://doi.org/10.1007/s00128-013-1173-6
Received:

Accepted:

Published:

Issue Date:
Keywords
Metronidazole

Fish

Pharmaceuticals

Innate immunity

Respiratory burst