Abstract
Microcalorimetric technique was applied to assess the toxic effect of EDTA-chelated trivalent iron on Pseudomonas putida (P. putida) (bacterium), Candida humicola (C. humicola) (fungus) and their mixture in sterilized soil. Microbial growth rate constant k, total heat evolution Q T, metabolic enthalpy ∆H met, mass specific heat rate J Q/S, microbial biomass C and inhibitory ratio I were calculated. Results showed that microcalorimetric indexes decreased with the increasing Fe(III)-EDTA complex concentration. Comparing the single and mixed strains, the effect of Fe(III) on bacterium-fungus interaction was dominant at lower dose, whereas, the metal toxicity at high dose of Fe was the main factor affecting P. putida and C. humicola activity. Thus, the mixture had moderate tolerance to the iron overload, and exhibit synergistic interaction in exponential growth phase (0–0.3 mg g−1). The results of glucose degradation showed that glucose was consumed totally at the end of exponential phase of microbial growth.
Access options
Buy single article
Instant access to the full article PDF.
USD 39.95
Price includes VAT (USA)
Tax calculation will be finalised during checkout.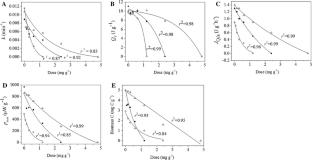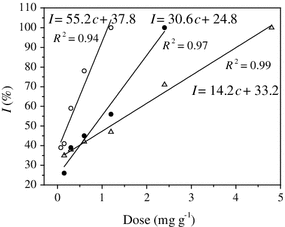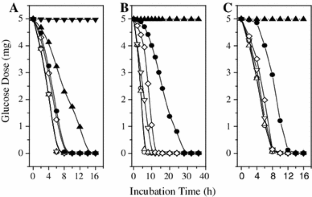 References
Barajas-Aceves M (2005) Comparison of different microbial biomass and activity measurement methods in metal-contaminated soils. Bioresour Technol 96:1405–1414

Barros N, Feijóo S, Fernández S, Simoni JA, Airoldi C (2000a) Application of the metabolic enthalpy change in studies of soil microbial activity. Thermochim Acta 356:1–7

Barros N, Feijóo S, Simoni A, Critter SAM, Airoldi C (2000b) Interpretation of the metabolic enthalpy change, ΔHmet, calculated for microbial growth reactions in soils. J Therm Anal Calorim 63:577–588

Barros N, Airoldi C, Simoni JA, Ramajo B, Espina A, García JR (2006) Calorimetric determination of the effect of ammonium-iron(II) phosphate monohydrate on Rhodic Eutrudox Brazilian soil. Thermochim Acta 441:89–95

Barros N, Gallego M, Feijóo S (2007a) Sensitivity of calorimetric indicators of soil microbial activity. Thermochim Acta 458:18–22

Barros N, Salgado J, Feijóo S (2007b) Calorimetry and soil. Thermochim Acta 458:11–17

Critter SAM, Freitas SS, Airoldi C (2002) Comparison between microorganism counting and a calorimetric method applied to tropical soils. Thermochim Acta 394:133–144

Fraga CG, Oteiza PI (2002) Iron toxicity and antioxidant nutrients. Toxicology 180:23–32

Gurzau ES, Neagu C, Gurzau AE (2003) Essential metals—case study on iron. Ecotoxicol Environ Saf 56:190–200

Hogan DA, Kolter R (2002) Pseudomonas-Candida interactions: an ecological role for virulence factors. Science 296:2229–2232

Hogan DA, Vik A, Kolter R (2004) A Pseudomonas aeruginosa quorum-sensing molecule influences Candida albicans morphology. Mol Microbiol 54:1212–1223

Killham K (1985) A physiological determination of the impact of environmental stress on the activity of microbial biomass. Environ Pollut A 38:283–294

Land KM (2002) Bacteria–fungi interactions: pathogenesis meets ecology. Trends Microbiol 10:397–398

Muhammad A, Xu J, Li Z, Wang H, Yao H (2005) Effects of lead and cadmium nitrate on biomass and substrate utilization pattern of soil microbial communities. Chemosphere 60:508–514

Nayak B, Nair KM (2003) In vitro bioavailability of iron from wheat flour fortified with ascorbic acid, EDTA and sodium hexametaphosphate, with or without iron. Food Chem 80:545–550

Nealson HK (1983) The microbial iron cycle. In: Krumbeln WE (ed) Microbial geochemistry. Inc., Blackwell Scientific Publications, Oxford, pp 159–183

Newman DK, Banfield JF (2002) Geomicrobiology: how molecular-scale interactions underpin biogeochemical systems. Science 296:1071–1077

Nuñez L, Barros N, Barja I (1994) A kinetic analysis of the degradation of glucose by soil microorganisms studied by microcalorimetry. Thermochim Acta 237:73–81

Papanikolaou G, Pantopoulos K (2005) Iron metabolism and toxicity. Toxicol Appl Pharmacol 202:199–211

Sparling GP (1983) Estimation of microbial biomass and activity in soil using microcalorimetry. J Soil Sci 34:381–390

Straight PD, Willey JM, Kolter R (2006) Interactions between Streptomyces coelicolor and Bacillus subtilis: role of surfactants in raising aerial structures. J Bacteriol 188:4918–4925

Vásquez-Murrieta MS, Migueles-Garduño I, Franco-Hernández O, Govaerts B, Dendooven L (2006) C and N mineralization and microbial biomass in heavy-metal contaminated soil. Eur J Soil Biol 42:89–98

Wang F, Yao J, Chen H, Zhou Y, Chen Y, Chen H, Gai N, Zhuang R, Tian L, Maskow T, Ceccanti B, Trebse P, Zaray G (2009) Microcalorimetric measurements of the microbial activities of single- and mixed-species with trivalent iron in soil. Ecotoxicol Environ Saf 72:128–135

Weaver VB, Kolter R (2004) Burkholderia spp. alter Pseudomonas aeruginosa physiology through iron sequestration. J Bacteriol 186:2376–2384
Acknowledgments
This work is supported in part by Grants from the International Joint Key Project from Chinese Ministry of Science and Technology (2010DFB23160), International Joint Key Project from National Natural Science Foundation of China (40920134003), National Natural Science Foundation of China (41103060, 41273092), National Outstanding Youth Research Foundation of China (40925010), and the Fundamental Research Funds for the Central Universities (FRF-TP-12-005A).
About this article
Cite this article
Wang, F., Yao, J., Yu, C. et al. Investigating Pseudomonas putida–Candida humicola Interactions as Affected by Chelate Fe(III) in Soil. Bull Environ Contam Toxicol 92, 358–363 (2014). https://doi.org/10.1007/s00128-013-1163-8
Received:

Accepted:

Published:

Issue Date:
Keywords
Microcalorimetry

Microbial activity

Toxic effect

Trivalent iron

Bacterial-fungal interaction